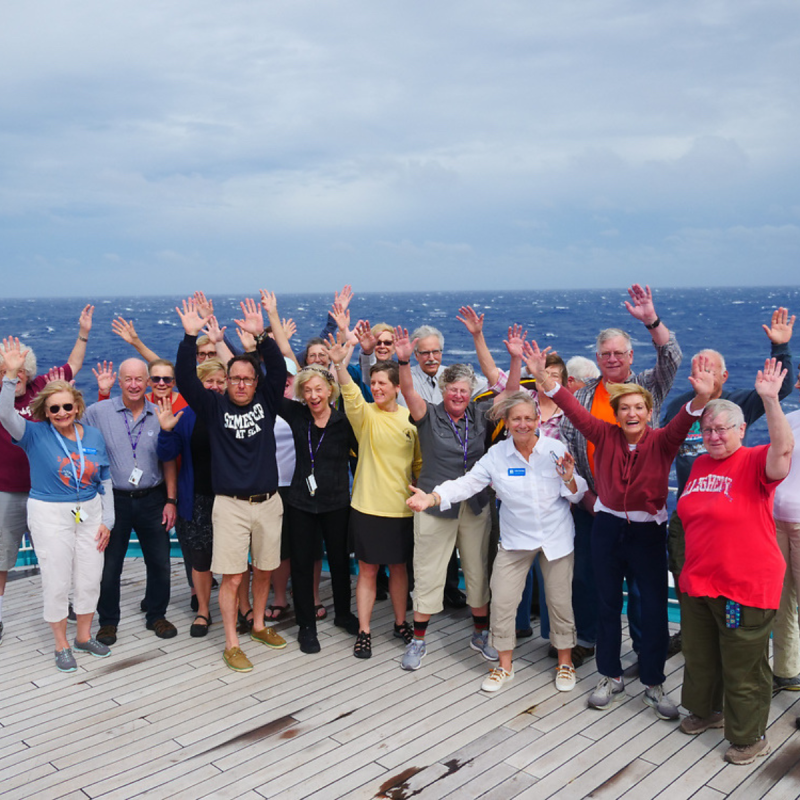 Semester at Sea may be a global, shipboard-based study abroad program for college students, but adult adventurers who want to travel the world with a dynamic, intergenerational community while having once-in-a-lifetime adventures can participate in this immersive learning experience as well.
With Semester at Sea's Lifelong Learner program, adults over age 30 — who may be retirees or working professionals on a sabbatical — live and learn alongside 500 college students for a semester aboard the M/V World Odyssey. Also on-board are about 30 faculty members, who teach college courses on the ship when it's not docked in port, as well as a few dozen administrative and staff members.
Itineraries vary each semester, but the ship typically makes stops at 10 to 12 different ports, which can range from Croatia and Vietnam to South Africa to Spain. Unlike your usual cruise ship itinerary, where you might disembark to explore a port city from 8 a.m.–5 p.m., the Semester at Sea ship docks at each port for an average of 5 days, which allows voyagers to further immerse themselves in a country. Lifelong Learners can choose to join day-long or multi-day field programs on land with other voyagers or explore port cities on their own.
By and far, however, when asked about their Semester at Sea experiences, the Lifelong Learners we interviewed spoke little about the sights they saw and souvenirs they picked up on their travels. Instead, they spoke much more about the lifelong friendships they forged, the unique learnings they had on-board the ship, and the Semester at Sea community that you cannot find anywhere else in the world.
And that's what makes Semester at Sea so unusual and much different than your typical vacation: the hands-on and in-depth experiences that take place when you sail with a lively, multigenerational group of interesting and involved people over the course of 3 months.
Here, from Lifelong Learners themselves, are six experiences you can only have aboard a Semester at Sea:
1. Learn From Esteemed Faculty And Knowledgeable Interport Scholars
College classes on Semester at Sea cover wide-ranging disciplines, everything from comparative politics and oceanography to world religions and psychology. Lifelong Learners have the opportunity to sit in on lectures on the ship and go on field classes (educational field trips) in port.
Bob Shepherd of Saratoga, California, sailed as an undergraduate on Semester at Sea in 1977 and then as a Lifelong Learner with his wife, Tami, on the Spring 2020 voyage — when the itinerary was rerouted and interrupted due to the COVID-19 outbreak. Still, Bob found plenty of joys on that voyage, among them: "Going to classes, learning new things, participating, and not having to take tests!"
The opportunities for learning on the ship are endless. Faculty members offer academic talks in the evenings, and prior to docking at each country, Interport Scholars are invited on-board to share firsthand knowledge about their country. Students are all required to take a lecture-style Global Studies class, which Lifelong Learners are encouraged to attend as well.
"I loved that experts were brought on-board to teach us about their countries before we got to shore," says Tami Shepherd. "We didn't just learn about the country from books or articles, but from people who live there, and then we experienced the country ourselves. It's a real holistic way of experiencing the world."
2. Engage With A Vibrant, Smart Group Of College Students
Lifelong Learners speak highly of traveling with hundreds of college students. Bob Shepherd says: "We love the youthful energy and optimism of that age group."
In fact, Marillee Carroll of Rancho Mission Viejo, California, who has sailed on four different semester-long voyages, says spending a concentrated amount of time with a bunch of 20-somethings is "exhilarating." She notes, "I felt 30 years younger and loved their endless energy!"
Semester at Sea offers many opportunities for generations to mingle, and the "sharing of ideas among the generations" was a highlight for Jim Podraza of Chicago, who has sailed on three different voyages. "There was the opportunity to spend time at meals and classes with the students. It was very interesting and enlightening to get their ideas and share ours."
3. Create A Shipboard Extended Family
One of the ways Lifelong Learners can create significant bonds with college students is through the Extended Family program. Adults sign up to "adopt" eight to 12 students to form a shipboard family that might gather weekly to eat a meal, play board games, or celebrate birthdays together.
"I still have close relationships with three to four Extended Family students from each voyage," says Carroll. "That program is incredibly meaningful for the ones that participate, possibly more so for me in that I had no children [of my own]."
4. Have Deeply Meaningful Experiences In Each Country
Semester at Sea operates an incredibly robust field program in each port. All voyagers — students, faculty and staff, and Lifelong Learners — can sign up (for an additional fee) for day or multi-day trips that go well beyond the typical "shore excursion" you'd find on your average cruise vacation. That means you might choose to spend the night in a temple in Japan, eat lunch at someone's home in Ghana, attend a percussion workshop in Brazil, get an insider's tour of a panda research center in China, or tour the Taj Mahal with an esteemed historian.
Patricia Aaronson from West Chester, Pennsylvania, who sailed on the Fall 2019 voyage says: "I feel that it was such a privilege to be able to travel with Semester at Sea, as we had experiences like home visits, school visits, and meeting locals, plus education about the countries such as literacy rates, currency, and family values. This is one of the ways Semester at Sea stands out over traveling with another tour or on your own."
Of course, these organized field programs are also ways to further connect with shipmates. Cathi Speck of Denver, Colorado, who sailed on the Fall 2019 voyage as well, recounts this story: "My best memory was taking the field trip to Peru and hiking Machu Picchu. I was the only Lifelong Learner in a group of 25 students and young staff. It was a great group and they could not have been more gracious, open, and just fun to be around. We all challenged ourselves on the 8-mile hike on the Inca trail to Machu Picchu, and everyone supported each other along the way. Even with our plane delays in Peru and almost not making it back to the ship for departure, students displayed flexibility, courteousness, and they rolled with the uncertainty. I could not have been more proud of these young adults representing the Semester at Sea community in such a positive way."
5. Make Lifelong Friendships As A Lifelong Learner
The Lifelong Learners — which might number 25 or more on any given voyage — form their own tight bonds, as they meet regularly as a group while at sea and have their own activities, such as private faculty lectures and discussions.
All the non-students on the ship can also gather in an adults-only lounge for drinks with their peers. The Chappy Lounge (formerly known as the Fritz) is an ideal place to start conversations with other Lifelong Learners – talking about plans for the next port, sharing what you learned in class that day, or playing a game of cards.
Mary Garland of Laramie, Wyoming, sailed as a student in 1979 and as a Lifelong Learner in Spring 2020. She says, "We made some really nice friends with other Lifelong Learners and remain in contact with several of them."
Marillee Carroll shares, "Semester at Sea is the gift that keeps on giving. I still keep in touch and travel with many of my SAS friends, follow the travels of SAS friends on Facebook and Instagram, and randomly meet up with my 'kiddos,' as I plan to do in Paris, at the end of September… It's a tight community of which I'm proud to be a part!"
6. Get Out Of Your Comfort Zone Amid New Friends
Because friendships form so quickly and strongly on-board, it's easy to become comfortable with your shipmates within only a few weeks of sailing. Regular all-ship gatherings and special events, including the festive Neptune Day festivities (when the ship crosses the equator), competitive Sea Olympics, and entertaining talent shows also allow for silliness and sharing to occur.
Jim Podraza and his fellow Lifelong Learners rehearsed and performed a surprise flash mob to the song "Home" during an all-hands, pre-port meeting. (You can check it out here!) He says, "It's particularly significant for me because I do not dance. I didn't even dance at my own wedding. This wasn't exactly dancing. But, it is close enough that it was definitely out of my comfort zone. For me, it indicates how much that voyage — those Lifelong Learners and all the students — influenced me."
Advice From Lifelong Learners If You're Considering A Voyage Of Your Own
If these testimonials from Lifelong Learners haven't yet convinced you to book your own voyage, here's some more encouragement:
"Do it! If you are interested in seeing new places and meeting new people, you can do both of these in a safe learning environment," says Patricia Aaronson. "You can go as a single, couple, or family and be sure to have a great time. Spotlight [partial] voyages are available for those that a whole semester seems too long."
"Just go! It's an amazing experience," says Bob Shepherd. "Being on Semester at Sea is part of the fabric of who I am. Even as an older traveler, it can be life-changing."
Editor's Note: The author of this article, Kara Williams, sailed with her husband and two children on a Semester at Sea Summer 2014 voyage while working as the ship's communications coordinator. Writing this article has reminded her what an extraordinary experience that was, and she'd love to sail as a Lifelong Learner someday!