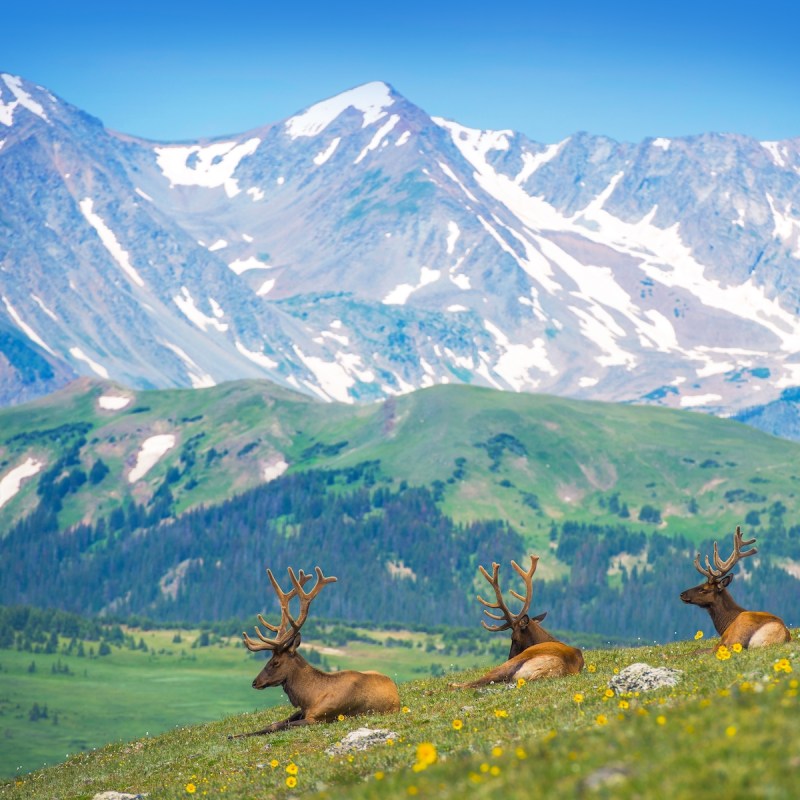 Itching to get away and lose yourself in nature and the Wild West? The Elk Fest in Estes Park (about 65 miles north of Denver) celebrates the elk "rut," when bull elks leave the wilderness to fight other bulls for the affection of their "harems." The eerie sound of bugling elks permeates autumn's early days in Estes Park.
Visit the Elk Fest this year from Saturday to Sunday, October 1-2, 2022, 9 a.m. to 5 p.m. in Bond Park. There are no entrance fees to the festival; however, if you want to try your hand at bugling, there is an admission fee for the bugling contest.
Along with celebrating the rites of fall, visitors can learn about America's Western heritage while they enjoy live music, food, Native American dancing, a raptor presentation, and a variety of other activities.
Parking is available behind the library and all over downtown Estes. This event is heavily attended, and you'll probably have to park farther away than usual. The free shuttle will help you avoid the long walk and the aggravation of parking. Unlike many festivals, pets are allowed at the Elk Fest. Pets must be kept on a leash at all times.
There Is More To Do In Estes Park Than The Elk Fest!
An autumn visit has room for many joyful experiences. Leaf-peeping isn't only for the New England crowd. The aspen leaves turn a gorgeous fiery orange. You can take a drive up Trail Ridge Road and see beauty around every corner. The steep, one-way Old Fall River Road is an alternative way to the top. It's not for the faint of heart, but the drive is at a much slower pace. For the latest information on park road status, keep an eye out for variable message boards in the park and follow the Park Service on Twitter@RockyNPS. You can also call Rocky Mountain National Park's Information Office at (970) 586-1206. Since conditions change quickly, road status updates are not posted on the park's website.
Note: Timed Entry Permit Reservations are required — along with a park pass or entrance fee — to enter Rocky Mountain National Park from May 27 to October 10, 2022. To get into the park, you'll need to use the new-ish reservation and ticketing procedure.
Estes Park offers a myriad of other things to do. If the Elk Fest is a little too crowded for you, there's mini-golf and go-karts, 18-hole golf, horse-back riding, a cable-car ride to the top of Prospect Mountain (we call this "Chipmunk Mountain"), National Park ranger-led programs (summer only), and fishing at Lake Estes and in the park.
A Colorado fishing license is required, and some areas are catch-and-release. Check ahead with your resort or get in touch with a local outlet such as Estes Angler, which offers guided trips and rental gear. If you're looking for fishing AND your dinner's star attraction, head to Trout Haven Fishing Pond, where you're pretty much guaranteed to catch a trout (or four), and they will clean them for you for a fee. Yay! Fresh trout for dinner!
For many visitors who travel with their dogs, Estes Park offers an enclosed dog park. It's right next to Lake Estes, so parking is easy.
Where Are The Best Eats And Brews?
Absorbing all that beauty and culture requires refreshment, and Estes Park does not disappoint! There are many great places to eat and drink. Get a variety of brews at brewmasters throughout the town. Want a more upscale meal, there are restaurants that parallel the best of the big city.
Our favorite restaurants include You Need Pie and Trailhead Restaurant for breakfast, Grubsteak and La Cocina de Mama for lunch, and Sweet Basilico, Mama Roses, and Bird & Jim for dinner. All of these restaurants are open throughout the day, so you can work around the activities you have planned.
There Are Lodging Alternatives For Everyone!
Since the festival lasts for 2 days, you'll want lodging (or camping). The historic Stanley Hotel is a good place to stay for a more formal experience. However, although it has been restored to great beauty, it's a bit noisy. If you've been left wanting by the rooms in historic national park hotels, you'll know what I mean. The public areas are amazing — the rooms, not so much.
Camping is an option for those with tents or RVs. Call (877) 444-6777 or visit recreation.gov up to 6 months before you plan to visit to make reservations at the campsite of your choice. Somewhat in-between (our choice for 40+years) are cabins, cottages, and condos. These allow visitors to cook in (or on the grill) when they want to, especially when there are kids or grandkids in tow. We have many favorites, but most recently we've enjoyed McGregor Mountain Lodge and Cabins and Estes Park Condos.
Thinking about heading to the Estes Park Elk Fest? Here's my take on an old saying, "Head for the Fest; stay for the (fill in the blank with one of many options)." It's an experience that will cause you to fall in love with Estes Park and Rocky Mountain National Park. Don't wait to make your reservations!
For more ideas and inspiration on Estes Park, explore these articles: