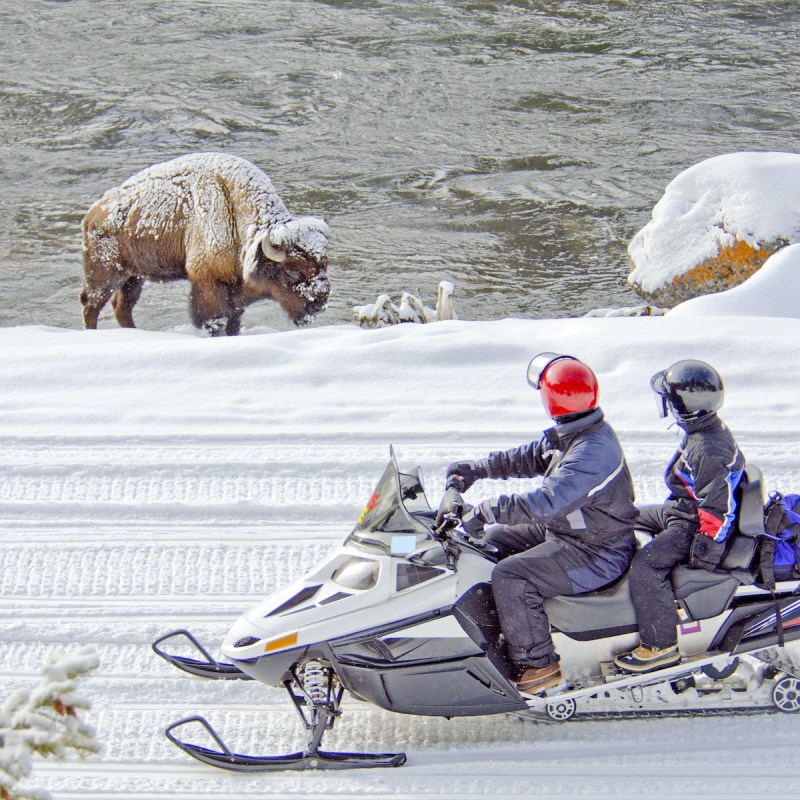 It's time once again for snowmobilers who love Yellowstone National Park to start getting excited.
Here's Why. On Monday, August 1, everyone who is interested can begin to apply for a winter 2022/23 permit to snowmobile in Yellowstone without a commercial guide. The program, known as the Non-commercially Guided Snowmobile Access Program, is actually a lottery, so applying doesn't necessarily mean a permit will be granted.
"Yellowstone National Park's winter landscape offers a magical experience for those willing to brave its cold temperatures," the National Park Service explains. "Most roads in the park are groomed for over-snow traffic via either snowcoaches or snowmobiles. The majority of visitors to the park travel these roads with commercially guided tours, however the park has set aside four trips per day for groups that want to enter Yellowstone without commercial guides."
How The Permit Lottery Works
This year's lottery will be open on the recreation.gov website from August 1–31. Those who do win a permit in the lottery will be notified in early September.
Importantly, there is no waiting list, but unclaimed or canceled permits will be offered on the recreation.gov website on a first come, first served basis beginning on October 1.
Trips can be for a maximum of 3 days in length and permits cost $40 per day. There is a $6 application fee.
Up to four non-commercially guided groups will be allowed to enter Yellowstone each day.
You can learn more about the permit lottery here.
Who Can Enter The Permit Lottery
Under the Non-commercially Guided Snowmobile Access Program, anyone who is at least 18 years old can apply to be a non-commercial snowmobile guide. These guides are responsible for ensuring that everyone in their group complies with park regulations.
There are several important details. For instance, non-commercial guides may not charge a fee — these trips are for groups of friends or families. Secondly, the maximum size of each group is five snowmobiles. Finally, non-commercial guides can't lead more than two trips per winter season.
And, of course, all snowmobile operators must be at least 16 years old, must have a valid driver's license, and must pass the Yellowstone Snowmobile Education Certification course.
You can learn more about the Non-commercially Guided Snowmobile Access Program here.
Know Before You Go
If you're planning to visit Yellowstone this winter, keep in mind that temperatures typically range from zero to 20 degrees Farhenheit during the day. That said, sub-zero temperatures are common, especially at night and at higher elevations.
It's also important to know that most facilities in Yellowstone are closed during winter. You can learn more about winter operating hours for visitor centers, stores, restaurants, campgrounds, lodges, and warming huts here.
Finally, Yellowstone's rangers remind everyone to not approach or feed wildlife.
"Animals always have the right of way," the rangers explain. "Expect to encounter bison and other wildlife on park roads. Slow down or pull over until they pass or move off the road."
You can find more tips from Yellowstone's rangers about visiting the park in the winter here.
Be sure to also visit our Yellowstone content. And for more about snowmobiling, be sure to read: