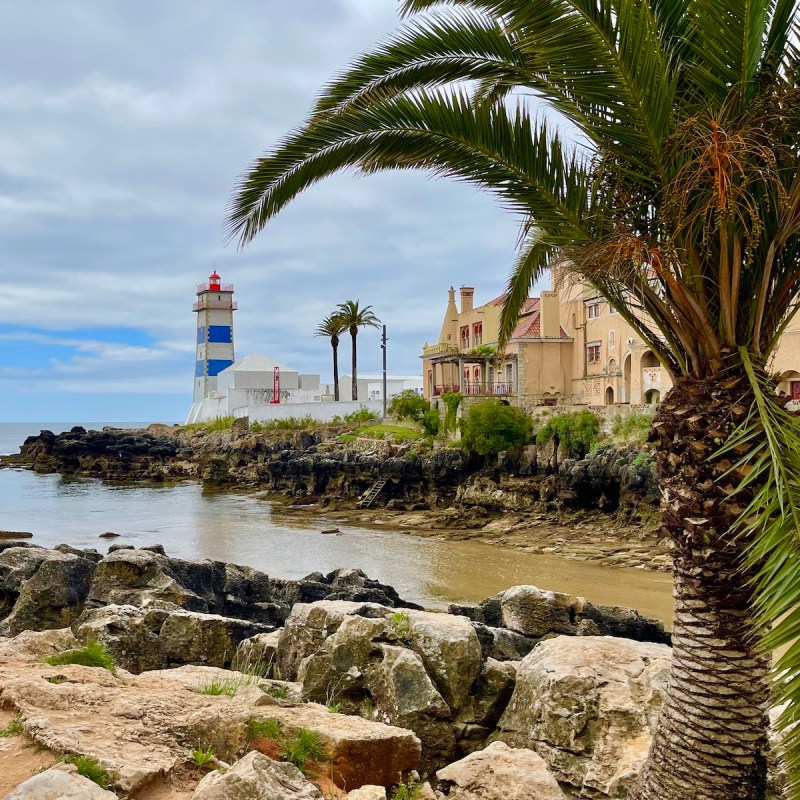 There are many wonderful places to see within easy reach of Lisbon. Some are well-known to visitors while others are great spots for locals in the know. Since living in Portugal, we've spent time seeking out the best spots to spend a day (or more)! Here are just a few of our favorite fantastic day trips from Lisbon.
1. Costa Da Caparica
Costa da Caparica is quick and easy to get to from Lisbon. It's popular with the Portuguese as well as visitors because of its beaches, parks, gardens, and interesting attractions. The Transpraia mini-train will take you to different beaches. For a different menu, check out Maryana for a taste of the Caribbean. You could also enjoy some sangria, local food, and music at one of the spots along the beaches. Avoid this area from mid-October to March when the water is way too cold and many facilities are closed.
Time From Lisbon
The most fun way to get here is by ferry. Trains and buses are also available. Generally, you will be able to arrive in about 20 minutes.
2. Carcavelos
Carcavelos offers the first big beach outside of Lisbon. It's got lots of amenities, facilities, a wide, long sandy beach, and is a favorite for people who live in Lisbon looking for a quick seaside getaway to satisfy their beach craving. Loungers, volleyball courts, restaurants, bars, and cafes are all available. For something different, check out Quinta da Alagoa Park where you'll find lots of chickens, ducks, geese, and even peacocks wandering around the lovely grounds. It also has tennis courts and places to grab a bite or drink, with frequent live music and happy hours.
Time From Lisbon
Carcavelos is an easy train ride from Lisbon. Taking the Linha de Cascais, you can get there in about 25 minutes from Lisbon's Cais de Sodré station.
3. Estoril
We are a little bit biased about where we currently live in Estoril, along the Lisbon coast. Haven to royalty and other elites during World War II, Estoril has some interesting history nestled in its lovely streets. The Hotel Palacio is not one to miss. James Bond fans may know that it was here that 007 came to life when author Ian Fleming stayed here among the allies and spies. You can see the glitterati in photo galleries along the walls and try a 007 martini in the "Spy Bar." You're also near Casino Estoril, once the largest casino in Europe. Some of the best authentic Chinese food in Portugal is at the Mandarim. Stop by the Museum of Portuguese Music then head to Tamariz beach for a stroll by the shore and great restaurants where you can dine right by the beach.
Time From Lisbon
You can drive along the coastal road called the Marginal and get to Estoril in about 30 minutes. You could also just hop on the Linha de Cascais train and get there in about 35 minutes.
4. Cascais
Cascais is an international beach resort area that hosts discerning visitors from around the world. Amid the shiny cars and manicured streets, you'll discover a wealth of fun things to see and do. Wander through Parque Marechal Carmona to see the turtles, chickens, and other birds. Explore the museums, including the Cultural Center, which offers an excellent café for lunch. Stroll through the Mercado da Vila or walk along the coast to the Boca do Inferno. Eat amazing seafood in Cascais while enjoying a view of the water in this beautiful coastal town.
Time From Lisbon
Cascais is an easy drive from Lisbon in about 35 minutes or take the Linha de Cascais train from Cais de Sodré and arrive in about 40 minutes.
5. Sintra
One of the most popular day trips from Lisbon is Sintra, a magical town nestled among winding tree-lined roads. Dotted with castles, Sintra inspires the imagination. Pena Palace, the Moorish Castle, Quinta da Regaleira, and others call to be explored. The small old town is full of shops and restaurants. Try some of the special pastries like Travesseiros baked fresh daily. If you feel like walking off some calories, there's no better place than the extensive Sintra-Cascais Natural Park to enjoy some exploring.
Time From Lisbon
You can drive to Sintra in about 30 minutes. However, once you arrive, the roads can be narrow and winding. Some trains go from Lisbon to Sintra in about 40 minutes. Consider getting a tuk-tuk or other local transportation for navigating once you're there.
6. Mafra
Another fantastic day trip from Lisbon is Mafra. The town is best known for the National Palace of Mafra, a UNESCO World Heritage Site. This huge building houses an extraordinary amount of impressive architecture and artifacts. The most interesting part for us was the library containining books that go back to the 14th century. A well-cared-for bat colony keeps the pests away (don't worry, they're tucked away and sleeping during the day). The Cerco botanical garden behind the palace makes for a beautiful stroll. Tapada de Mafra, the former royal hunting grounds, is home to many animals, birds, and plants while downtown Mafra has shops, restaurants, bakeries, and delicious Mafra bread.
Time From Lisbon
A drive to Lisbon will take 40 minutes or less. A train takes about 55 minutes, but the Mafra station is about 8 kilometers outside of the downtown area. Some day tours include a stop at Mafra Palace.
7. Setúbal
A fun trip across the water from Lisbon is Setúbal. It's a lively place with a blossoming community of artists along with great walking streets, gardens, fountains, and attractions. You can climb around the Forte de São Felipe to take in a view that goes great with a glass of sweet Moscatel wine in the terrace café. Downtown has some fun attractions like the purple town hall and large cat sculpture on one of the rooftops. Be sure to try the choco frito, a local Portuguese seafood specialty.
Time From Lisbon
An express bus to Setúbal takes about 45 minutes and a train will be about 55 minutes. Consider that at peak hours the bus may encounter traffic.
8. Ericeira
A lovely coastal day trip from Lisbon is Ericeira. It's a favorite with the Portuguese for seafood and beaches to relax on during summer. Winter brings good waves for surfers and there are plenty of surf schools if you want to give it a try. Restaurants like local favorite O Pirolito serve fresh seafood and delicious international foods. There are lively bars and cafés to explore. From May to October, many restaurants offer live music, which you may sometimes hear while strolling along the streets. Walking or biking through Ericeira is a way to discover the galleries, cafés, and shops.
Time From Lisbon
Ericeira is about a 45-minute drive from Lisbon. There is also bus service taking about 2 hours or express routes of 90 minutes.
9. Colares
Another one of our favorite "under the radar" day trips from Lisbon is Colares. This town on the western coast is full of delightful surprises. While Cabo da Roca, the westernmost point in Europe, is well-known, most of the area is enjoyed primarily by locals. One of our favorite secrets about Colares is the Adega Regional de Colares, the oldest wine cooperative in Portugal that offers tours and tastings. Capuchos Convent, constructed by Franciscans in the 1500s, uses Portugal's famous cork for insulation. For memorable dining, Restaurante da Adraga is right on the beach and Moinho Dom Quixote has phenomenal ocean views in a garden setting.
Time From Lisbon
A drive to Colares from Lisbon will take 40 to 45 minutes. Many Sintra day tours include a visit to Cabo da Roca.
10. Torres Vedras
Torres Vedras is a fantastic day trip from Lisbon for those seeking a fascinating place that isn't dominated by tourism. The historical city includes Castro do Zambujal, an ancient, complex, and fortified settlement. Napoleon met his defeat in attempting to conquer Lisbon when he encountered the defensive Lines of Torres Vedras. The diverse region blends grape-growing slopes with an Atlantic coastline, perfect for vineyards yielding unique and delicious wines. Food in Torres Vedras is also delicious and includes the local bakery treat Pastel de Feijão (bean cake). The Leonel Trindade Municipal Museum is an archaeological and historical museum located in a former convent offering perspectives of the evolving area.
Time From Lisbon
Torres Vedras can be reached by car in about 45 minutes. A bus ride will take about 55 minutes and a train from Lisbon's Santa Apolonia station will last about 90 minutes.
11. Óbidos
We finish off our fantastic day trips from Lisbon to a place that is very special to us and where Portugal stole our hearts. The medieval fairy-tale town of Óbidos is a modern village inside an ancient walled city. It is also a UNESCO Creative City of Literature. There are books in every nook and cranny and the Literary Man Hotel is perfect for bibliophiles. The Castle has been converted into an upscale hotel with a phenomenal restaurant. Local shops and eateries abound. Try the Ginja, a sour cherry liqueur sometimes served in chocolate cups. We enjoyed it at Bar Ibn Errik Rex with a chouriço sausage served flaming before us. Óbidos has many festivals and surprises just waiting to be explored.
Time From Lisbon
A drive to Óbidos will take about an hour. You can also take a bus that takes about the same amount of time to get there.
Whether you're looking for a fun and busy place or a cultural gem known mostly to locals, these are a few of the many fantastic day trips from Lisbon waiting for you.
For more tips on traveling to Lisbon, check out these articles: