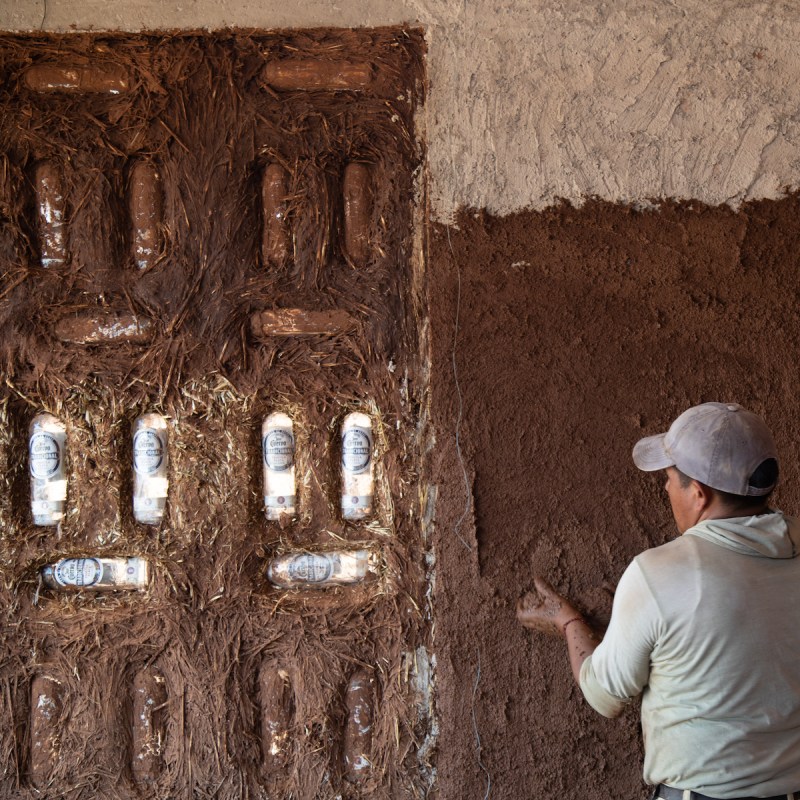 It was more than 20 years ago that Jose Cuervo, now the best-selling brand of tequila in the world, made a decision to commit toward creating a better and more sustainable future for agave.
They would do so by reusing, recycling, and repurposing 100 percent of this precious plant. Jose Cuervo was the first to compost the fibers from the agave by-product, and in the past few years, they've evolved to create more sustainable straws, bricks, and car parts. But what if you could build a house out of tequila? And if you could, what better place to do it than in Tequila itself?
The House That Agave Built
Jose Cuervo is partnering with ITESO University in Guadalajara to create a house made using 100-percent sustainable materials, including repurposed agave by-product from the Jose Cuervo distillery.
The 'House That Tequila Made' is a continuation of Jose Cuervo's efforts as part of The Agave Project. This was an initiative started in 2019 to spearhead the company's commitment to agave and to create a circular economy by repurposing materials that result from the tequila production process. The idea is to ultimately make the process of producing tequila more sustainable.
The house will be built by reusing, repurposing, and recycling materials and products that come from the tequila production process, including bottles, bagasse — which is agave fiber by-product — and discarded barrels.
The house will also repurpose resources from the land of Tequila, including soil, clay, and rocks from Tequila's volcano. This is the first house Jose Cuervo is creating using repurposed agave by-product and other natural materials, but there are plans to create more in the future.
The first house will serve as a prototype to ensure the construction is perfected for future use. This house will be built for a Jose Cuervo jimador, a field worker. Antonio Gonzalez Magallanes, or "Toño," has been working with Jose Cuervo for more than 20 years and already had land available in Tequila. This made it a natural decision to create the first prototype agave house for him.
The Importance Of Agave
For 10 generations, the Jose Cuervo family has carefully tended the agave fields of Tequila to create the original, world's number one, 100-percent agave tequila.
Without agave, there's no tequila and no Jose Cuervo. That's how important the agave is. But now, its importance has stretched further than just making tequila. Agave is having a direct effect on the communities and people of Tequila.
Jose Cuervo's house made from agave and other repurposed materials reduces the cost of construction by 40 percent, while also being more environmentally friendly when compared to traditional home construction methods. After successfully completing this agave house, it's their ambition to build additional homes in the future to further benefit the people of Tequila.
Things To Do In Tequila
The Jose Cuervo Express
The Jose Cuervo Express, known as the Tequila Train, makes two trips every Saturday between Guadalajara and Tequila. New for this year is the Jose Cuervo Express Elite Wagon, a unique experience with floor-to-ceiling views, large and private spaces, and an exclusive line of cocktails.
The richly decorated new Elite Wagon, which was under development for 8 months and includes wood paneling and luxurious interiors, has 37 comfortable spaces distributed in two lounge areas reserved for 10 people. There are also two tables for four people and three lounge areas with tables reserved for two people each.
The Elite Wagon is the ultimate premium tequila-tasting experience. It features an open bar for guests with a line of specially crafted cocktails, and a three-glass educational tasting guided by a tequila expert.
Fabrica La Rojena
Fabrica La Rojena is Latin America's oldest distillery. Established in 1798 by José Antonio de Cuervo y Valdés, better known as Jose Cuervo, it's been one of the most significant tequila producers for 223 years.
Here, guests can discover the secrets of tequila-making history as well as the tequila way of life, selecting from nine different experiences including distillery tours, tours of the agave fields, blending, and taste testing.
Even though Mundo Cuervo has three distilleries across Mexico, La Rojena is the only one that offers tours through the fascinating process of fine artisanal tequila production. Guests will meet the jimadores, distillery team, and tequila blenders, learning how centuries of tradition ensure delicacy on the palate.
Your visit will include stepping into history in the blue agave fields accompanied by an expert jimador, a guided tour of La Riojena distillery, and the Reserva de la Familia cellar — tasting straight from the barrel. You'll also tour the Maestro Tequilero hacienda and the Los Limoneros garden, finishing up with tasty Mexican dishes.
If you want to learn more about distilleries all around the world, check out these articles: