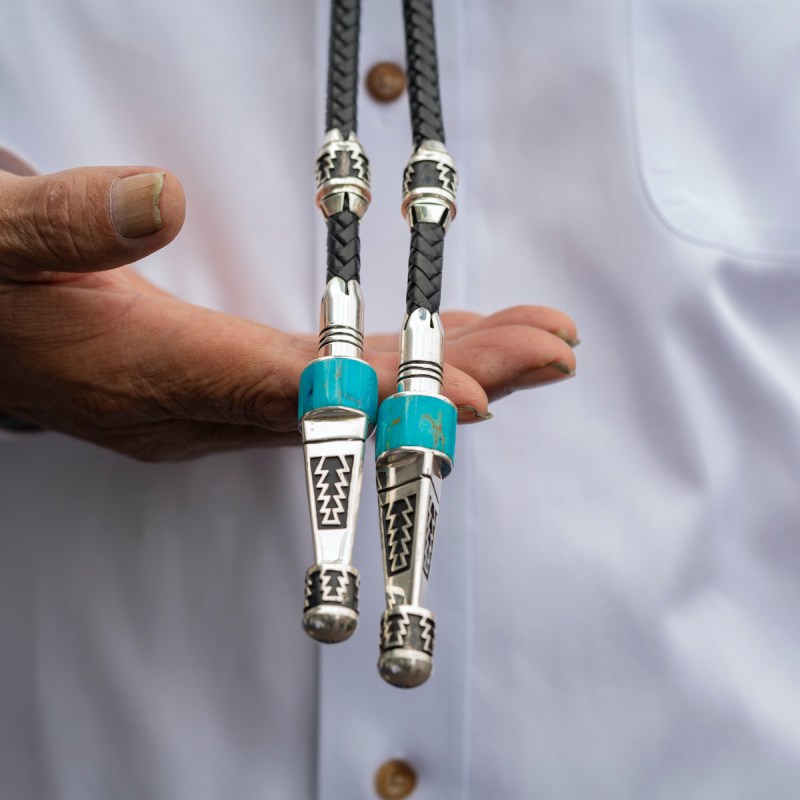 This August, more than 800 Native American artists will gather in Santa Fe, offering their finest jewelry, weavings, pottery, and other artistic pieces for sale, with an opportunity to compete for recognition and awards.
Thousands of collectors, buyers, spectators, and attendees besiege Santa Fe to shop and buy, creating a significant source of income for Native American artists and their families, plus an economic boost for Santa Fe and New Mexico.
Here are the details and how you can visit.
The Centennial Santa Fe Indian Market 2022 Lineup
The Santa Fe Indian Market celebrates its centennial anniversary from August 20–21, an art mecca supported by Santa Fe's top galleries and cultural institutions. The Southwestern Association for Indian Arts (SWAIA) is the non-profit producing the Centennial Santa Fe Indian Market 2022. Since 1922, the Santa Fe Indian Market, North America's largest and most acclaimed juried Indigenous art market, has expanded its notoriety to include Indigenous artists across North America.
Now 100 years later, the SWAIA continues its mission to "bring Native arts to the world by inspiring artistic excellence, fostering education, and creating meaningful partnerships."
The Indian Market on the Plaza is free to the public on August 20 and 21, from 8 a.m.–5 p.m. See the world's largest and most significant juried Native North American art market, featuring jewelry, textiles, baskets, pottery, sculptures, wooden carvings, beads, quillwork, and diverse arts. I love to shop one-of-a-kind art pieces from U.S. and Canadian Indigenous artists. You can listen to live music and watch dance performances. Don't miss the Native food vendors, rounding out Indigenous culture and art.
Santa Fe Native Cinema Showcase 2022
From August 18–21, The National Museum of the American Indian's Native Cinema Showcase celebrates the best in Native films. It will be held at the New Mexico History Museum Auditorium during Santa Fe Indian Market Week. Learn about Native filmmakers from Indigenous communities throughout the Western Hemisphere. Admission is free. See a free community film screening Saturday at the Railyard at sundown.
SWAIA Silent Auction
From noon–6 p.m. on Friday, August 19, and noon–7 p.m. on Saturday, August 20, bid on Native American artwork donated by SWAIA artists at the Santa Fe Convention Center. It is a global opportunity for Native art collectors and market attendees to bid online and in person.
Native American Clothing Contest
On Sunday, August 21, a market favorite and free to the public, the Native American Clothing Contest presents a vast array of regalia and hand-made clothing from North American Indigenous Nations. You'll see Native traditional and contemporary clothing as contestants compete for ribbons in men, women, and youth categories. Early registration is 8–9 a.m., and the contest runs from 9 a.m.–noon.
Ticketed Events At The Santa Fe Indian Market
Friday
Exclusive to SWAIA members only, the Best of Show Ceremony and Luncheon awards the year's top artists in all 10 juried market categories with the Best Of Classifications and the year's overall Best Of Show winners. The luncheon, sponsored by the Institute of American Indian Arts (IAIA), follows the Santa Fe Convention Center Courtyard ceremony. The luncheon includes guests and SWAIA ticket holders.
On Friday, August 19, the members-only Sneak Peak event and the General Preview for the public offer sneak peeks and general previews of the award-winning art with your ticket purchase. The Sneak Peek lasts from 2–4 p.m. and the General Preview lasts from 4–6 p.m., both at the Santa Fe Community Convention Center.
Saturday
The Indian Market's biggest night out is the SWAIA "Shiny Drop" Gala Live Auction and Indigenous Fashion Show on Saturday, August 20, at the Santa Fe Community Convention Center. This fundraising event for the SWAIA features the Indigenous Fashion Show with seven designers and a live auction of artistic masterpieces. Come dressed in your best Indian Market style with your exclusive ticket and celebrate the evening offering extraordinary art, Indigenous fashion, food, and fun.
Sunday
With your exclusive VIP ticket, see the Indigenous Fashion Show on Sunday, August 21, from 3–4 p.m. It is produced by Indigenous art historian Amber-Dawn Bear Robe, presenting eight designers and their collections from North America. VIP seating, general admission, and standing room are options.
The Indigenous Fashion Trunk Show happens Sunday, August 21, from 4:30–6:30 p.m. at the Santa Fe Community Convention Center. Ticketholders can purchase and place orders directly with the designers at the Fashion Trunk Show. Only 100 tickets are available.
Tips For Visiting The Santa Fe Indian Market
First-time visitors should leisurely explore the market across downtown Santa Fe. Talking to the artists is a great way to learn about North American Indigenous people. Visit the food vendors and attend the fashion show on Sunday with your pre-purchased ticket. Attend the free Native American clothing contest on the Plaza Stage Sunday morning. Arrive early to get a good seat, since the show starts at 9 a.m.
Indian Market artists come from over 250 nations in the U.S. and Canada. Attend the Native Cinema Showcase at the New Mexico History Museum and be curious and open-minded.
Pro Tip: If a piece of jewelry or art speaks to you, just purchase it.
Check out some of our past articles about Native American and Indigenous cultures, including: