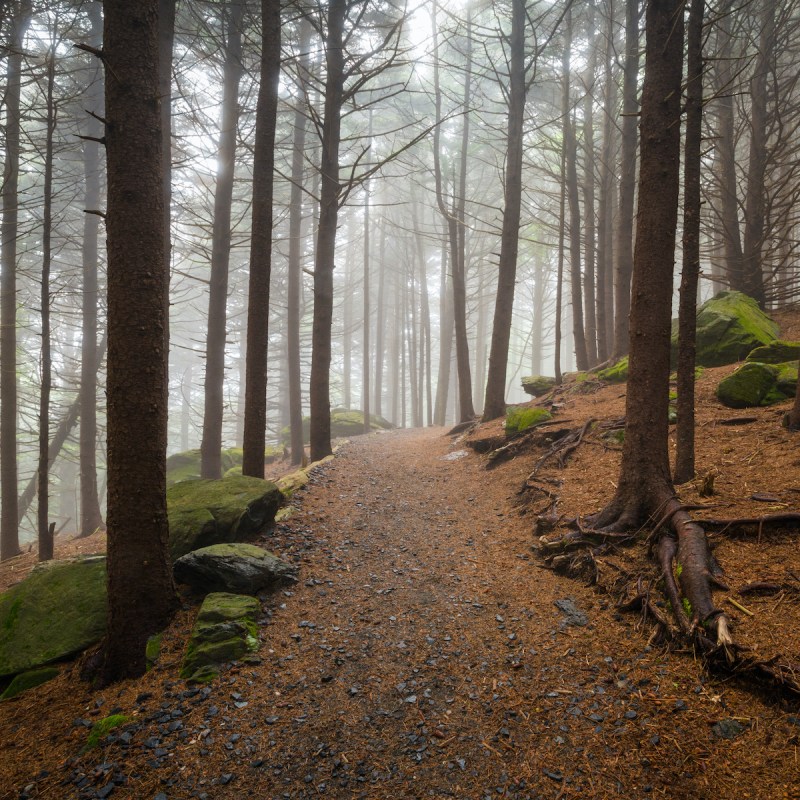 You'll need to pay attention to a new policy if you're one of the millions of people planning to hike part of the Appalachian Trail this year.
The Appalachian Trail Conservancy (ATC) — along with the National Park Service, U.S. Forest Service, and numerous state agencies — manages the Appalachian National Scenic Trail (AT).
The trail, which is more than 2,100 miles long, stretches along the Appalachian Mountains from Maine to Georgia.
The ATC recently announced that it now "recommends all overnight Appalachian Trail visitors carry bear-resistant food storage containers, which help minimize the chances of negative bear encounters."
The new policy was put in place after a multi-year increase in human-bear encounters at AT campsites. It's important to note, however, that many of those encounters were the result of either improper food storage by visitors or black bears getting to food despite visitors' use of traditional food storage techniques.
"Black bears along multiple sections of the Appalachian Trail have become increasingly adept at defeating traditional food hangs, where a hiker stores their food over a tree branch using a rope and storage bag," Hawk Metheny, ATC vice president of Regional and Trail Operations, said in a statement. "This happens even when food hangs are done completely right, and sometimes that just isn't possible depending on where you are camping. By using a bear-resistant container, hikers are minimizing their chances of a negative bear encounter on the trail and helping prevent more bears from becoming habituated to humans as a source of food."
The New Bear-Resistant Food Storage Container Policy
The new ATC food storage policy was developed working with multiple AT land management agencies, including the National Park Service and the U.S. Forest Service.
The ATC promotes the use of food storage containers approved by the Interagency Grizzly Bear Committee (IGBC), "which have been shown to have a high success rate in preventing all species of bears from easily accessing hiker food supplies," ATC explains.
"Overnight visitors on the AT are also encouraged to use any permanent food storage methods available at campsites and shelters, such as cable systems, metal poles with arms, and bear-proof metal boxes," ATC continues. "By carrying a personal food storage container, AT visitors will be prepared should these more permanent systems be unavailable, full, or damaged."
Importantly, the policy also promotes expanded food storage container lending programs, which allow hikers to try these devices without having to purchase a container of their own. Bear canister lending programs have already been implemented by the ATC in Georgia and the Green Mountain Club in Vermont.
"Loaner programs like these will help introduce a new generation of AT hikers to the benefits of bear canisters, not the least of which is overall increased convenience and ease of use," Metheny said. "Of course, through advocating for the use of these containers, our primary goal is to protect AT hikers and the black bears that live alongside the trail."
How To Be Bear Aware
Of the three bear species in North America, black bears are the most abundant and widely distributed, according to the National Park Service.
Black bears typically live between 15 and 25 years. During the summer months, a typical adult male bear weighs approximately 250 pounds while adult females are generally smaller and weigh slightly over 100 pounds. However, bears may double their weight by the fall.
The bears are about 3 feet tall at the shoulder, but when standing upright, they are between 5 and 7 feet tall.
While you are hiking, the best way to avoid encountering a bear is to let them know you are in the area. That includes whistling and talking.
If you do encounter a bear and it does not move away, you should back away, speak calmly and firmly, avoid making eye contact, and do not run or "play dead" even if a bear makes a "bluff charge," ATC explains.
In camp, the best way to prevent a bear encounter is to prepare and store food properly. Use a bear-resistant personal food storage container, cook and eat meals 200 feet away from your tent or shelter so food odors do not linger, and of course, never sleep with food in your tent or shelter.
Finally, never leave food unattended unless it is stored in a way that a bear cannot get to it.
You can learn more about avoiding bears on the AT and how to safely store food in the backcountry here.
For more about recent bear and human encounters, be sure to read: