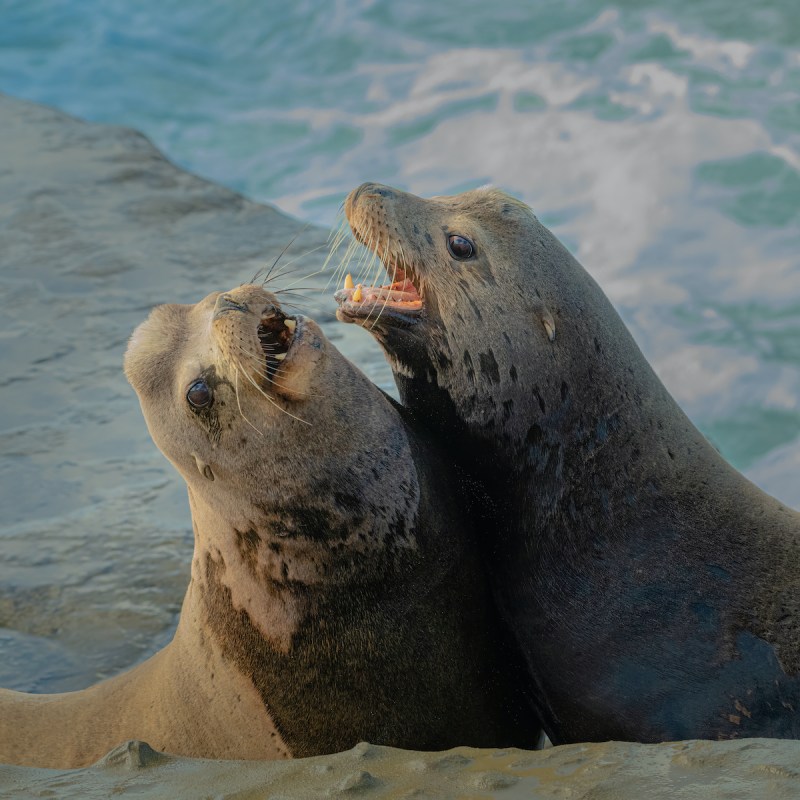 There's no other way to put this: A viral TikTok video shows pandemonium on a southern California beach.
In the video, dozens of beachgoers at La Jolla Cove in San Diego are seen running away from two fast-moving sea lions. It appears the sea lions are chasing the people.
But that's not what actually happened. Instead, the video shows normal sea lion behavior for this time of year. What's happening is two males are fighting as breeding season gets underway, says sea lion expert Eric Otjen, assistant curator of mammals at SeaWorld San Diego, according to the Associated Press.
Otjen explained that the sea lion moving around the people was actually fleeing from the other male closer to the water's edge. They were likely fighting over which females they could breed with, the Associated Press reports. As you can see in the video, both sea lions had numerous opportunities to attack people but didn't.
"He's got swimmers all around him on his way back out, but they don't bother him," Otjen said. "What this is all about is his right to mate. The reason why the video has gotten like 10 million views is because everybody is running like Godzilla is chasing them."
Then again, that response is only natural.
"It may look funny that everybody is running, but it's not a bad choice," Otjen said. "Even if they don't bite, it's not a great feeling to have 200 to 300 pounds roll over you."
California Sea Lions
California sea lions, which are native to the West Coast of North America, live in coastal waters and nearby beaches, docks, buoys, and jetties, according to the National Oceanic and Atmospheric Administration (NOAA) Fisheries. Interestingly, their territory ranges from southeast Alaska down the Pacific Coast to central Mexico.
Male California sea lions can weigh up to 700 pounds and reach lengths of 7.5 feet. On the other hand, females can weigh up to 240 pounds and be 6 feet long. Pups typically weigh about 16 pounds.
California sea lions feed mainly offshore, and eat a variety of prey, including squid, anchovies, mackerel, rockfish, and sardines.
Males are polygamous and establish breeding territories that may include up to 14 females, NOAA Fisheries explains. And as the viral video shows, males are known to defend their territories with aggressive physical displays and vocalization that sounds like a dog barking.
California sea lions, like all marine mammals, are protected under the Marine Mammal Protection Act.
La Jolla's Sea Lions
After months of discussion and debate about how best to keep people away from sea lions on the beach, the city of San Diego filed a permit application to the California Coastal Commission for a seasonal closure of Point La Jolla earlier this year.
Point La Jolla is a rocky area between La Jolla Cove Beach and Boomer Beach, where sea lions rest and give birth on land. Filing the closure request made sense because Point La Jolla was closed last summer, from August 11–September 15. That closure came as an emergency action after authorities received numerous reports that people on the beach were harassing, and in a few cases harming, sea lions and their pups, according to La Jolla Light.
In May, the San Diego City Council approved an ordinance, which was authorized by the California Coastal Commission on April 8. That ordinance calls for closing the beach from May 1 through October 31 to protect the sea lions during pupping season, according to NBC San Diego.
According to NOAA guidelines, people should stay at least 50 feet from sea lions, seals, and other species protected by the Marine Mammal Protection Act.
TikTok user Charlianne Yeyna, who posted the video online, told NBC New York she saw many posted signs at the beach warning visitors to give seals and sea lions their space.
For more about protected marine mammals, be sure to read Photos Capture Rare Look At Adorable Newborn Endangered Hawaiian Monk Seal. Make sure to also check out our San Diego content, including 7 Must-See Stops In San Diego With Young Grandchildren.