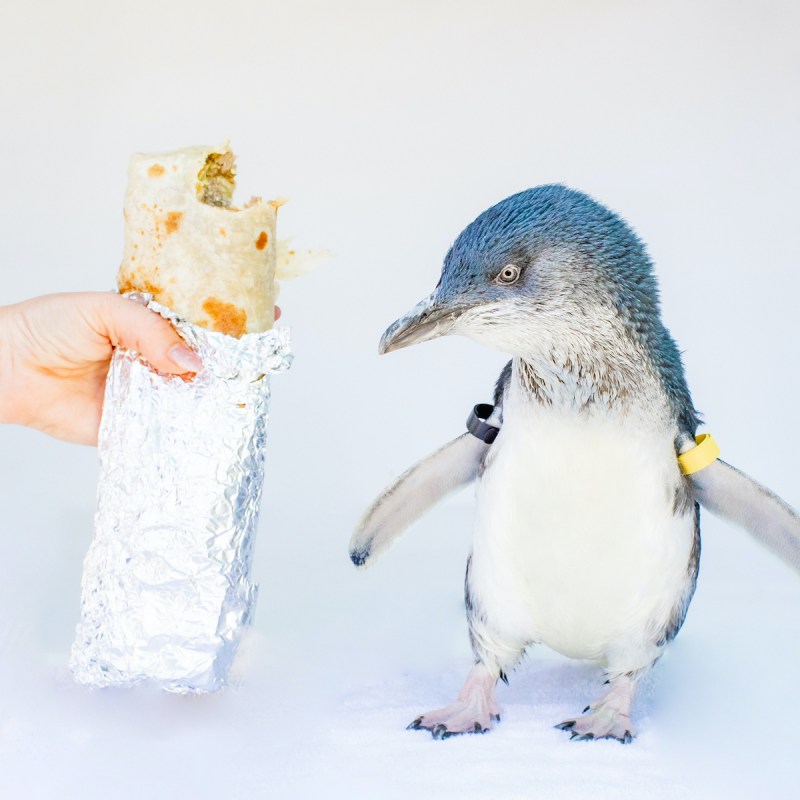 Blue penguins, specifically little blue penguins, just arrived on the West Coast — and you can visit them.
The penguins are in a new exhibit, called the Beyster Family Little Blue Penguins, at the Birch Aquarium at Scripps in San Diego, California, which is the public exploration center for Scripps Institution of Oceanography at UC San Diego.
"We are delighted to introduce the new Beyster Family little blue penguins to San Diego," Harry Helling, executive director of Birch Aquarium, told TravelAwaits in a statement. "Our team has worked diligently to design and develop a new state-of-the-art facility for this amazing species of seabird. Penguins are great indicators of environmental changes in the ocean and will help Birch Aquarium to better connect understanding to protecting our ocean planet."
Now, about that name. Little blue penguins are only about a foot tall. They also only weigh between 2–3 pounds, Birch Aquarium explains.
And yes, they really are blue.
All About Little Blue Penguins
Penguins don't only live in cold, snowy places. Little blue penguins are found in the coastal dunes and rocky shores of southern Australia, Tasmania, and New Zealand — in a climate similar to that of San Diego, Birch Aquarium explains.
In nature, the penguins live about 6 years, according to the Louisville Zoo, which is also home to little blue penguins. However, in managed systems such as zoos and aquariums, they are known to live for more than 20 years.
While their diet varies seasonally due to changes in ocean currents and temperature, in the wild, little blue penguins eat small fish such as anchovy, sardines, sprat, krill, and squid, the Louisville Zoo explains. They catch their prey by diving to depths of about 65 feet.
Little blue penguins have a fusiform body, which means it is tapered at both ends like a torpedo ideal for swimming and diving. Amazingly, the penguins dive about 800 times a day when hunting at sea, Birch Aquarium explains.
Little Blue Penguins At Birch Aquarium
The new exhibit at Birch Aquarium allows visitors to "come face-to-face with little blue penguins as they waddle, swim, and glide about their new home," Birch Aquarium notes.
That home is actually a 2,900-square-foot habitat that features an 18,000-gallon pool, multiple burrows, a sandy beach, and native plants so the habitat looks like the coast of Australia and New Zealand.
"As guests step into the exhibit, they're immersed in the world of little blues; learning from interpretative signs how they can help protect penguins and our ocean," Birch Aquarium explains.
"We're thrilled to welcome this colony of 15 penguins to our Birch family," Kayla Strate, lead penguin aquarist, said in a statement to TA. "The birds are happy, thriving, and adapting nicely to their new surroundings. Eventually, we're hoping the penguins will form a successful breeding colony."
Finally, if you're wondering about the wing band on the little blue penguin in the picture, each penguin in the exhibit wears a colorful wing band to help staff and guests quickly distinguish each bird from the others. For instance, Azulito, who got his name after an online naming campaign in June, wears a blue band.
How To See The Little Blue Penguins
Admission to Beyster Family Little Blue Penguins is included in the cost of general admission to Birch Aquarium, which is $24.95 for adults and $19.95 for children ages 3–17.
You can learn more about visiting Birch Aquarium here.
If you don't live in San Diego but want to see the penguins, don't worry. Birch Aquarium even has a live little blue penguin webcam. You can watch the little blue penguins here.
Be sure to also visit our zoo content, including: