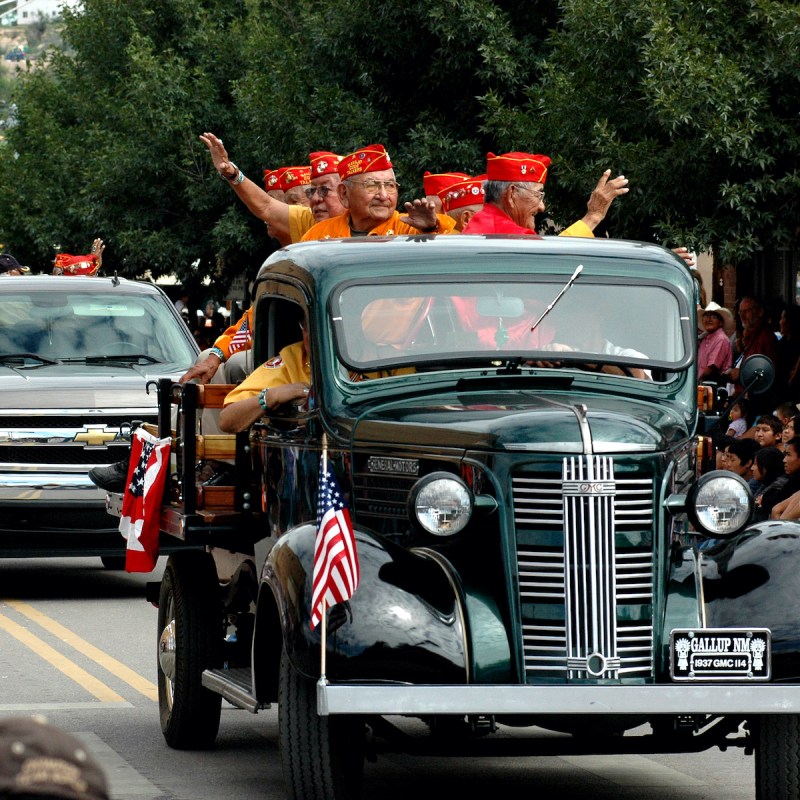 Gallup offers exciting outdoor adventures, nestled in spectacular red rock cliffs along historic Route 66. Just off I-40 in western New Mexico near the Arizona border, Gallup exudes old-world tradition, rich culture, and original indigenous art from the Native American people. One of the oldest Native American heritage celebrations marks its 100th year. Here's how you can visit.
The 2022 Gallup Intertribal Ceremonial Lineup
The Gallup Intertribal Ceremonial celebrates its centennial anniversary (100 years) from August 4–14 at Red Rock Park in Gallup, New Mexico. This New Mexico experience has taken place annually since 1922 to showcase, promote, educate, and preserve the diversity of Native American and Indigenous performing arts, cultural heritage, jewelry, and crafts, elevating Gallup to worldwide recognition.
Each night the show begins with a Native American and Indigenous Tribal Procession, including Zuni Olla Maidens, exclusive to women who dance while balancing pottery on their heads. To mention a few, Navajo Song and Dance from Tohatchi, New Mexico, Hopi Hooyapi Dancers (from Hopi, Arizona), and four generations of Zuni Dancers perform nightly.
The ceremonial celebration includes an artisan market, food vendors, four winds stage, the Ceremonial Queen and Tribal Royalty meet and greets, and an evening show. You'll experience songs and dances with a special presentation on the first Friday evening by the Alaskan Pamyua of the Yup'ik Tribe. Experience the HAKA: Maori Cultural Experience from New Zealand on Saturday evening.
Pro Tip: You can purchase single-day admission tickets or get the all-inclusive ticket bundle for August 5–10 that includes 2-day general admission to "One World Beat" at Red Rock Park and 2-day parking. Also included is the 3-day general admission to the Ceremonial Film Festival, Miss Gallup Intertribal Ceremonial Queen Dinner, and general admission to the Miss Gallup Traditional Talent Show and Crowning.
Visiting The Gallup Intertribal Ceremonial
The Ceremonial Film Festival brings filmmakers, actors, and audiences together to promote Indigenous and Native American storytelling through short and full-feature films.
The Miss Gallup Intertribal Ceremonial Queen Pageant includes a dinner honoring the outgoing Queen, a silent auction/raffle, meeting the contestants, a public speaking competition, and entertainment. The next evening at the final round, you'll enjoy a featured entertainer and the crowning of the new Miss Gallup Intertribal Ceremonial Queen.
Additional Centennial Celebration events include rodeo action, a juried art show and contest, virtual artisans' market, 5K walk/run, parades, powwow, Navajo song and dance, documentary film, and more citywide activities.
History Of The Gallup Intertribal Ceremonial Gathering
Two travel trends set the stage for the Gallup Intertribal Ceremonial's creation in September 1922. The Atchison, Topeka, and Santa Fe Railway headed across the American West, delivering travelers to an ever-growing number of Harvey Houses. Automobile travel along Route 66 ushered in the great American road trip. Several early Gallup traders, who ran businesses trading sundry goods for Native American art, attracted more tourists to visit and stay in Gallup.
Travelers pulled into Lyons Memorial Park north of the railroad and circled their cars around a group of bonfires in that first ceremonial year. They aimed their headlights to view Native American dancers performing social versions of traditional dances, rarely seen off the reservation. Organizers paid the dancers a silver dollar to participate that first year, while traders sold Native American artwork, silver jewelry, and rugs in a circus-style tent nearby. Today, the art market and nightly Native American dances are still a part of the ceremonial.
Native Americans depended on the traders to market their goods and crafts, and today, Gallup's Richardson Trading Post celebrates 108 years. In the early days, the parade was more of an arrival procession, Native Americans in wagons and horse-drawn carriages from the Navajo Nation and surrounding pueblos. The early rodeo was Native American games and foot races that evolved to the 5K and 10K races today. Organizers built a grandstand in 1923 to expand the viewing.
In the 1950s and '60s, the ceremonial opened to Native American groups beyond New Mexico, including plains tribes from Mexico. Today, the ceremonial invites tribes from Arizona, Oklahoma, Nebraska, Washington, and across New Mexico to the nightly dances. Generations of families participate in the ceremonial from dancers, rodeo performers, weavers, jewelry makers, bread bakers, and ceremonial queens.
Continuing The Gallup Intertribal Ceremonial For Another 100 Years
"The Gallup Intertribal Ceremonial today attributes its longevity to artists that are the culture keepers and participants who want to hold onto their heritage and keep their native language alive," says Melissa Sanchez, executive director.
The event includes a world-renowned juried art market and nightly Native American dancers clad in their dazzling native regalia that are the heart of the ceremonial. Parades today feature Native American marching bands, floats, historic automobiles, and dancers. The rodeo is more traditional today with eight standard events like barrel racing and roping, unique touches like a Pony Express race, and even a frybread throwing contest.
Make your travel plans to see the most authentic Intertribal Ceremonial in Gallup, August 4–14. My favorite memories are the picture-perfect sunsets across the red rock cliffs as colorful backgrounds for the dancers.
Pro Tip: Stay at the Hotel El Rancho, a historic reminder of old Route 66 days. The El Rancho Restaurant serves steaks, hamburgers, enchiladas, fajitas, tacos, tamales, and a thirst-quenching margarita.
Learn more about the beautiful locations and experiences in New Mexico, including: