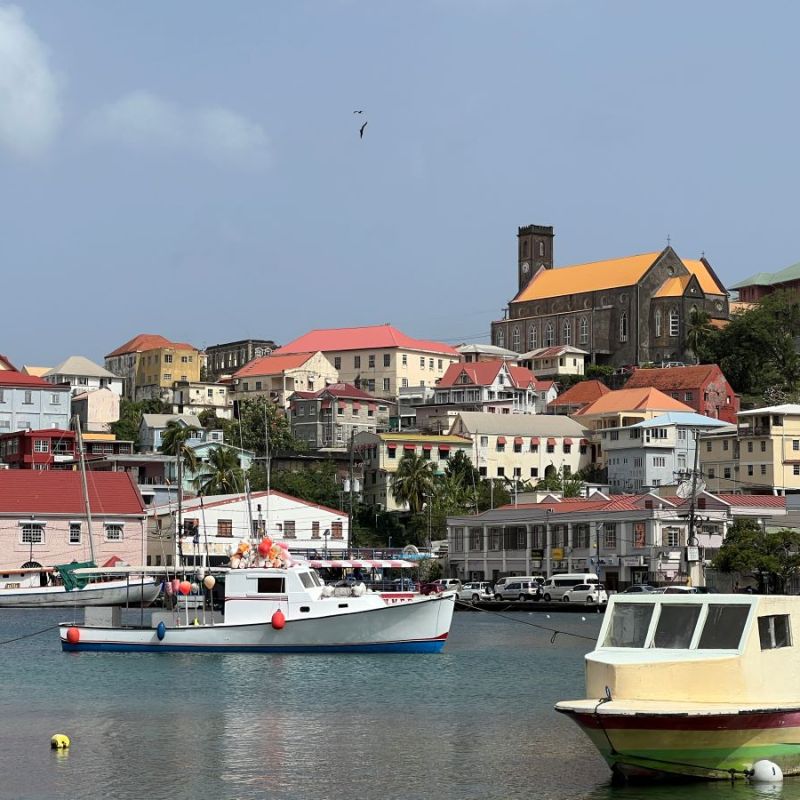 The realization I was turning 60 hit me earlier this year as I started seeing my high school friends celebrating the milestone. I am not one who usually marks big birthdays, but this one seemed worth celebrating. I chose to go to Grenada because it had long been on my bucket list of places to visit. I am a big foodie who loves to explore culinary traditions and bring home ingredients and local products to try at home. Grenada is known as "the Spice Island," so it was a perfect choice. Here are the reasons why I had a perfect birthday celebration in Grenada.
Thank you to my husband Richard Cleveland and Sandals Grenada (not a sponsored trip) for making my birthday so special.
1. A Great Destination
A fantastic location is so important for a destination birthday. Grenada is a Caribbean Island famed for its unspoiled beauty including 15 rushing waterfalls and more than 40 white sandy beaches. Divers will delight in fabulous dive sites with the world's first underwater sculpture park and the largest shipwreck in the Caribbean. There are culinary delights with aromatic spices and Grenada's budding organic chocolate industry.
I was so impressed with how clean the country is compared to other Caribbean islands I've visited, and the roads were much better as well. I loved that the airport was only a 10-minute drive to the resort we stayed at. On a humorous note, when we ventured off our resort a few times, the drivers mentioned that although there are stop lights in Grenada, there is only one that works on the island.
2. A Luxury Resort
When celebrating your birthday, a luxury resort is necessary. We chose Sandals Grenada and one of their Italian Swim Up Bi-Level 1 Bedroom Butler Suites. This resort is nestled along Grenada's Pink Gin Beach and the hillside above it. The resort is thoughtfully laid out, and even though it was almost near capacity on our visit, it never felt crowded. I travel for a living so for a vacation I just wanted to relax.
I spent most days by the quiet pool enjoying the gentle ocean breezes with a sunny beach view while sipping cucumber mojitos, one of the resort's specialty cocktails, and reading an escape novel. I am an enthusiastic fan of the Sandals brand for an all-inclusive resort. The resort's landscaping creates many private areas on the property and the flowers are just beautiful. It is such a peaceful place.
3. Butler Service
I definitely wanted to be spoiled for my birthday so we booked a Butler Elite level room at Sandals Grenada. The butlers at Sandals Grenada really know how to make you feel special. From the time we were escorted to our suite where our favorite beverages were stocked in the room to having pool chairs reserved for us every morning with a cooler of bottled water, we were indulged.
All we had to do was pick up the butler cell phone and call for cocktails or lunch to be delivered to the pool. Each afternoon we were greeted with an afternoon snack to nibble on before dinner. On my birthday, Antonio decorated our room with balloons, birthday signs, and even a small gift from Sandals Grenada. It really made me feel special.
Pro Tip: Make sure to fill out the butler preference sheet available online before arriving at the resort. For a birthday or special event, my husband let the staff know and communicated with the butlers to make my day special.
4. Private Tour
I am now a fan of private tours. They are pricier than if you go on a group tour, but I feel it is well worth the cost so you can tour at your own pace. I love that there is time to get to know your guide and get insider tips from a local. For convenience, we booked a guide through the excursions desk at Sandals Grenada. Another feature was riding in an airconditioned truck versus the open-back safari trucks on many of the tours.
Our guide for the day was Colin, who picked us up from the resort at 9 a.m. and drove us around the island for the day. He had a well-planned itinerary that took us to less crowded sites. Grenada is such a beautiful country with white sandy beaches and lush rainforests and mountains. We explored the Spice Market, Concord Waterfall, small fishing villages, and a national park.
The highlight for me was touring the Jouvay Chocolate Factory. This business goes beyond Fair Trade with the local cocoa farmers not only growing the pods but also majority owners of the factory enabling them to have a higher income. We visited during the end of the growing season and were able to see the cocoa beans being dried and processed.
5. Birthday Dinner
For my birthday dinner, we ate at the resort at Butch's Chophouse, which is named after Sandals' iconic founder. This restaurant is so good it ranks as one of the top ones in St. George's on TripAdvisor (number one at the time of writing). Sandals Grenada is known for having some of the best food of all the Sandals, which can be attributed to longtime chefs such as Chef Barbara, Chef Margaret, and Chef Juhn. The interior of the restaurant was elegant and refined with views of the "Party Pool," which is beautifully lit up at night creating magical views.
My meal was fabulous with a delicious aged ribeye steak. I wanted surf and turf and was able to add a lobster tail. I couldn't decide on which of these four sauces — classic Béarnaise, five peppercorn sauce, chimichurri sauce, and cabernet reduction — so I ordered all four on the side. It was the right decision as each one enhanced the flavor of my steak in a unique way. I love how the restaurant accommodates requests. I was pleasantly surprised at how good my steak was and compared favorably to steakhouses in the states. For sides, the Lobster Sensation Mac & Cheese stood out for its excellent flavor. It truly was sensational. For my birthday dessert, I enjoyed Chocolate Sin Pie, a sinful dark chocolate mousse layered with pecan brownie. So good!
Pro Tip: Each restaurant in Sandals Grenada has a signature cocktail. I tried most of them and found they made a nice pairing with appetizers before ordering wine with dinner.
Flying To Grenada
Just a few airlines fly from the United States to Grenada. The best choice is to get a flight on American Airlines from Miami to Grenada. This gives you the most options if your flight is canceled. American Airlines has a flight each day to Grenada from Miami. Sandals Grenada provides an extensive travel checklist to help you prepare for your trip.
Related Reading: