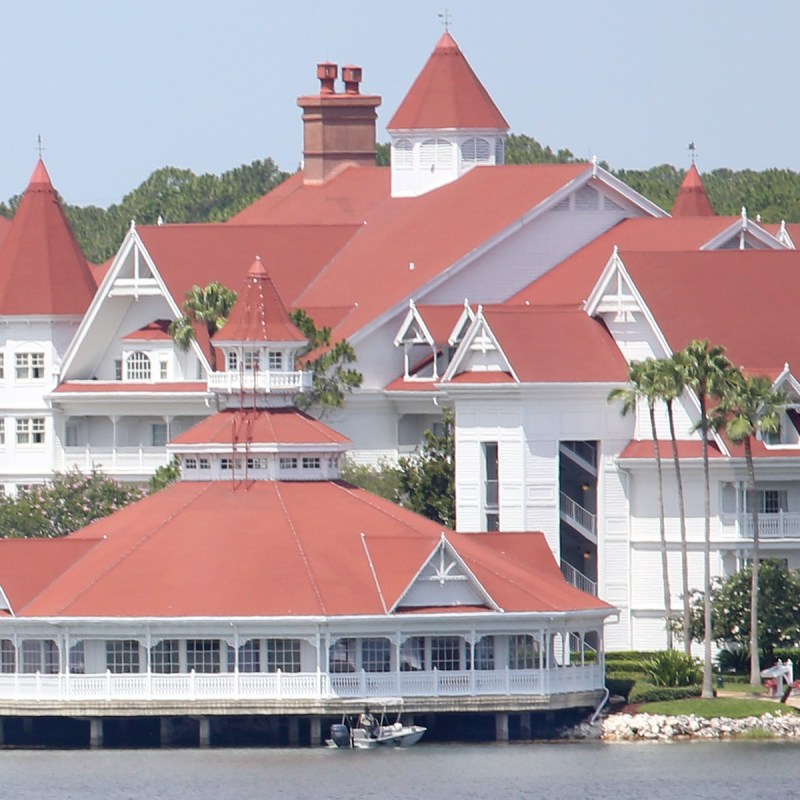 It's been a while since Walt Disney World's Grand Floridian Resort got a refresh. Some guests would probably tell you it's well overdue; as Disney's flagship resort, the rooms have felt more shabby than chic lately.
Consider that wish granted. Disney just unveiled major renovations to some of the rooms at the Grand Floridian Resort — specifically 200 Disney Vacation Club (DVC) Villas studios.
A Look Inside
First, let's talk function. The newly renovated rooms all feature two queen beds and a sofa bed. You can fit four people here comfortably and potentially a fifth, if they're fine with squeezing onto that sofa bed. The bathrooms are spacious and feature double sinks along with a bathtub and shower. Rooms also include a minifridge and a microwave.
Now, let's discuss the design. The new look is modern, whimsical, and gorgeous. And because this is Disney, after all, there's a touch of Mary Poppins influence throughout the space. We especially love the muted jewel tones and velvet textures throughout. Carpet is gone and replaced with wood-look flooring. This room actually feels grand.
All the renovated DVC studios are located in the resort's Big Pine Key building, where the lobby has also been refreshed with the same Mary Poppins motif. It looks welcoming and posh, and we can totally picture ourselves relaxing here after a busy day at the parks.
If You Want To Book It
While these updated rooms are technically part of Disney Vacation Club (Disney's timeshare program), any guest can book these studios if they're available. However, like most rooms at the Grand Floridian, they aren't cheap. You can expect to pay around $700 per night if you book directly through Disney.
There is a cheaper alternative, however. If you're flexible with your dates, you can rent DVC "points" from Disney timeshare owners. You can do this either through an individual or a broker such as DVC Rental Store.
There are several Facebook groups dedicated to renting DVC points, but you'll want to ask for references and a contract to protect your purchase. There's also very little flexibility for date changes or refunds. However, if you're comfortable with taking the risk, the savings can be significant.
The Grand Floridian has always been one of our favorite resorts because of its close proximity to the Magic Kingdom and the upscale feel of the lobby and accommodations. If you're planning a trip to Walt Disney World soon, these updated DVC studios should be at the top of your list, if your budget allows.
Don't miss any of our latest travel news, including: