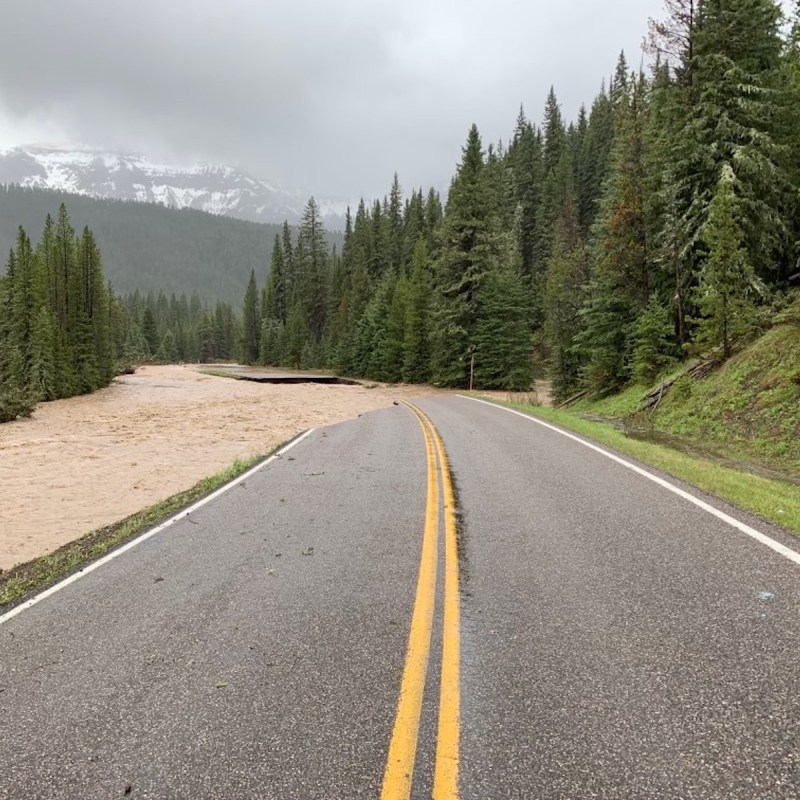 Portions of Yellowstone National Park are likely to remain closed for an extended period after severe flooding swept through the area.
Massive Damage
Yellowstone officials are describing the damage as "substantial," with roads and bridges completely washed away. Other infrastructure and areas are damaged to the point where passage is impossible. The park's five entrances remain closed this morning as crews work to assess the full extent of the damage.
The main damage appears to be in the park's northern loop near Gardiner, Montana. Many of the park's employees live here, but a mudslide is preventing them from accessing the park. Other areas impacted are Mammoth Hot Springs, Lamar Valley, and Cook Springs, Montana — all in the park's northeastern section. Power is also still out in certain areas in the northern loop. Crews expect the repairs in these areas to take a long time, therefore that portion of the park may not reopen to visitors this season. 
"Many sections of road in (the northern section) are completely gone and will require substantial time and effort to reconstruct," a park news release reads. "It is probable that road sections in northern Yellowstone will not reopen this season due to the time required for repairs."
Yellowstone's southern loop appears to be less affected by the flood waters. Park officials say this area will remain closed at least through next weekend. They are urging all visitors with reservations to continue to monitor updates on the cleanup and reopening process. Even when the southern portion reopens, the park will likely limit the number of visitors to prevent gridlock and overuse.
Historic Event
Heavy rainfall in the last week mixed with an abundance of snowmelt is causing the historic flooding. Crews expect the flood waters to recede today but warn they may rise again this weekend due to warm weather in the forecast that can cause more snow to melt. So far, there are no known deaths or injuries associated with the flooding.
This is the first time all entrances of Yellowstone National Park have been closed in 34 years. In 1988, a series of wildfires ravaged the park, scorching nearly 800,000 acres. An unusually late rainfall that year caused some of the lightning-caused fires to continue to burn. Despite massive firefighting efforts, the fires weren't fully extinguished until the first snowfall in September.
About Yellowstone National Park
Yellowstone National Park was founded as the country's first national park in 1872. It is roughly 2.2 million acres across three states. Top attractions in the ark include geysers, active wildlife, hiking trails, campgrounds, and spectacular scenery. Yellowstone backcountry is also popular for outdoor enthusiasts. Park officials say they are in contact with current backcountry visitors and are actively working to evacuate them from the park.
To stay informed on the park's reopening, you can text "82190" to 888-777 or call (307) 344-2117 for a recorded message.