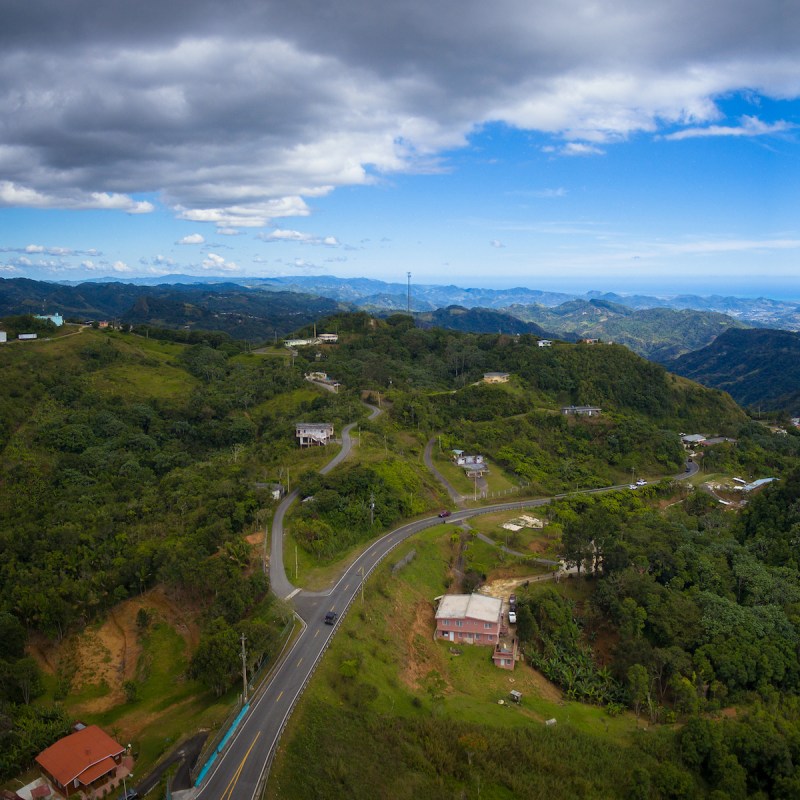 I had imagined Puerto Rico as an island surrounded by deep blue ocean water and bordered by long sandy beaches while hundreds of palm trees swayed nearby. And that is indeed part of this Caribbean island. In fact, Puerto Rico has 270 miles of coastline and 300 beaches to choose from. If you're looking for a beachside vacation destination perfect for relaxing, you will absolutely find that here.
But the interior of Puerto Rico is equally compelling while also being relatively unknown. So I was delighted to have the opportunity to spend a few days learning about the lesser-visited regions of the island. Hopefully, I can convince future visitors to venture beyond the beach, even if only for a day.
This trip was hosted by Discover Puerto Rico, but all opinions are my own.
1. Make Your Own Cheese
I knew my day was off to a great start when it began at a cheese-making factory. Vaca Negra, an artisanal cheesemaker located in Hatillo, a region on the north coast of Puerto Rico, was our first stop of the morning.
Founded by Wanda Otero, a microbiologist, in 2008, Vaca Negra is located in the heart of Puerto Rico's dairy country. They purchase raw milk from the 50 nearby farms and transform it into European-style cheeses and probiotic yogurt.
As the cheesemaker has grown and expanded, a cafe was added offering indoor and outdoor seating along with a menu of farm-to-table snacks and entrees. We were met by the cafe's chef, Gia, for a tour of the property.
We peaked into the storage room, which is kept at a steady 50 degrees as the cheese ages. Hundreds of rounds of cheese were stacked on floor-to-ceiling shelves. Then we watched as a staff member trimmed large rounds of cheese in preparation for sale and shipping.
Finally, we were treated to a tasting of both cheeses and yogurts. We began with samples of Montebello (similar to manchego) and Le Petite (similar to blue cheese or gorgonzola). Then we tried guava, mango, and coconut yogurts. Everything was delicious. If I lived nearby, this would be a regular stop.
For a really special experience, consider booking the Make Your Own Cheese tour at Vaca Negra. This begins with an informational session about the dairy business and cheesemaking in Puerto Rico, followed by a walking tour of the property, and concludes with the chance to make your own cheese. The cheese must age for 2 months and can be picked up by guests or arrangements can be made for shipping.
2. Zip Lining In The Mountains
It had been almost 10 years since I'd last been zip lining, so as the van wove its way up into the mountains, I was both nervous and excited. We were headed to Toro Verde Adventure Park, located in the municipality of Orocovis, a region found in the center of Puerto Rico almost 4,000 feet above sea level.
While most of our group opted for the series of seven zip lines, one brave member opted for El Monstruo, or "The Monster." As the longest zip line in America, this 8,300-foot cable is equivalent to 28 football fields. It became famous after Jimmy Fallon experienced it on an episode of The Tonight Show. When I was told that riders can reach speeds up to 95 miles per hour, I knew this was not for me.
So the five remaining members of our group received our harnesses and helmets and began the walk to our first zip line. Over the course of 2 hours, we would fly across seven lines, each a bit longer than the last.
Stepping off the platform of the first zip line was the hardest part of the day. Once that was behind me, I knew that I could trust the staff and the equipment to keep me safe while I flew over the forest. Eventually, we arrived at the final line, "Flight Of The Phoenix," which was 2,526 feet long and 623 feet above the ground. By the time I arrived on the other side, I found myself disappointed that this experience was over. If there had been another zip line, I would have kept going.
A truck met us at the end and drove us back to the starting point. Our whole group was giddy with excitement as we recounted our experiences.
Between most of the zip lines, there is a short and easy walk, however, between lines six and seven there was a long uphill trek. Anyone wanting to complete this experience should have sturdy, close-toed shoes and be prepared for about a mile of walking over uneven ground.
Pro Tip: Taking pictures while zip lining can be tough, but Toro Verde has two helpful options. First, photos can be requested in advance and a photographer will shoot at the end of two lines. Second, a camera can be rented that is strapped to the wrist. Motion sensors along the first three lines initiate both photos and videos. A link to photos and videos is sent via email later in the day. Members of our party tried both options and were very happy with the results.
3. Tour A Sustainable Farm
While I was interested in touring a sustainable farm, I wasn't overly excited about it. The weather was hot, I was tired from zip lining, and returning to my hotel room for a nap sounded enticing. So imagine my surprise when this turned out to be one of the highlights of my 8 days in Puerto Rico.
Frutos del Guacabo is located on just a quarter acre of land in the region of Manati, located on the north coast of the island. Yet despite its diminutive size, a wide variety of farming takes place here. Lining the long driveway are peppers, tomatoes, eggplants, cucumbers, herbs, and fruit trees. Flowers appear to add color and decoration along the drive, but all are edible and very popular with local chefs for topping food and cocktails.
In the center of the property are a dozen or so goats, producing milk that's made into cheese. At the back of the farm are greenhouses protecting hydroponically grown lettuces.
Effron Robles started Frutos del Guacabo in 2010 to supply restaurants and grocery stores with locally grown produce, something previously lacking on the island. He also wanted to introduce vegetables that weren't typically known or used in Puerto Rican cuisine. Today, he works with 50 farmers in a co-op to supply fresher and healthier food to residents, restaurants, and markets.
We began with a tasty lunch made with all local ingredients, many grown on this farm. Then we toured the property to learn more about the plants, style of farming, and the evolving food scene in Puerto Rico. Finally, we had a chance to milk the goats, something that looks much easier than it actually is.
Tours of Frutos del Guacabo are offered 6 days a week, Monday through Saturday. Lunch can be added to any tour, which I highly recommend doing. They are also happy to accommodate any dietary restrictions.
4. Explore A Cave System
I've always been intrigued by caves, so when I learned that I'd be exploring one of the largest caves systems in the world, I was beyond excited. Camuy Cave Park, located in the northwest region of Puerto Rico, is a complex of 10 miles of caverns, 220 caves, and an underground river. The park only encompasses a portion of the entire system which scientists estimate may have as many as 800 caves.
We began by receiving hard hats and then walked downhill to the entrance of the cave system. Our guide introduced himself and gave an introduction to the tour. Then we walked into the darkness. The air felt dense, like a tropical forest after a rainstorm. At times, it was hard to see anything, and then a bit of sunshine would appear like a light at the end of a tunnel. Surrounding us were hundreds of stalactites and stalagmites, the largest standing 17 feet tall. It was both an eerie and surreal experience.
While there is a bit of lighting in the cave, it's wise to also bring a small flashlight or use the light on your cell phone. The path through the cave is paved, but it does twist and turn, and at times it's hard to see the next step forward. All guests are asked to stay on the paths and avoid stepping in the surrounding mud, which is very slick.
The Camuy Cave Park was badly flooded after Hurricane Maria in 2017 and subsequently closed for 3 and a half years. It reopened in mid-2021 after considerable work was done to upgrade the paths, railings, and viewing platforms. Unfortunately, the flooding caused most of the bats to flee this cave system and they have not returned yet.
After a 30-minute walk through the caves and caverns, we retraced our steps — this time uphill — to the entrance of the park. Anyone with limited mobility can request a ride back to the start.
Pro Tip: The Camuy Cave Park does not currently have a website. Advanced reservations are not needed and tickets can be purchased at the entrance. In the event of heavy rains, all tours are canceled.
For more ideas and inspiration on Puerto Rico, explore these articles: