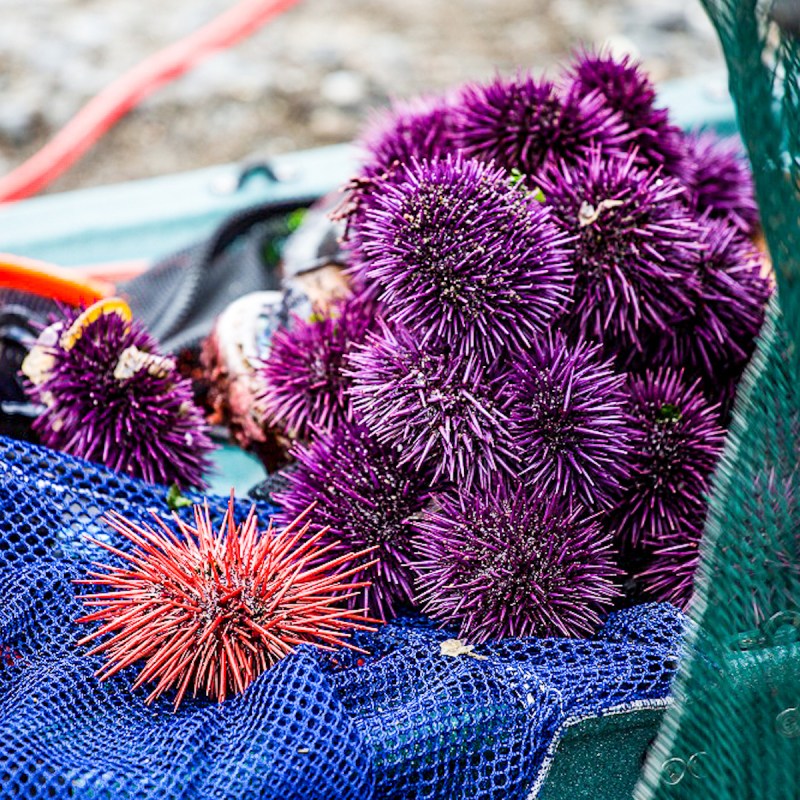 "If you can't beat um, eat um," say Mendocino Coast communities.
The first sea urchin festival in the U.S. happens from Friday, June 17, to Sunday, June 19, 2022, along the Mendocino Coast of California.
The 3-day Mendocino Urchin Fest will focus on the purple sea urchin (Strongylocentrotus purpuratus). A population explosion of the spiny echinoderms is destroying the kelp beds from Mexico to Canada, causing the coastal kelp forest to become "urchin barrens." Losing the kelp means losing the food and habitat for many marine creatures and organisms, including the already threatened abalone.
The Mendocino Coast has lost its delicate and productive kelp beds. For the last 7 years, scientists, fishermen, divers, and other specialists and citizens have worked to find solutions to restore the coastal ecosystem's kelp forest and marine inhabitants while the purple sea urchin population is decreasing.
Eating the urchins was a natural conclusion. After all, the red and green urchins are considered delicacies worldwide. The Mendocino Urchin Fest will introduce locals and visitors to the joys of harvesting, cleaning, and eating the purple urchin. Marine scientists, chefs, divers, restaurants, hotels, and community members are joining to share the delicious purple urchin and show and tell the coast's complex and delicate ecologic story.
Throughout the weekend will be demonstrations, pairings, and tastings. All will feature purple urchins. For example, the opener on Friday is an outdoor demonstration with a five-course purple urchin tasting menu. Urchinomics and Chef Matthew Kammerer host the event in Elk, California, at the Michelin-starred Harbor House Inn.
On Saturday, at Van Damme State Beach, festival-goers can participate in a uni demo and educational talk. Learn how to harvest, open, and clean urchins. In addition, the impact that the purple urchin has had on local fisheries will be presented.
Noyo Center for Marine Science plays a significant role in the urchin dilemma daily. They will be working at the science center and off-site locations during the festival, showing the circle of life in our coastal waters between plants, animals, and man.
Restaurants up and down the coast will be serving uni, the edible part of the sea urchin, in some form or another. Hotels are offering special festival packages featuring things like 3-for-2 deals.
Mother Nature is always extraordinary in this stunning part of the Pacific Coast, guaranteeing more to do than getting to know a purple sea urchin. Hiking, kayaking, fishing, surfing, and diving are at their best on the Mendocino Coast.
The Mendocino Urchin Fest website has a complete list of educational programs, foodie experiences, and lodging packages. See dates, times, and ticket information online.
For some of our most breaking travel news, check out stories like these: