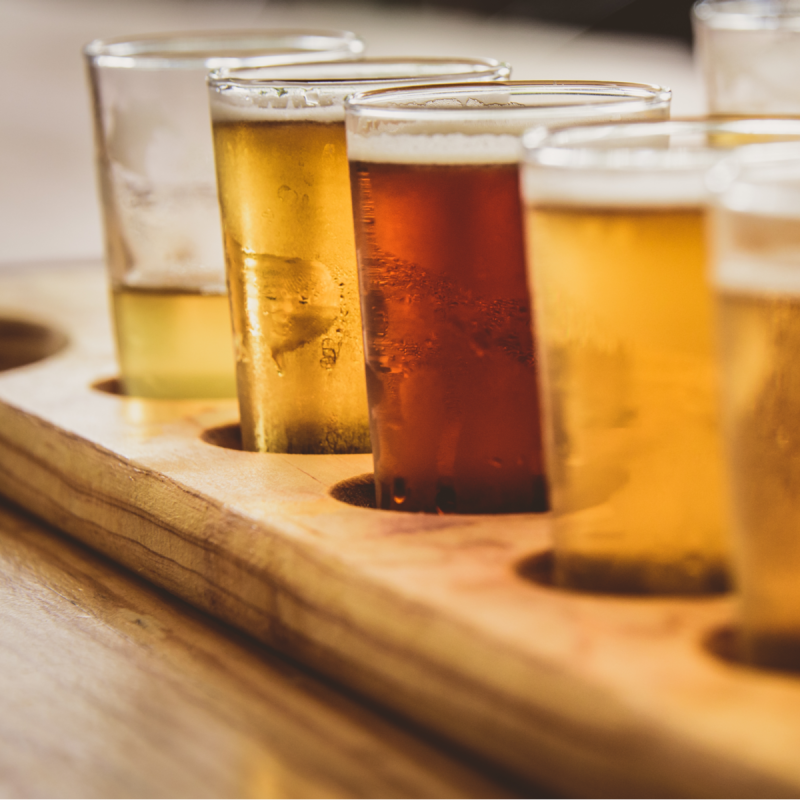 Craft-brewing is nothing new; in fact before large-scale brewers, such as Anheuser-Busch and Miller-Coors, began mass production and distribution in the 19th and 20th centuries, all breweries were in effect craft breweries. The popularity of the return to artisan-style beers brewed locally has been growing, with the '80s, '90s, and early '00s seeing hundreds of new breweries opening around the United States.
With taps that run the gamut from gold to brown, hoppy to sour, fruity to nutty, the sky is the limit for creative brewmasters. Some breweries have added their unique spins on old favorites, while others have created entirely new flavor combinations. Here are our readers favorite breweries from coast to coast. Read — and drink — responsibly!
1. Pals Brewing Company (Winner)
North Platte, Nebraska
Leading the craft beer pack for 2022 is Pals Brewing Company in North Platte. Conveniently located just minutes from I-80, you will want to make time for a brew from this family-owned brewery. During the summer, enjoy a sip on their outdoor patio. Kids are welcome and can enjoy the provided lawn games. Furry friends on leashes are also welcome — outdoors only — so bring the whole family!
Each of their award-winning brews is created on site in small batches. With an extensive rotating list of beers on tap, you are bound to discover a flavor that suits your palate, with 15 options to choose from as of this writing. Savor their dry, Irish Stout, enjoy the fruity fragrance of the Explosive Raspberry-O, or find your refreshment in a light and crisp Jerry Light for easy drinking.
Don't forget to order some tasty pub fare to share, and sit back for hours of conversation with your Pals in North Platte.
Brews To Choose:
Jalapeño Cream — Crowd Favorite!
Explosive Raspberry-O — Wheat Beer Fermented With Raspberries
Pineapple Express — Pineapple Infused Wheat Beer
Must-Try Appetizers:
Pals Pizza Fries
Baked Curds
2. Guadalupe Brewing
New Braunfels, Texas
While in New Braunfels, saunter on over to Guadalupe Brewing for fresh brews and live music. Choose between their family-friendly Guadalupe Halle and pizza and beer gardens. Or, for those of age, the 21+ Solms Halle might be more fitting. Leashed pets are welcome outdoors. Weekends bring with them live music, making a great night out for you and your partner or group of friends.
Both halls provide diverse options on tap, from light and easy options like the El Guad Father Lager, great for a warm summer day, to the dark Smoked Ancho Pepper Chocolate Stout for a heartier sip. Sample their barrel-aged options, or enjoy a pitcher of their traditional Pub Ale; the choice is yours. The brewers at Guadalupe regularly experiment with new flavors, so don't forget to drop back in to see what is new on tap.
Guadalupe has the perfect beer accompaniment in the on-site pizza options. Choose between Detroit- and New York-style pizza, and your selection of toppings. The NY Panchita has a distinct Texas vibe with a blend of fine cheese, chorizo, onions, and lime wedges. Or there's the traditional Detroit Italian Connection, with cheese, pepperoni, and sausage. Find a seat, grab a slice, and raise your glass to a fine Texas evening.
Brews To Choose:
Comal IPA
Meusebach Doppelbock — German Lager
Charly Brown Ale
Artisan Pizzas
NY Panchita — NY Style Pizza With A Texas Twist
Detroit Italian Connection
3. Bow & Arrow Brewing Co.
Albuquerque, New Mexico
Located in the heart of Albuquerque, just south of the I-40 and north of downtown, Bow & Arrow Brewing Co. offers a lively beer hall with access to on-site food trucks. Or get your beer to go either direct from them or from a local retailer.
Bow & Arrow was founded by two Native American women, and the company works hard to represent its native connections. Their Native Land beer campaign was a promotion that sought to honor native peoples and the ancestral lands where beers in the series were brewed. Proceeds went to non-profits that represent and serve Native Americans.
For a traditional pilsner with a twist, try the Denim Tux made from blue corn. Or enjoy a heavy pour of Vida West, a dark Mexican-style lager. If you enjoy sours, you will appreciate the Drop It Like It's Hot Toddy, a unique barrel-aged sour option. Visit their website for a current list of seasonal options and house favorites.
Brews To Choose:
Vida West — Mexican-Style Lager
Denim Tux — Pilsner
Grapefruit & Jalapeño Amigo — Fruited Sour
4. Door County Brewing Co.
Baileys Harbor, Wisconsin
Door County is a quaint island-esque getaway on Door Peninsula in Wisconsin, with Lake Michigan to the south and east and Green Bay to the northwest. Located in Baileys Harbor — named one of the friendliest small towns in the U.S. this year by our readers — Door County Brewing Co. affords lovely views of the water just across the street. Live music can be heard floating through the doors every Saturday. Head next door to DCBC Eats for some barbecue favorites to pair with your seasonal favorite beer.
Five brews are available year-round on draft as well as in cans. From the crisp League Night lager to the rich, chocolatey Polka King porter — and the IPAs and wheat in between — these are the flavorful standbys to enjoy during each and every visit.
Try a seasonal favorite like their Dark Skies dark lager each fall, or Big Sister, their hibiscus witbier just in time for those lazy-hazy-crazy days of summer. Or, experience a bit of Door County's experimental side with a brew from their side project, Hacienda Beer Co, available at DCBC as well as their taproom in Milwaukee.
Brews To Choose:
Pallet Jack Cruiser — Session IPA (Year-Round)
League Night — Lager (Year-Round)
Silurian — Oatmeal Stout (Winter)
5. Jackalope Brewing Company
Nashville, Tennessee
Jackalope Brewing Company can be found tucked into the artsy WeHo neighborhood of Nashville. The Ranch — their taproom and brewery — serves their hand-crafted brews six days a week. They also offer brewery tours for those with a desire to watch the process in action. Enjoy your drink at the bar or on their outdoor patio — when the weather is right, of course.
Year-round classics include the Sarka pilsner, Thunder Ann pale ale, Bearwalker maple brown, and the Fennario IPA. Try one of their seasonal brews, the Snowman Stout or the Lovebird, when supplies are available. They have an experimental side at Jackalope as well, rolling out their Shapeshifter Series in 2021, blending traditional and non-traditional flavors together for a tantalizing tango for your tastebuds such as the chai-infused brown ale known as the Chai Walker.
Brews To Choose:
Bearwalker — Maple Brown Ale (Year-round)
Fennario — IPA (Year-round)
Lovebird — Strawberry Raspberry Wheat (Seasonal)
6. Superior Bathhouse Brewery
Hot Springs, Arkansas
After a relaxing day in the hot springs of the titular town of Hot Springs, Arkansas, stop in for a refreshing beverage and some good conversation at Superior Bathhouse Brewery. It stands out as the one and only brewery located inside a U.S. national park. What's more, they use the hot spring water in their brews. Visit the former bathhouse turned brewhouse during your next visit to one of the nation's hidden gem national parks.
Try one of 18 different selections on tap. Traditional brews such as their IPL, Weekday Warrior, and Superior Pale Ale provide a familiar yet unique flavor for those uncertain of their beer boundaries. Their creations get more and more creative as you browse the tap: Spicy Ride, a jalapeño ale, is spicy yet sweet; Arkansour is a hopped sour with a refreshing yet tart flavor; and there's The Beez Kneez, a blonde ale with hints of honey and basil.
If you can't choose, don't. Instead, take a Beer Bath: A flight of each of their unique flavors all on one paddle. Sip responsibly!
Brews To Choose:
Dark Horse — Farmhouse Ale
Spicy Ride — Jalapeño ale
Beer Bath — Full 18 Tap Flight!
7. Wicked Weed Brewing
Asheville, North Carolina
Asheville awaits, where Southern hospitality and mountain living collide. Whether you drop in to the original Brewpub, the new taproom at their brewing facility, or the Funkatorium, a taproom dedicated to their array of sour beers, you will be greeted with a Wicked Weed welcome. Hazy IPAs, American light ales, and farmhouse ales sit side-by-side with a unique blend of sour beers to round out their robust 25-beer year-round roster.
Brews To Choose:
Pernicious — IPA (Year-Round)
Genesis — Blonde Sour Ale (Year-Round)
Barrel-Aged Guilty Pleasures (Seasonal)
8. Allagash Brewing Company (Tie)
Portland, Maine
Portland, Maine, is home to Allagash Brewing Company, where they brew all of their beer in one facility. Enjoy one of their year-round Belgian-style beers, a fruity session ale from their Little Grove collection, or one of their Coolship line beers brewed using spontaneous fermentation, a classic process. They also offer limited releases of new experimental beers, so keep your eye out for these great pours as well.
Brews To Choose:
Allagash White — Belgian-Style Wheat Beer
Curieux — Bourban-Aged Golden Ale
North Sky — Stout
8. Skagway Brewing Co. (Tie)
Skagway, Alaska
The quaint town of Skagway, Alaska houses a hometown brewery with breathtaking views of the surrounding mountains. Their proximity to the grandeur of mother nature is likely a contributing factor to their sustainability initiatives. From using CO2 emissions from brewing in their indoor greens garden to reusing fryer oil to run their heaters, efficiency and sustainability is the goal. Grab a brew and some food and enjoy it in the outdoor covered beer garden, or indoors if the weather is less suitable.
Brews To Choose:
Spruce Tip Ale
Abby-Style Belgian Dark
Chilkoot Trail IPA
10. Florida Keys Brewing Co
Islamorada, Florida
Drop by the tasting room and beer garden in Islamorada during your next stop in the Keys. Try Iguana Bait, a Kolsch-style beer made with local honey and hibiscus. For a more hoppy experience, indulge in Smelly Butt, an IPA brewed with pineapples. Or reach for Shenanigans (while it lasts!), an Irish red ale barrel-aged to perfection. With taps that rotate to make room for new brews, drop in today to see what's new.
Brews To Choose:
Iguana Bait — Kolsch
Smelly Butt — Pineapple Infused IPA
Rum Smuggler — Oatmeal Stout
It's imperative to feel comfortable and safe while traveling. Medjet provides premier air medical transport, travel security, and crisis response memberships, providing peace of mind for an affordable price.