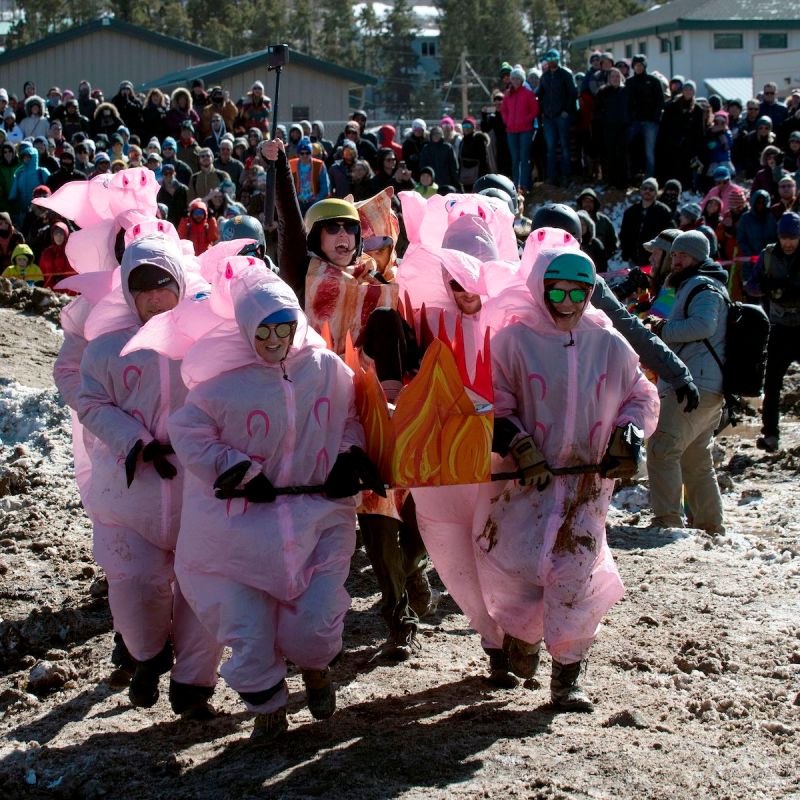 Home to breathtaking peaks, outdoor fun, and craft beer, Colorado is a mecca for adventure. But try taking a break from the normal Colorado activities to visit one of the Centennial State's rather unique festivals. Here are some of my favorites celebrating food, a dead guy, and even nothing at all!
1. Frozen Dead Guy Days
Nederland
There's no better place to start than the small town of Nederland. Home to less than 1,500 people, Nederland is often a pass through to nearby Eldora Ski Resort or Indian Peaks Wilderness Area. But swing by in the winter and you may just stumble upon an entire festival dedicated to a frozen man. 
Frozen Dead Guys Days honors a man from Norway — Grandpa Bredo — who is still on ice inside a shed in town. Upon his death in 1989 in Norway, his body was put on ice to transfer him to his family in the United States. He spent 4 years at the Trans Time cryonics facility in Oakland, California, before being sent to his daughter in Colorado. Years later, he became somewhat of a celebrity when the city council passed an ordinance allowing Bredo's body to stay. Today, one man is the designated "Ice Man" and is in charge of hauling up dry ice to the shed and packing it around the frozen body.
For more than 2 decades now, residents and tourists have come out in force for 3 days to celebrate Grandpa Bredo. The Frozen Dead Guy festival celebrates all things dead including coffin racing, a hearse parade, and all things frozen, like ice turkey bowling, ice sculptures, and a frozen T-shirt contest. Anyone can enter the brain freeze competition, where you try to down slushies as fast as you can for prizes, or try their hand at the human foosball competition to raise money for the local high school. All the activities are accompanied by live music, street performers, plus beer and creative "spirits."
Don't Miss: Have something to say to the frozen dead guy? Tell it to the crowd at the Frozen Dead Poet Slam where amateurs make up poems and songs about him. Who knows, maybe he hears it all!
2. Mike The Headless Chicken Festival
Fruita
If you can celebrate a frozen dead guy, then why not a headless chicken? Every summer, the western Colorado town of Fruita gathers to honor the Guinness Book of World Record holder for longest surviving headless chicken. Back in the '40s, Mike the chicken was supposed to be dinner one night, but the fateful axe blow didn't do its job, and the chicken lived for another 18 months without a fully-attached head. Scientists said it was because his brain stem was still in place.
During his time, thousands lined up to see Mike the headless chicken. At one point, he was worth $10,000 and, of course, took home the world record. Today, he's remembered with a 2-day festival — aptly named Mike the Headless Chicken Festival — that celebrates everything chicken-related. 
There's a chicken wing eating contest and a peep eating contest, plus a 5K run where dressing like a chicken is encouraged. Weekend events also include a car show and disc golf tournament. With live music, games, and plenty of food to eat, you may just find yourself fully celebrating a headless chicken.
3. Colorado Mountain Winefest
Palisade
Just 25 minutes east of Fruita on Interstate 70 is the small town of Palisade. Think of it as the wine region of Colorado. Colorado's weather and altitude create a unique environment for growing grapes which results in distinctly tasting wines. Colorado's elevation is the second highest in the world (only behind Argentina) and its dry weather is too harsh for pests that ruin grapevines.
To support the growing wine industry in Colorado, winemakers created what is now known as Colorado Mountain Winefest. Typically held in the fall, the wine festival raises money for the Colorado Association for Viticulture & Enology (CAVE), which works to develop winemaking across the Centennial State. Wine lovers from across the globe gather at the award-winning festival to taste new wines, tour the area, and partake in continued education. A popular event is the Tour de Vineyards, where cyclists can travel between vineyards to taste wine and sample food. I have done this ride (on my own, not as part of this event) and it was a delightful way to experience the area. 
Don't Miss: Colorado Winefest is the culmination of an entire wine week in Palisade. Be sure to check out all the other events happening in town, like a wine and chocolate pairing class, paint and sip class, and open houses at local wineries with live music. 
4. Bacon And Bourbon Festival
Keystone
Bacon, bacon, and bourbon! This festival in the ski town of Keystone is all about celebrating the pork provision and its spirited counterpart. River Run Village — Keystone's main square — is packed with tents, live music, games, and more during this weekend-long summertime event. 
Your main mission is to experience culinary delights either created with or inspired by bacon. There's bacon ice cream, bacon pie, fried bacon, and more! As you fill your belly with food, wash it down with bourbon tastings from around the country. And if you're not full by the end of the day, consider entering the bacon eating festival!
The Keystone Bacon and Bourbon Festival is a family-friendly event, with the addition of Camp Bacon. The kids can partake in a bacon bingo scavenger hunt, craft corner, face painting, and photo booth. A kids' Piglet Pass ($35 per child) allows young ones to taste bacon and drink lemonade with you throughout the festival.
There is an array of ticket options, depending on how much you want to eat and drink, ranging from $60 to $90 per person. You'll always get the best deal (and avoid long lines) by buying your tickets in advance online. 
A Personal Note: I am partial to this festival because I got married during the first ever Bacon and Bourbon Festival. I got to try some bacon in my wedding dress and smelled like bacon walking down the aisle!
5. FIBArk
Salida
With the sole mission to bring education and access to whitewater paddling sports, FIBArk — which stands for First In Boating On The Arkansas — launches a festival every year in the summer. Noted as the country's oldest whitewater rafting festival, FIBArk is a 4-day event showcasing watersports in Salida (about 2 hours southwest of Colorado Springs). 
The festival's signature event is the Classic Downriver Race. It's touted as the longest and most prestigious race of its kind in North America. Competitors navigate Class III and IV rapids for 26 miles. The Classic Downriver Race began in 1949 when six boats tried to paddle 57 miles from Salida to Canyon City, but most of the boats pulled off due to the intense rapids. Over the years, the course length and starting point have evolved, culminating with the marathon length used today. 
The festival also allows boaters to compete in slalom races, a raft sprint, and a freestyle competition. But there are a few events that are a little less serious. The raft rodeo, for instance, awards prizes for silly moves and costumes. Then there's the Hooligan Race, where teams are racing down the Arkansas River in anything but a boat, and the crowd determines the winner. Your furry friend can even participate by competing to retrieve various items from the water. 
Don't Miss: Stand-up paddle boarding (SUP) is gaining in popularity, and FIBArk is paying homage to the sport by hosting three SUP competitions, including a skills course. But the one event you should watch out for is the SUP boxing championship, where people stand on paddle boards and try to knock the other person into the water using gigantic boxing gloves. 
6. Olathe Sweet Corn Festival
Olathe
If you have not had sweet corn from Olathe, Colorado, I can personally tell you that you are missing out! This small town in western Colorado is home to just under 2,000 people and hundreds of acres of sweet corn. Known for its sugary taste, sweet corn harvest marks the unofficial start of summer. And what better way to celebrate than by throwing a festival? The summertime Olathe Sweet Corn Festival features all the corn you can imagine, plus live music from local artists for you to feast your "ears" on, family-friendly activities, and local food and craft vendors. The day-long festival kicks off with a parade through town and is free to attend. 
Don't Miss: If you can't make the trip to Colorado for the corn festival, don't worry! Sweet corn is typically distributed through various distributors nationwide. You can call your local grocery store to see if and when it will be offering Olathe sweet corn. 
7. The Nothing Festival
Telluride
Head an hour and a half south from Olathe and you'll hit the popular ski town of Telluride. Tucked within the rugged San Juan Mountains, Telluride is an old mining town that likes to celebrate everything, except for one weekend in the summer. That's when "nothing" happens. There is no bike race, outdoor concert, no tickets, nothing! The Nothing Festival is a not-talked-about tradition where locals enjoy calmer streets, emptier restaurants, and otherwise just a normal weekend. If you're not a local, you may not even hear about this "festival" because there's no promotion for it. 
Don't Miss: Sometimes, during the Nothing Festival, locals like to hold a night parade on Sunday. Some of them even wear (you guessed it!) nothing! (Aside from an appropriately placed prop.) Have fun!
Pro Tip: Best Colorado Festivals
Dress in layers! It doesn't matter what time of year you are visiting Colorado; the weather tends to shift from warm to chilly once the sun goes down. It's also not unheard of to get snow early (October) or late in the year (May). Come prepared with clothing options, especially in the higher elevations. And wear sunscreen — the mountain sun is strong!
Check out all there is to do in Colorado: