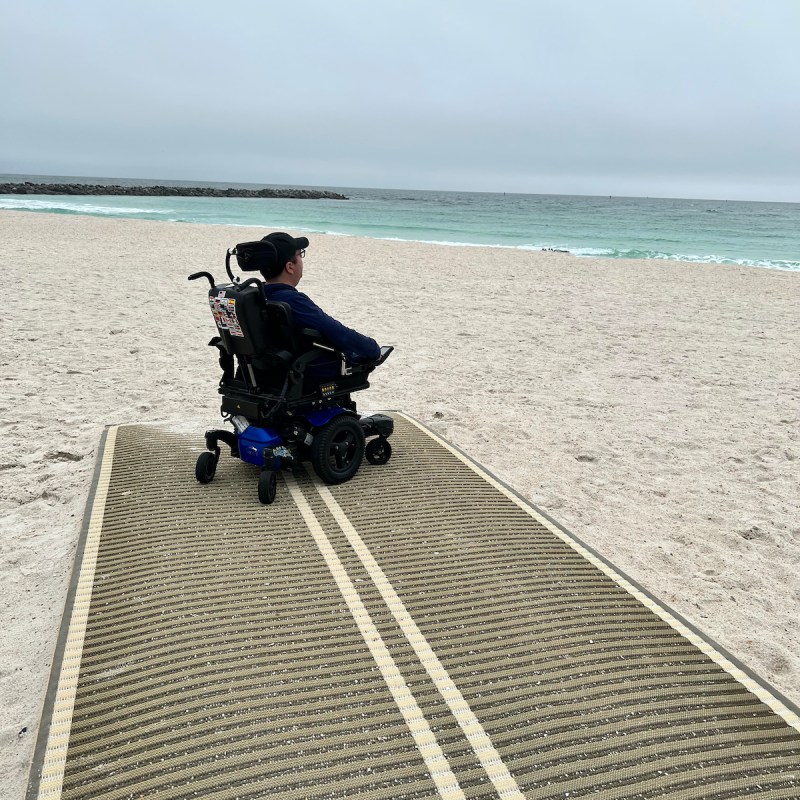 May is National Mobility Awareness Month, so it's only fitting that Panama City Beach, Florida, just kicked off its "Fun.For.All." initiative to highlight the destination's commitment to accessible travel.
"Accessible travel is a top priority for our destination and community," Dan Rowe, Visit Panama City Beach president and CEO, said in a statement. "We believe every traveler should be able to experience our beaches, restaurants, hotels and resorts, as well as the endless activities and events we offer year-round."
A Coastal Retreat
Panama City Beach is located in Florida's Panhandle. It's just under 100 miles from Tallahassee and just under 300 miles from Atlanta.
Now, about those beaches. The area has 27 miles of "sugar-white sand beaches bordering clear, emerald-green waters" where the Gulf of Mexico and St. Andrew Bay converge, Visit Panama City Beach explains.
"The legendary pure white sand of Panama City Beach is attributed to quartz crystals washing down from the Appalachian Mountains centuries ago. Along their journey, the crystals were bleached, ground, smoothed, and polished," according to Visit Panama City Beach. "The surf and tides of the Gulf of Mexico is responsible for depositing these millions of grains of sugar-white sand onto the pristine shoreline."
Improved Mobility Services
Panama City Beach has taken several steps to make getting around easier. For instance, the Bay Town Trolley offers qualified sign language interpreters and documents in Braille. Each trolley is also wheelchair accessible.
You can learn more about the trolley here.
Mobi-Mats, long, rubber mats that extend across sand and can reach the shoreline, are available so people with wheelchairs, walkers, canes, or other mobility aids can access the beach. The mats may be found at several beach access points.
Likewise, Mobi-Chairs, floating beach wheelchairs, make transition from sand to water easier. The chairs even feature armrests so users can balance easily.
Places To Go And Things To Do
St. Andrew's State Park, between the Gulf of Mexico and St. Andrews Bay, features wheelchair and mobility aids, including beach wheelchairs that may be rented at the ranger's station, as well as elevated boardwalks, accessible fishing piers, and campsites with concrete pads.
You can learn more about St. Andrews State Park here.
There are numerous other accessible beach points at Panama City Beach and MB Miller County Pier, which has a sloped entrance for wheelchair access. The county also partners with Beach Powered Mobility to provide visitors with motorized wheelchairs that can be used in the sandy terrain.
You can learn more about the powered beach cruiser and regular beach wheelchair here.
Finally, Panama City Beach Conservation Park is a 2,900-acre park that includes wetlands, wildlife, and a pine forest. The park also features several miles of paved trails accessible to wheelchairs and eight boardwalks.
You can learn more about Panama City Beach Conservation Park here.
If you're looking for even more to do in Panama City Beach, you can also visit Pier Park Mall, a 1.1-million-square-foot, open-air mall offering shopping, dining, and tourist attractions; WonderWorks, a multi-level, wheelchair-accessible amusement park; and the Sea Dragon Pirate Cruise, a 2-hour cruise aboard a wheelchair-accessible ship.
You can learn more about accessibility at Panama City Beach here. And you can learn more about the Limitless Florida statewide accessibility initiative here.
For more about traveling with mobility issues, here are some selections from our travel tips category: