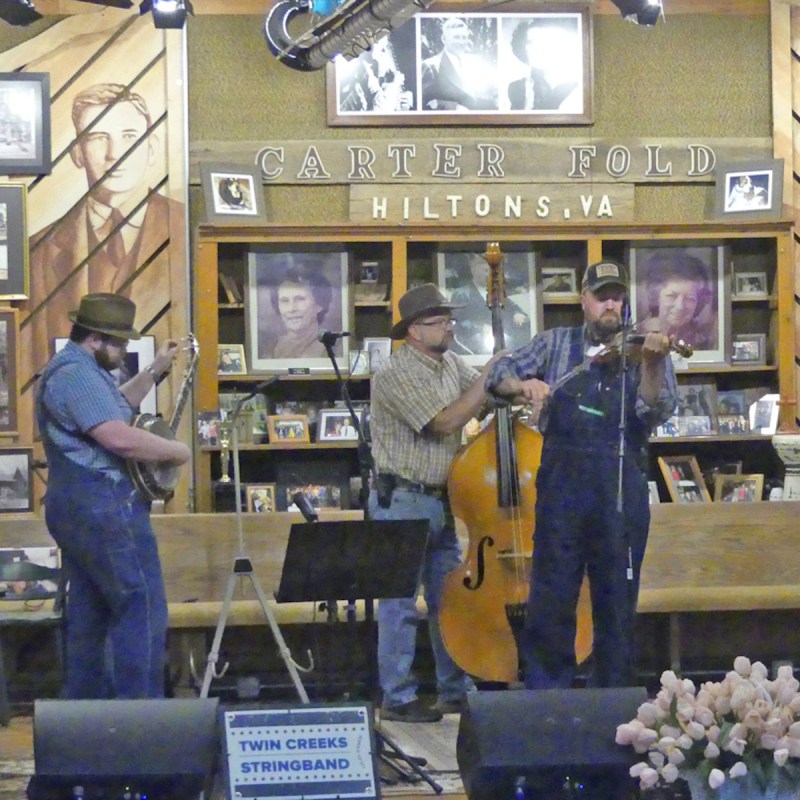 In the southwest corner of Virginia, aka the Heart of Appalachia, music is an important part of life. This area has some of the most beautiful landscapes anywhere, but remember: these attractions are accessed by mountain roads not interstates. Here are my favorite music experiences in Virginia's Heart of Appalachia.
I visited on a comped visit, but my heart was captured by what I saw and heard.
1. The Crooked Road
Many of the places you drive though on The Crooked Road, a 253-mile trail through some of southwest Virginia's music history, have signs for Wayside Exhibits. There are a series of 26 Wayside Exhibits along the trail. You can pull off the road to read the panels and listen to a 5-minute audio recording about the heritage music and musicians in that location. The audio can be heard on your car radio within a range of about half a mile. They tell a bit of the music history of that spot and play some of the signature songs.
2. Ralph Stanley Museum
Doctor Ralph Stanley's mountain music helped create what is today known as bluegrass. The museum opened in October 2004. It's an interactive musical journey through the career of Dr. Ralph Stanley and mountain music which got its start in the mountains of southwest Virginia. Ralph and his brother, Carter, founded the Clinch Mountain Boys band in Norton, Virginia. He was awarded an honorary Doctor of Music from Lincoln Memorial University in Harrogate, Tennessee, received the Living Legend Award from the Library of Congress, and won a National Medal of Arts. He was also the first artist given the Traditional American Music Award by the National Endowment for the Humanities.
Browsing through his museum gave me a new insight about the beginnings of mountain music. Dora Wallace, museum director, started us with a brief history of Ralph Stanley and then turned us loose to browse the museum. There are displays of the major instruments used in mountain music — mandolins, banjos, guitars, and fiddles. The headsets let us listen to stories and songs through the museum, which does a wonderful job of telling not only Ralph Stanley's story but that of mountain music and bluegrass.
The museum displays show how this original music of the mountain people learned in primitive churches merged into country and even pop. One placard shows the connection with musicians like Loretta Lynn and Chuck Berry's songs. The highlight of our visit was meeting and hearing Ralph Stanley's grandson — Nathan Stanley — sing a moving ballad about his grandfather, "He'll Always Be Papaw To Me."
3. Axe Handle Distillery
Local businesses contribute to the Heart of Appalachia music scene. Axe Handle Distillery has Friday night community bluegrass-picking sessions every Friday from spring to fall. Anyone who wants can bring an instrument and join in. They also have events with local musicians. When we visited, Tim White, a well-known bluegrass musician and host of the PBS television concert series, Song of the Mountains, entertained us.
The distillery's odd name comes form the original family business building log homes Appalachian-style all over the country. That arm of the business is still going strong.
4. Carter Family Fold
Carter Family Fold is a non-profit founded by A.P. and Sara Carter's daughter, Janette Carter, with a Saturday night tradition that keeps her family's music alive. For those not familiar with the Carter Family, they are considered the first family of country music: A.P. Carter, his wife Sara, and her cousin Maybelle Carter who was married to A.P.'s brother. One of Maybelle's daughters who continued the family tradition was June Carter Cash, wife of Johnny Cash. A.P. traveled the area collecting the old-time ballads brought over to this country by Appalachian settlers. Their first recordings in 1927 are considered the start of the commercial country music industry.
The Fold is in Hiltons at the base of Clinch Mountain. It's a rustic frame building constructed in 1976 and expanded over the years. It has garage-type doors along the sides that can open in hot weather to cool the building. Normally, only acoustic bands perform, and electric instruments are rarely permitted. The band playing the night we visited was Twin Creeks Stringband, an old-time mountain music group. They consisted of Jared Boyd on the claw-hammer banjo and vocal, Chris Prillaman on the fiddle, Jason Hambrick playing guitar and vocal, and Stacy Boyd backing it up on his bass. They had us and many other guests dancing to tunes like The Long Black Veil and Cotton Eye Joe.
During the first weekend of August, the Fold hosts a Friday and Saturday festival. There are craftsmen, lots of good country cooking, and — naturally — music.
5. Birthplace Of A.P. Carter
The cabin that was the birthplace of A.P. Carter was moved to the Carter Family Fold from its original location in Little Valley, the next valley parallel to Poor Valley where the Fold is. When I entered, the first one that greeted me was a cute dog named Wilson, the Fold's mascot. Later, I saw him "dancing" to the music with other guests on the dance floor. U.S. Registry service dogs are allowed at the concerts.
The two-room log cabin with a tin roof and stone chimney was built in the mid-1800s. It is furnished much as it would have been when A.P. was a child. There are old family photos, clothing, spices, mason jars, and early 20th-century furniture. The white enamel gas stove had old cooking pots and an aluminum coffee pot on it.
6. A.P.'s Store
The museum that tells the story of the first family of country music was once A.P.'s store. Along with his musical career, he ran this store almost to the time of his death in 1960. It was where the first Fold concerts were held prior to building the concert hall. It's a State and National Historic Landmark.
When I stepped into the white-frame building with its twin-peaked tin roofs, there were all sorts of memorabilia from the Carters' career. Clothing the Carters wore, an old gramophone, dresses Sara and Maybelle wore at a 59th anniversary performance, the Carter family tree, and more. It's a treasure trove of musical memories.
Pro Tips
For lodging when visiting the area, consider staying at a park. Natural Tunnel State Park offers a lodge, cabins, yurts, camping, both tent and RV with electric, and water. There are bathhouses with hot showers and a dump station is in the park. Depending on whether you were gripping the seat bar with white knuckles like me, as you contemplated hanging over that magnificent 10-story gorge by one small cable, you might have been humming either Nearer My God to Thee or Rocky Top, while enjoying an incredible view.
Breaks Interstate Park is another choice. It is one of only two interstate parks that are in two states. Breaks is in Virginia and Kentucky. It has cabins, cottages, yurts, restaurants, a lodge, and all types of camping from full-service RV sites to primitive tents.
If you prefer conventional lodging, consider The Inn at Wise. It's a colonial-revival style historic inn in Wise, Virginia, built in 1910. But the rooms provide 21st-century comfort and amenities hand in hand with the old-fashioned style.
Read more of our Virginia content here, including: