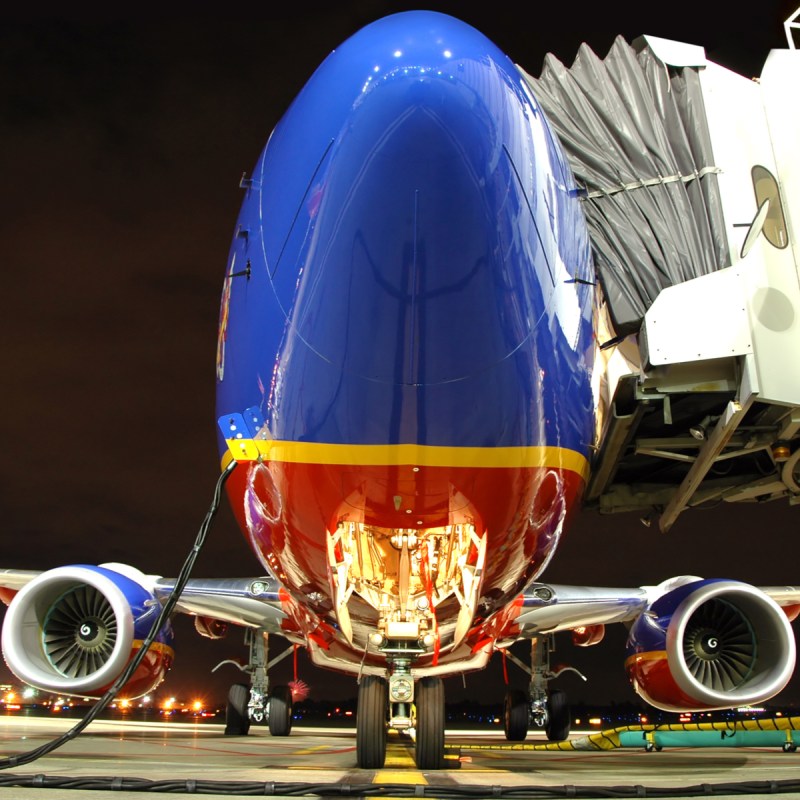 Southwest Airlines is preparing to spend a massive $2 billion to invest in upgrades to improve the customer experience on-board their flights.
At the top of the list are upgrades to Wi-Fi connectivity on planes, and the addition of power ports to charge phones, tablets, and other personal devices at every seat.
"You can never stop working to get better, and as our beloved founder Herb famously said, 'If you rest on your laurels, you'll get a thorn in your butt,'" CEO Bob Jordan said in a release. "We have a long and proud history of offering legendary customer service and warm hospitality, and we have bold plans and significant investments to modernize and enhance the Southwest Experience."
Wi-Fi Enhancements
The most significant change is a commitment to significantly upgrade the Wi-Fi aboard Southwest's planes. The company is upgrading its existing fleet with hardware that will increase speed and bandwidth up to 10 times the current hardware on-board.
Testing is going on now on some flights, and if all goes as expected, hardware will be installed on 50 aircraft by the end of May, with another 350 to be upgraded by the end of October.
"Top of our list is giving our customers reliable connections in the air to those things that are important and accessible to them on the ground," said Ryan Green, chief marketing officer. "We're investing in our on-board connectivity and bandwidth available to each customer with upgraded technology that's now installing across our existing fleet, a strategy to diversify our Wi-Fi vendors on upcoming aircraft deliveries."
In-Seat Chargers
It can be quite frustrating on a flight, using your phone or tablet to read, watch a movie, or play a game, to see the power level on your device drop as the flight progresses.
Southwest is hoping to change all of that with plans to install latest generation USB-A and USB-C power ports on every seat. Plans call for it to happen on-board every 737 MAX aircraft starting in early 2023.
"The ability to keep your devices charged while you are connected in-flight is a request that we've heard consistently in ongoing conversations with our customers," said Tony Roach, vice president of customer relations.
Other Changes
Technology isn't the only focus of the program. Several other enhancements are in the works.
More Bin Space
Future planes being ordered by Southwest will include larger overhead bins to store carry-on luggage more efficiently.
Online And Kiosk Service
The company is adding kiosks and improving online functions that will allow customers to perform certain tasks without standing in line at the airport or waiting on the phone. These include certain upgrades, the ability to add lap passengers, and more.
New Drink Options
Bloody Mary mix, ready-to-drink cocktails, and hard seltzer will be among new beverage offerings starting this summer.
Southwest officials are excited about all of the changes that are coming.
"As we continue to welcome back loyal customers and win new ones, these initiatives, combined with the best people in the industry, support our purpose of connecting people to what's most important in their lives through friendly, reliable, and low-cost air travel," Jordan said.
Read up on some of Southwest's most recent announcements: