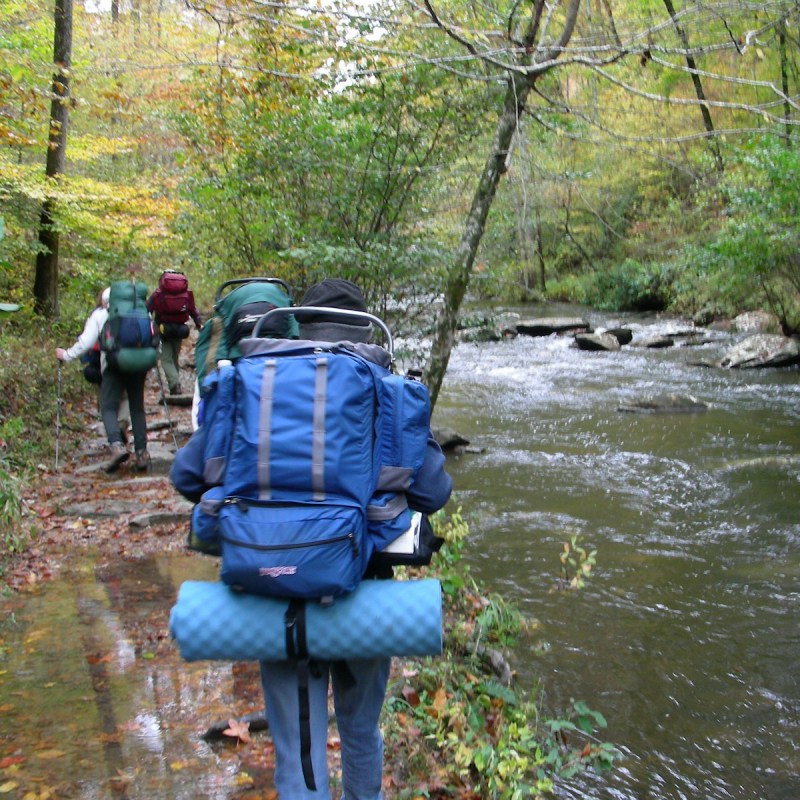 My love of backpacking began when I was a teenager. Unlike taking a day hike, backpacking offered adventure as you packed everything you need to spend a night or more in the woods on your back and spend the night sleeping under the stars next to a stream, a rushing waterfall, or on a rocky bluff, the sounds of nature surrounding you.
Over the years, life got in the way and there never seemed to be enough time to get away so my love of backpacking was pushed to the backburner. Now that I have retired, I have the time and want to try it again. Trouble is, I'm not that spry teenager anymore. My knees pop, snap, and ache. My back isn't limber anymore. But the trail is calling.
Backpacking is an excellent way to feel rejuvenated, take you to landscapes and nature that only a hiking trail can, and even challenge you. It can be as simple as spending one night on a trail in a local state park where they offer backcountry camping to something truly challenging like hiking the entire Appalachian Trail (A.T.) from Georgia to Maine.
One thing is for certain: it is a fun, rewarding, and satisfying sport that those of us over 50 can enjoy far into our golden years.
Not convinced that you're never too old to backpack? Well, a good friend of mine, M.J. Eberhart (better known by his hiking moniker, Nimblewill Nomad) recently completed hiking the A.T. from Alabama to Maine at the age of 83, becoming the oldest man to do so.
Here are eight tips to get you started on your own journey.
1. The Joy Of Backpacking Over 50
Besides exploring nature, there are many other benefits associated with backpacking:
Being physically active is good for your mind and body.
It improves your cardiovascular health.
Builds strong muscles.
Increases cognitive function.
It's therapeutic, allowing you to get away from the everyday grind and immerse yourself in nature.
Builds confidence in yourself and your abilities.
2. Getting In Shape
Before you lace up those boots and set one foot on the trail, get to know your body and your physical condition, and don't sugarcoat it. Be honest with yourself. Are you having some knee or back aches? Are you a bit overweight? How is your stamina?
Always start your adventure with your personal physician. Tell them what you are planning to do and get the low down on your physical condition. Be sure to ask their advice for preparing your body for the adventures ahead.
3. Start With The Basics
If you have never taken even a day hike before, start by walking your neighborhood and gradually increase your distance.
When you're ready to move on to something more challenging, take your walk to the nearest park or state park and take day hikes of varying degrees of difficulty. Again, begin with easy trails and work your way up to the more difficult but be sure to take hikes that have something of interest to spur you on like a waterfall, panoramic view, or history.
From there, it's time to start taking easy overnight treks. Using the same process, build yourself up to longer stays in the woods. But before you can do that overnighter, you need to get some basic gear and do a little more planning.
4. Gear Basics
You have to remember that you will be carrying everything you need on your back. Many people give up backpacking after their first trip because they carry literally everything — cast iron skillets, large four-person tents, radios, you name it. It's not good and is usually the end of their backpacking adventures.
The idea is to strike a balance between packing light and still being comfortable. There is a science to buying the right gear for your adventure — tents, sleeping bags, food, etc. The American Hiking Society is one of the best sources for learning the intricacies involved in making the best choices for backpacking gear and making your first backpacking trip enjoyable and comfortable.
There are a few essentials you need to really focus on. The first is water, a backpacker's best friend and worst enemy.
It's the hiker's best friend because drinking enough water on a hike is essential to keep you hydrated and healthy. It's their worst enemy because it is very heavy to carry.
A good rule of thumb is to drink one half-liter of water per hour of moderate activity in moderate temperatures. Increase or decrease the amount depending on the hike's difficulty and the outside temperature. Be sure to add electrolytes to your water to help with hydration.
Do not drink from any water source on the trail without first purifying it either through a filter or with chemicals. Illnesses from water-borne germs like giardia are not a laughing matter. While it is treatable and rarely fatal, the physical toll it takes on your body is not fun.
Talk with the local outfitter about water filters for your pack or water bottle. The go-to magazine for backpackers, Backpacker Magazine, does an annual review of the latest filters that will also help you make the right choice.
Always carry basic communications — a cell phone and GPS unit. Cell phones are OK to a point, but you are never sure if you will have a signal or not, and of course, the batteries die.
Don't ever use your phone as a GPS device. Again, lack of signal is the problem and can leave you stranded out in the backcountry. It also drains batteries quickly. Instead, opt for a GPS device. Prices start at $100 for the basic Garmin GPS Map 64ST.
Even with a good GPS unit (and having learned how to use it), there is still one thing you should learn before your big adventure…
5. Learn Orienteering
A GPS is good, but you can still lose the signal or the batteries can die. It's a good idea to learn orienteering — the use of a traditional map and compass. Oh, and be sure to carry them with you on your hike.
National topographic maps for anywhere in the country are available online from the U.S. Geological Survey as well as local outfitters who can instruct you on the art of orienteering or guide you to someone who can teach you.
6. Make Informed Decisions About Your Trek
As you see, planning is everything for a successful backpacking trip. But there is more to it than just the gear you carry.
Of course, you want to make your backpacking trip memorable and experience all that nature has to offer, but you need to know your limits.
Good trail guides and maps will tell you the degree of difficulty of a trail. But that is all subjective and usually is based on the author's experience and condition, which may not be the same as yours.
With a good trail guide like those found on AllTrails or an app, you can look at the map and the accompanying elevation gain to get a sense of what kind of climbing you are in for on the hike you choose to take.
Also consider the length of the hike. Sure, the average person can walk 2 or 2.5-miles an hour on level ground, but add in climbing ridges and mountains and fording streams, and unless you are in top condition, your speed will drop significantly and a shorter distance overnight hike may be in order.
Locate water sources along the trail before you head out. Are there plenty of streams and springs where you can filter water? That will help lighten the load, but still always carry plenty with you. You never know when that water source will be dry.
7. Be Weather Wise
Check the weather before heading out. If severe storms are predicted, don't chance it.
8. Final Tips Before You Hit The Trail
Never hike alone. I have many backpacking friends who go solo, but it's not a good idea. Emergencies happen on the trail and having someone with you could be the difference between life and death.
Pack along a first aid kit and know how to use it.
Wherever you go, let others know of your plans — when you will be at the trailhead, what route you are taking on the trail, where you will be spending the night, and what time they can expect you to return home.
Before going on your first overnight, consider doing a shakedown hike of your gear. Load your pack with everything you plan on taking with you and do a day hike through a local park or state park. Walk a distance. Is the pack comfortable or too heavy? Take the gear out and try it to make sure it works and that it is not too difficult to operate on the trail.
And with that, you are ready to lace up the boots, strap on the pack, grab the hiking poles, and take your first backpacking trip. Happy trails!
For more information on Camping, explore these articles: