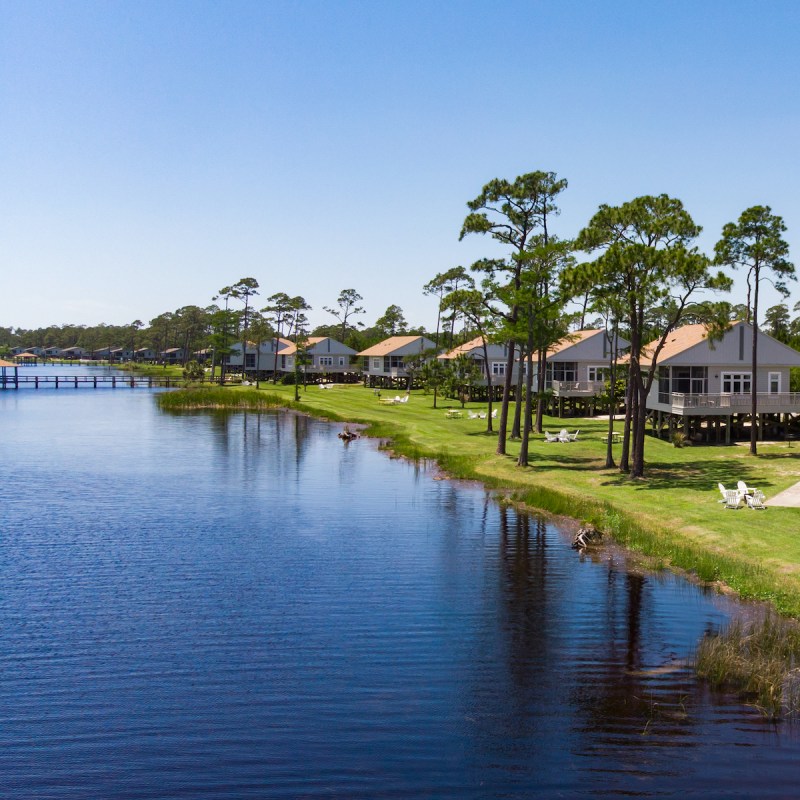 If you're looking for stunning sunrises, carefree afternoons, and sunsets that will take your breath away, Eagle Cottages at Gulf State Park is the perfect place to stay for a Gulf Shores and Orange Beach, Alabama, getaway. Eagle Cottages is a hidden oasis off of the bustling shore of the Gulf where you can reconnect with yourself, family, or friends. You'll find this delightful row of cottages tucked into Gulf State Park. With a passion for sustainability and eco-friendly structures, your adventure will go hand in hand with protecting and learning about the various ecosystems within the 6,000 acres surrounding you.
Each morning of my hosted stay was graced with the sun's welcome rays peeking up over the horizon to display her radiance, and as the sun rose higher, the reflection of the sky was painted on the still surface of Lake Shelby. With two screened-in porches to choose from, I would take my freshly brewed coffee out to breathe in the beauty of the new day.
1,400 Square Feet To Stretch Out And Relax In
When I booked my husband's 50th birthday getaway, I knew I wanted to make his experience something that would be memorable and an opportunity for him to enjoy some of his outdoor passions. As a member of the unique lodges of the world, Eagle Cottages makes sure each booking guest has their stay personally tailored to them. Mark Larkin, the property manager, was instrumental in preparing our arrival with special birthday treats and hand-picked guided tours for each day of our stay.

Every cottage is a stilted spacious three-bedroom, with three full bathrooms and a fully-stocked kitchen that's designed with everything you need to make your getaway at the beach absolutely perfect. There is one cottage that is completely ADA accessible with a ramp and ADA compliant bathroom.
Since this is not your typical lodging getaway, each and every day, you have services to your cottage. Housekeeping comes to make your bed, tidy up the bathrooms to restock the towels, clean up your cottage, and have it ready for you upon your return from your day's adventures.
Pro Tip: Before you come, connect with The Beach Moms, who will take care of everything you need before your arrival. They are a full-service concierge group who make your arrival at the cottages simple, with little or no work for you.
Nine Ecosystems To Explore
My husband and I love nature, and Gulf State Park is an outdoor lover's paradise. As part of our stay, we enjoyed personal guided tours with naturalists. Our assigned naturalist would pick us up each morning at our cottage and whisk us away to extraordinary parts of the state park that are little hidden gems. We were able to take the nature heritage and sustainability guided pier walk while we were there, but the one that stood out in the included tours was the guided bike excursion. Each cottage comes with an adult-sized bike for the stay, and for the tour, the guide arrives to take you out on the paved paths and elevated wood boardwalks. With nine ecosystems to explore, this outing takes you through most of them. We were able to see some of the park's inhabitants on our trip, which included alligators, plumed birds, an armadillo, and a fast-moving snake.
Pro Tip: Most tours are included in a stay at Eagle Cottages; however, there is one tour that is outstanding but will cost a little extra. Go birding in the park with Robert Stoney into some of the more hidden places to see migratory birds, osprey, and the majestic eagles. This tour comes with binoculars for each guest, field guides, and a personalized snack and beverages for everyone on tour.
Dining In Gulf State Park
Tucked in the tall oaks and the fragrant longleaf pines, the Woodside Restaurant awaits you every morning of your stay. There is nothing quite like waking up and heading to breakfast that you don't have to cook. The menu here is perfect, and the portions are enormous, fueling you up for a day of adventure.
One of the best things about Gulf State Park is that you can eat all your meals on the property. If you're feeling snacky or need a caffeine lift, Roasted Oak is open for a quick stop throughout the day and evening. For a full meal experience, you can enjoy lunch at Foodcraft or dinner and drinks at Perch, a rooftop restaurant with the best views of those Gulf sunsets.
We went to Perch for Matt's 50th birthday dinner, where we ate a small plate of tapas and enjoyed the March sunset by the fireside.
Pro Tip: The morning ritual for breakfast at Woodside is included in the stay for all the guests staying in your cottage.
Visit Gulf State Park's Pristine Beaches
Many people come to Gulf Shores, Alabama, for the pristine white beaches to soak in the sun, relax on the sand, and play in the surf. Staying at the cottages makes visiting the beach a snap with the inclusive parking pass for all the areas in the park. Every season at the beach is beautiful, but when the turtles come to nest, that's when you can really gain an appreciation for the sustainability that Gulf State Park has put into place for the wildlife. Dim red-colored lights are everywhere on the beach to keep the sea turtles comfortable and aid them in their ability to lay eggs.
Pro Tip: Rent some chairs and an umbrella from the lodge for the duration of your stay; this eliminates the work of carrying things to and from your cottage.
Experience The Beauty Of Gulf Shores, Alabama
My husband and I come to southern Alabama for the natural beauty, but we also come to spend time doing all the things that we can find to do along the Gulf Coast. On this trip, we took a sunset boat ride to see the dolphin pods swimming with Cetacean Cruises, which was one of the trip's highlights.
Just outside Gulf State Park is The Wharf, where we did some shopping, drank some local blend coffee, then took a ride on the Ferris wheel to overlook the wharf and waterways. You can spend a whole afternoon here.
And the food scene in the area is off the charts! We can't come here without stopping in at Lulu's for some live music and drinks, one of the iconic places for an evening of fun. If you're looking for seafood that will satisfy your Gulf shrimp hankering, GTs on the Bay should make the top of your list — because it always makes ours.
Pro Tip: While there is a lot to do on the Alabama coastline in Gulf Shores and Orange Beach, make sure not to over-plan so that you can fully enjoy your cottage in the state park.
The thing about Gulf State Park is that you really never have to leave to experience all the things you came here for. While Gulf State Park offers plentiful things to do and explore, there is nothing better than coming back to Eagle Cottages in the evening to grab the sunset from your private screened-in porch or by the light of a campfire. You get the best of both worlds the close proximity to the beach and all the access to the seclusion in nature at Eagle Cottages at Gulf Shores State Park.