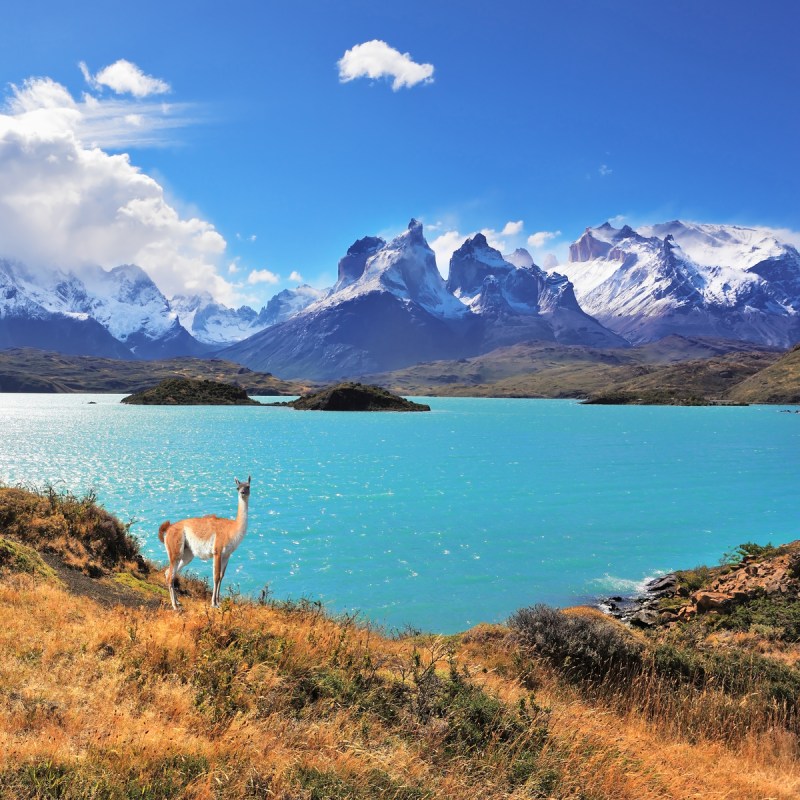 The world's first national park was Yellowstone, founded in 1872, when U.S. President Ulysses S. Grant signed it into existence. The idea quickly caught on, spreading around the world, and today, there are more than 1,000 national parks in over 100 nations, protecting places of natural beauty, geographic wonder, unique flora, and incredible fauna.
With so many beautiful places scattered across the globe, it's tough to choose which natural wonders to visit first. From the blue glaciers of Torres del Paine to the great migration in the Serengeti and from the remote reaches of Fiordland National Park to the unique creatures of the Galápagos, these are just some of the most beautiful national parks in the world.
1. Yosemite National Park, USA
Yosemite was the first national park I ever visited in America. I was about 7 years old and can still remember the excitement I felt, with my face pressed up against the glass window of our cabin, watching the first bear I'd ever seen sauntering past our parked car.
Yosemite, located in the Sierra Nevada Mountains, approximately 170 miles east of San Francisco, is a World Heritage Site and home to some of the most unique rock formations in the United States. The park's central feature is Yosemite Valley, famous for its spectacular waterfalls and its surrounding towering granite summits. Anyone who's ever visited Yosemite will attest to its magic, especially after seeing Half Dome, El Capitan, and Inspiration Point. Hikers have more than 800 miles of spectacular hikes to choose from, and bikers can enjoy more than 12 miles of paved trails. Whichever route you take, aim to make your way eventually to Glacier Point for an exceptional view over the Yosemite Valley, and don't forget to swing by one of the sequoia groves to gaze at the towering trees.
Even inexperienced hikers can enjoy Yosemite. Guided tours and climbing lessons are available from local adventure outfitters such as Yosemite Mountaineering School and Guide Service or Four Season Guides. Don't expect to have the park to yourself. Approximately 4 million people visit Yosemite every year! But if you go at the right time, May and September being the best months, and start your day a little earlier than usual, you'll still be able to enjoy this beautiful place. Do remember though that many roads and trails in Yosemite are closed for the majority of the year due to snow.
Pro Tip: Consider a stay at the historic Ahwahnee Hotel (closed from January 2, 2023, to March 2, 2023, for renovations), or for the more adventurous, there's the High Sierra Camps (normally you apply for a spot through a lottery system, though the camps are closed for the 2022 season). Vintage-style Airstreams, luxury tents, and cabins are available to rent at AutoCamp located nearby the park, with a daily shuttle service operating to take you straight to Yosemite National Park.
2. Serengeti National Park, Tanzania
Another bucket list destination is Tanzania's oldest and most popular national park, the Serengeti. This magnificent game park and World Heritage Site sprawls across 5,700 square miles of northern Tanzania and overflows into Kenya's Maasai Mara; this is one of the most fantastic wildlife-watching spots on Earth. The Serengeti is home to the annual Great Migration, when 2 million wildebeests and hundreds of thousands of zebras and antelope — often in columns 25 miles long and pursued by a plethora of predators — cross the crocodile-infested Grumeti River from June to July en route to Kenya's Masai Mara in a 1,200-mile odyssey. Another great time to visit is February, when there's an incredible population explosion of wildebeest and zebra calves being born (8,000 are born daily). But the Serengeti is not just a great place to visit during the Great Migration, it has so much more to offer all year round, and it's even better without the crowds.
Pro Tip: Indulge in a once-in-a-lifetime experience and take a hot air balloon safari with Serengeti Balloon Safaris for an unforgettable experience.
3. Torres Del Paine National Park, Chile
Surrounded by steep snow-capped mountains, turquoise alpine lakes, windswept plains, and icy glaciers, Chile's Torres del Paine National Park, home to guanacos (a relative of the llama), foxes, and pumas, is truly a special place. Located in Chilean Patagonia, and named after the three granite "Towers of Paine" that are the main icon in the park, Torres del Paine is a world of blue glaciers, glistening lakes and fjords, and jagged mountain peaks. This is a fantastic destination for intrepid hikers, kayakers, mountain bikers, or indeed any adventurous traveler. Multi-day treks are "the thing" here, and while the most spectacular views require a bit of effort, anyone can enjoy the park's main landmarks by driving around. Don't miss the sunrise, when the horns of the Torres del Paine Massif turn purple and then red.
There are several hiking circuits to choose from. The W Circuit is the best trek to start with and takes 4 to 5 days to complete. If you're feeling strong, then try the longer O Circuit, which is much more of a challenge, and takes 6 to 10 days. You can book your trekking with Cascada Expediciones if you are keen to get your legs moving. Alternatively, simply relax with a leisurely kayak trip to the Grey Glacier.
Pro Tip: May I suggest the eco-friendly Tierra Patagonia Hotel & Spa for its beautiful views of the hazy glacial lakes.
4. Fiordland National Park, New Zealand
New Zealand's largest national park is awash with fjords so stunning, they'll take your breath away. The fjords, carved by glaciers, can be found at multiple spots in the park, though the most popular are Milford Sound and Doubtful Sound. Other highlights include the Te Anau Glowworm Caves, where you can take a boat ride to see real glow worms, and the Chasm, where a short walk takes you to an area where water appears to be sculpted around the park's ancient rocks. Filled with lush rainforests, pristine rivers, crystal clear lakes, snow-capped peaks, glaciers, and majestic ice-carved fiords, a large portion of this national park is uninhabited and is only accessible by boat or hiking. Even on rainy days, the scenery is spectacular, with entire valley walls turning into thundering waterfalls. Fiordland National Park is home to plenty of wildlife, including kiwis, seals, penguins, and dolphins, and both the flightless takahe bird and the flightless kakapo parrot have been found here.
A definite highlight is the stunning Milford Sound with Mitre Peak, rising 5,551feet above sea level. This is one of the most photographed peaks in New Zealand and the only fjord in the country that can be reached by road. Despite it being an over 4-hour drive from Queensland, the fact that the Milford Sound still receives close to a million visitors every year speaks volumes about just how entrancing and spectacular this place really is.
Pro Tip: Book a cruise of Lake Te Anau and the Te Anau Caves with RealNZ.
5. Galápagos Islands, Ecuador
Located off the coast of Ecuador, Galápagos National Park is one of the most biologically diverse places on earth. Established in 1959, this is Ecuador's oldest park and covers 97% of the Galapagos island archipelago. The park has a totally unique ecosystem. There are animals, plants, and fish here that are found nowhere else on earth. The Galapagos has its own species of tortoise, penguin, and lizards; in fact, it's the only place in the Northern Hemisphere where penguins exist, and there are definitely many more iguanas here than people! It's not only the wildlife on land that's protected here. The offshore area is protected by the Galapagos Marine Reserve and includes unique species like the Galapagos green sea turtle, Galapagos sea lion, and Galapagos marine iguana. Go diving or snorkeling around the islands of Darwin and Wolf and you can see hundreds of scalloped hammerhead sharks or perhaps a majestic whale shark. It was species such as the marine iguana and Darwin's finches that helped Charles Darwin develop his ground-breaking theory of evolution, and you can visit his former research station on Santa Cruz.
Pro Tip: The best way to explore the park, both by land and sea, is with a cruise around the islands. Adventure Life offers a variety of cruises and tours, ranging from eco-tours to private cruises, charters, and luxury cruises. The best time to visit the Galapagos Islands is December through May, as these months coincide with the warm season, and ocean conditions are clear, warm, and excellent for snorkeling and diving.
6. Sagarmatha, Nepal
Home to Mount Everest, Sagarmatha National Park in Nepal is where many hikers (like me!) first get the mountain climbing bug and hatch their lifetime goal of climbing all the way to the roof of the world. Sagarmatha means "sky" in Nepalese. Sitting high in the Himalayas, the altitude of the park ranges from 9,350 to 29,028 feet above sea level, with the highest point of the park of course being the summit of Everest. The Three Passes and Gokyo Lakes trails prove popular with those looking for an easy trek. There are plenty of villages to explore, and guided treks take moderate to advanced hikers through the national park.
This is a harsh environment of glaciers, rocky terrain, and steep valleys and gorges. Some species of flora and fauna do manage to survive here. Forests of pine, hemlock, and bamboo are home to rare species such as snow leopards and the lesser pandas, as well as Himalayan black bears, wolves, and musk deer. The desolate upper reaches of the barren mountains grow lichens and moss and support few animals aside from birds soaring high in the sky.
And there you have my take on 6 of the most beautiful national parks in the world. They say "beauty is in the eye of the beholder," so my favorites may of course not be your favorites, but I think we can all agree that these national parks are amongst the most beautiful places on earth.
For more ideas and inspiration on National Parks, explore these articles: