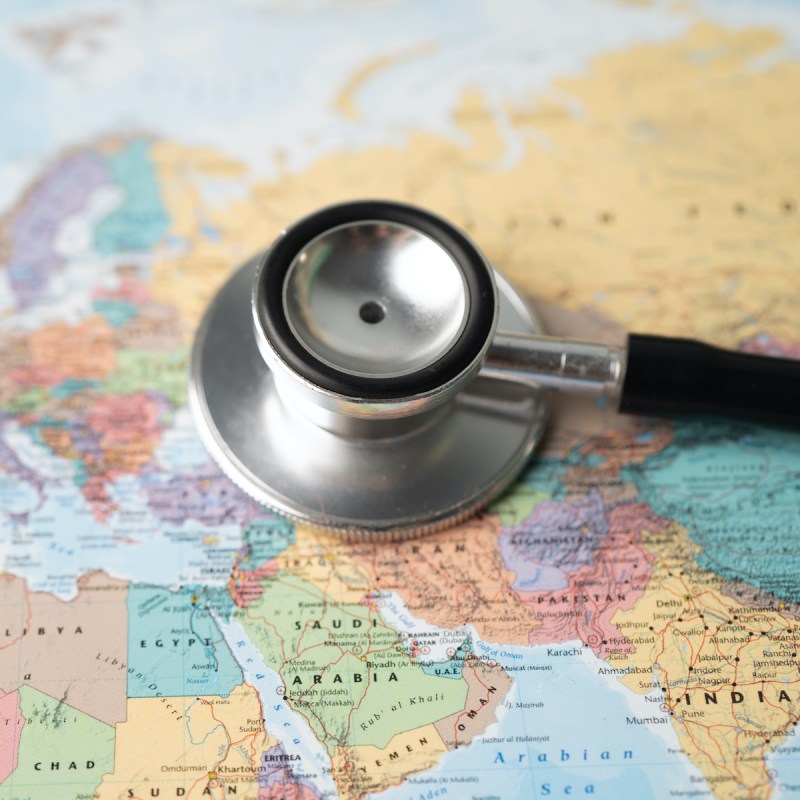 When people retire, the "bucket list" usually kicks in and the travel bug starts biting. They hit the road, plane, or boat thinking their new Medicare plan acts just like their group policy. This is typically not the case. The best bet is to know before you go. Are you covered when traveling? 
Most people are moving from group health insurance policies to either Health Maintenance Organization (HMOs) or Preferred Provider Organization (PPOs) plans. The HMO plans are usually hospital-based with a lower cost associated with them. They require a primary care physician and referrals for specialists. The PPO, on the other side of the scale, has in-network and out-of-network coverage and does not require a primary care doctor or referrals. For this, PPOs can also carry a higher price tag.
1. HMO Vs. PPO
Both plan structures are typically offered at the group level. Most policies from larger companies (200+) with group policies are usually PPOs. They allow you to go to any doctor, anywhere, and still have a level of coverage. Using in-network doctors with a PPO will acquire extra savings and you will usually pay more for using doctors out-of-network. The HMO is full coverage in your local hospital system only as the doctors and hospitals have contracted directly with the local plans. Both plans will have coverage for emergency services in the United States, but the PPO will far outshine the coverage of the HMO if you decided you would like to continue your physical therapy on your beach vacation to Hawaii.
2. How Does All This Work With Medicare?
The good news is that it is not as complicated as you may think. Medicare plans break into two categories. You have your Medigap policies and your Medicare Advantage plans. If you have Medicare, you will have already gone over these with your agent. Medicare Advantage plans have both HMOs and PPOs available with a variety of carriers across the 50 states. These plans will look and feel more like the group policy you may be used to and carry the same in-network, out-of-network, and referral rules stated above.
3. I'm On A Boat
Some people don't realize where they are and what they are riding in may affect their level of coverage. Medicare may pay for coverage while you are on a ship if:
The boat is in U.S. territorial waters 
The ship is no more than 6 hours away from a U.S. port
The doctor seen must be allowed to perform medicine on a cruise ship
If these criteria are not met, you may not have coverage.
4. Advantage Plans
The advantage plans have emergency coverage in all 50 states and abroad. So, advantage plans will cover you while you're traveling out of the country. In a lot of advantage plans, providers offer something called Synergy. Synergy is when a provider offers all plan benefits, just like you were home, in other states if the plan or provider is available in the state. Make sure to check with your plan provider to see if you have these options when traveling. 
5. Medigap Or Supplements
The other option when moving to Medicare is a supplement, commonly called Medigap. Supplements work with Original Medicare, parts A & B to cover the Medicare gaps. These plans have a higher monthly premium but typically lower costs when seeking treatment. Supplements can be used anywhere in the country without referrals from any doctor or hospital that accepts Medicare. This is great for interstate travel; however, most supplements have no coverage when traveling abroad. Be sure to check your supplement's "Explanation of Benefits" to see if you have coverage. Medigap plans C, D, E, F, G, H, I, J, M, and N pay 80 percent of your emergency coverage up to the lifetime limit of $50,000 with a $250 deductible. As you may know, $50,000 doesn't go as far as it used to. You may want to make sure that you are covered with a traveler's health insurance policy.
6. What About My Meds?
Well, your prescription may not even be available in different countries because of laws, restrictions, or even supply. As an example, if you end up down under in Australia, opiate-based prescriptions are illegal and cannot be filled. Make sure all of your medicines are in their original packaging and you have a list of prescribing doctors and their phone numbers. Also, bring enough for your trip and then some. If you have 30-day restrictions and you are going to be overseas longer, then make sure to contact your provider for an exception. Travel health insurance may provide prescription assistance. Just double-check your policy with an agent. 
7. Who Needs Travel Insurance?
If you have a Medigap supplement or an Advantage plan and you want to get out and around overseas, it is a very good idea to get travel health insurance. Travel health insurance policies cover you for accidents and illness while you are out of the U.S. The great part is that they are only usually about $50 to $100 for even a month of coverage depending on the amount of coverage you will need. You can look at options such as websites like IMG Global to get free estimates (without 100 people calling you). Your plan may cover you for those emergency visits but they lack in the day-to-day. If you end up with a fever in Barbados, you don't want to have to use your emergency benefits. Travel health insurance will allow you simple doctor visits while abroad. 
Pro Tip: When purchasing a policy, make sure you check the pre-existing condition verbiage. Some policies have very little or even zero coverage for pre-existing conditions. If you have a pre-existing condition, make sure to tell your agent as they may be able to find a plan with additional coverage. 
Even though your plan may have foreign health coverage, it is always best to be as protected as possible with as much coverage as can be afforded. Keep in mind that U.S. hospitals are required by law to submit claims to Medicare, but foreign hospitals and doctors are not required to submit these claims. You may have to pay 100 percent of your bills while you are out of the country, so make sure you hold on to any bills or invoices you may get. Without these, you may not be reimbursed for your treatment. The addition of travel health insurance to any adventure could add a lot of peace of mind and potential savings to your trip. It's always a good idea to be safe rather than sorry.
For more coverage on Medicare, browse these articles: