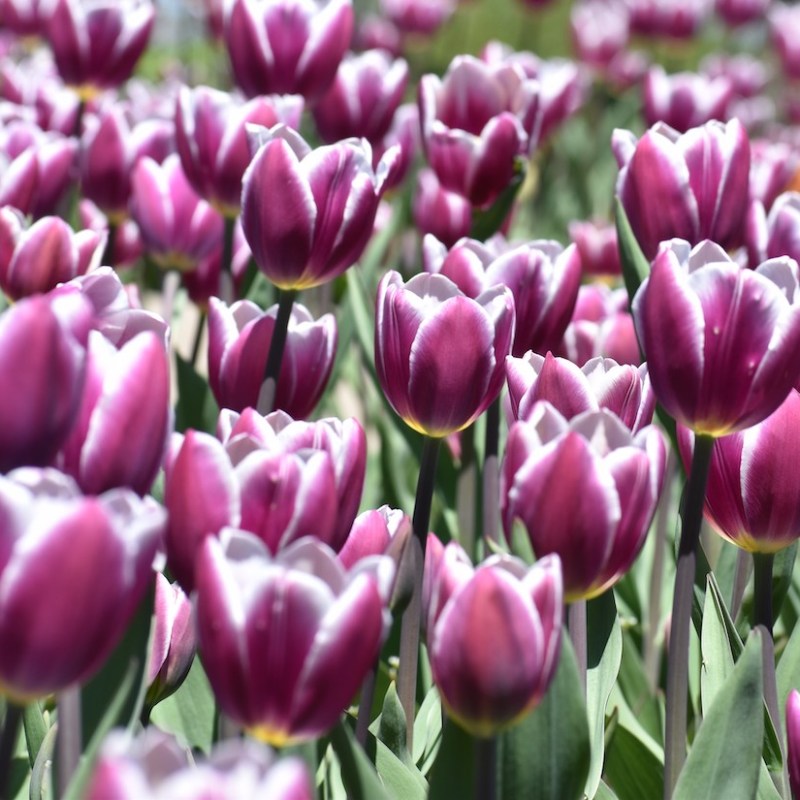 We asked TravelAwaits writers about their favorite places to visit in the U.S. in May and they did not disappoint! From a national park to can't-miss events, here are our experts' suggestions for where to travel in May.
1. Napa, California
"Springtime in Napa is glorious. The weather is warm, sunny, and welcoming. The land is soft and coming to life. Flowers are coming into bloom. The vineyards are restarting their cycle. Colors abound. Napa at this time of year is a place of rejuvenation and possibilities. To be here in May is to experience perfection." — John Edwards
2. Yellowstone National Park, Wyoming
"In early May, Yellowstone National Park in Wyoming isn't terribly crowded — yet. But avoiding summertime crowds isn't the biggest advantage of visiting in May. Baby animal antics reward visitors each spring. Bison calves play hide and seek. Knobby-kneed elk calves and spotted fawns stay near their moms. And if you get lucky enough to see a moose calf or wolf cub, you'll see the same energy you'll see in a toddler.
You may see an exasperated grizzly sow attempting to cross the road with three easily distracted cubs. Or a more orderly regatta of Canadian goslings following mama goose in Swan Lake.
Snow remains in the mountains in May. As it melts, wildflowers put on their own springtime show, joining Yellowstone's bubbling hot pots, gem-colored pools, and faithful and not-so-faithful geysers." — Teresa Otto
3. Boston, Massachusetts
"When I added a three-day visit to Boston to my spring trip to the East Coast in 2019, I worried briefly that I might be in for a gray and chilly time in the Massachusetts capital. So, it was a wonderful travel surprise when I arrived at my hotel near Boston's Public Garden to find the green area bursting with glossy spring tulips. I loved seeing the statue of George Washington on horseback strutting amidst the flowerbeds of pinks, yellows, and reds. And tulips weren't the only flowers showing their colors in Boston in May. Fragrant lilacs were in bloom as well — a spring happening that is showcased at the annual Lilac Sunday at the Arnold Arboretum of Harvard University.
May also was a great time to take in the 16 historic sites along Boston's famous Freedom Trail. With temperatures in the high 60s, I comfortably walked to all of the significant sites, from the Boston Common to the Old North Church to the USS Constitution. After experiencing fairly light crowds at the attractions, I left Boston thinking that May might just be the perfect time to visit!" — Cindy Barks
4. Sedona, Arizona
"Springtime is the best time to make the two-hour drive from Phoenix, Arizona, to one of the most beautiful places on the planet. Sedona's red rock formations offer awe-inspiring views and enthralling hiking trails. In May, temperatures don't drop much below 50 and the highs only reach the 80s. The sunny days and low humidity are perfect for planning many enjoyable hikes on over 200 trails of variable difficulty. Wildflowers start blooming in May and temperatures are still cool enough for wildlife to be active.
You can also enjoy the gorgeous weather and scenery while strolling around the shopping strip of Route 89A or perusing the art at Tlaquepaque. Stop for a meal or drink at an outdoor restaurant patio with a breathtaking view. Over 80 art galleries and shops offer many hours of relaxing browsing. You might also want to take a jeep tour into the depths of the red rocks or visit the spiritual vortexes. With beautiful weather and surroundings, you can't go wrong in Sedona in May." — Judy Karnia
5. Olympic National Park, Washington's Olympic Peninsula
"Olympic National Park is beautiful in May as the snow begins to melt in the higher elevations. The waterfalls are at peak flow for epic views while the crowds of summer haven't yet descended upon the park. The rainiest place in the United States becomes less rainy and you begin to have more sunshine. Days are perfect for hiking and exploring this beautiful national park." — Peggy Cleveland
6. Hilton Head Island, South Carolina
"Traveling in May for me is all about the gorgeous, temperate weather and beautiful flowering plants. When you add fabulous golf to the mix, I'm in.
Hilton Head Island's May average temperature is between the low 60s and the low 80s. You need a light jacket for your morning beach walk. By the time you hit the links, you are in shorts sleeves and the sun is warming your winter-weary bones.
I have enjoyed many golf courses on Hilton Head — read about my favorites and add one or two to your golf bucket list. When you need a break from golf, the beaches are just waiting for you to drop your blanket and relax. A fun adventure is a day trip exploring Daufuskie Island; rent a golf cart and tour the island, grab some great seafood, and enjoy the #islandlife." — Sandi Barrett
7. Cinco De Mayo In Texas
"Celebrated across Texas, the Cinco de Mayo (May 5) holiday commemorates the Mexican army's victory over France on May 5, 1862, at the Battle of Puebla during the Franco-Mexican War. It is not a celebration of Mexican Independence Day, honoring Mexico's War with Spain, celebrated on September 16.
Cinco de Mayo commemorates Mexican culture, including drinking Mexican beers, micheladas, tequilas, and margaritas, eating tacos and enchiladas, salsa dancing, Folklorico dancing, and enjoying mariachi bands and Tejano music.
On May 5, find celebrations across Texas at Arlington's Texas Live!, FUSION Latin celebration in Irving, and more." — Janie H. Pace
8. Holland, Michigan
"Every May, Holland, Michigan celebrates its Dutch heritage with the Tulip Time Festival. While the over five million tulips are the festival's star, attracting more than half a million visitors, you'll find other activities that will expand your knowledge of the Netherlands.
The first of three parades, the Volksparade, kicks off with a traditional street scrubbing. Then, hundreds of authentically costumed dancers twirl and klomp through the streets throughout the festival.
Guides will explain the town's history and culture through walking and trolley tours. First, explore the Holland Museum and the Cappon and Settlers Houses. Next, visit a wooden shoe factory or watch painting demonstrations of Delftware. Finally, you'll find the De Zwaan windmill, the last windmill transported from the Dutch homeland, that still functions, grinding local grain into flour.
As with every festival, you must have the food, and here you'll be sure to enjoy the Dutch pastries." — Amy Piper
Bonus: Oberammergau, Bavaria
"In 1634, Oberammergau townspeople promised that they would perform a Passion Play reenacting the life, death, and resurrection of Jesus Christ every 10 years if God would make the bubonic plague pass through the village without further devastation. In the wake of the COVID-19 pandemic, what once seemed like a charming tale of spiritual faith from another time now feels like a flash of hopeful news. We would all like reassurance that there is hope at the end of the current global crisis. A trip to see this 400-year-old event (running from May 14 to October 2, 2022) may move to the top of the list for many travelers this summer, especially since it will not occur again for another 8 years." — Sue Reddel and Diana Laskaris