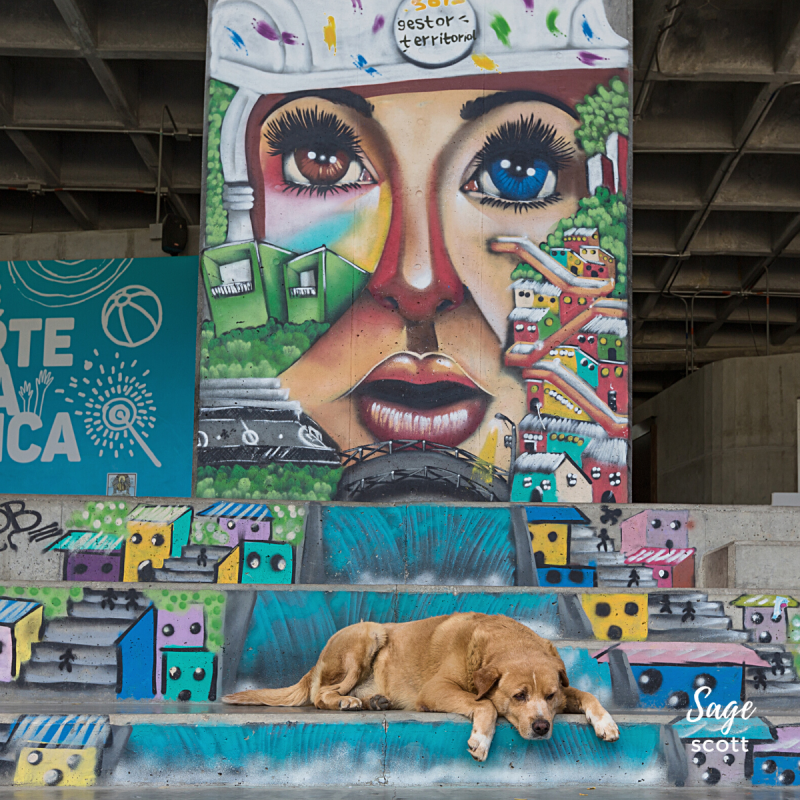 If you were alive in the late 20th century, chances are that you still harbor a decades-old stereotype about the Colombian city of Medellin. Because, if you're old enough to remember dropping a coin into a pay phone or inserting a floppy disc into a computer, you'll likely recall Colombia's second-largest city making headlines as the most dangerous and murderous city on the planet.
But just as Jordache stonewashed jeans and big hair have been replaced by Lululemon leggings and beachy waves in high schools across the country, in one generation's time, Medellin has transformed. From one of the most perilous places on earth to one of the most promising, it has replaced danger and violence with culture and innovation.
What Is Comuna 13?
A few decades ago, Comuna 13 was a community of tin-roofed shacks without running water or electricity that covered the lush mountains on the west side of Medellin. Located between drug lord Pablo Escobar's lavish home in the city and the Pacific Ocean, he used to ship billions of dollars of cocaine to the United States. The impoverished neighborhood was filled with machine gun-toting guerrillas and machete-wielding gang members who violently defended one of the largest drug cartels in history.
But after Escobar's death in a shootout with police in 1993, the extradition of other drug lords to the U.S., and Operation Orion — a deadly military raid on Comuna 13 — the Colombian government spent a decade improving this hillside community. Rickety cardboard structures with dirt floors have been replaced by sturdy brick homes with tile roofs and indoor plumbing. A series of six outdoor escalators whisks residents 1,260 feet up and down the hillside, making it easy for them to connect with the city below. The dangerous community has blossomed into a must-visit art community where drum-forward music fills the air and impressive murals — many sharing Comuna 13's history and hopes for the future — fill the steep streets with color.
When I toured Comuna 13 as the only American in a group of Colombians, I heard a variety of stories about life in Colombia since the 1990s. Every Colombian I chatted with — from tourmates in Comuna 13 to coworkers — had a firsthand experience with the violence that once plagued their homeland, whether they grew up in Medellin, Bogota, another Colombian city, or the countryside. They shared with me their collective stories of a kidnapped grandmother, murdered uncle, and a family farm overrun by guerillas.
And so I asked this question, "How does an entire country overcome such a heartbreaking and violent history in a relatively short amount of time with such strength?"
1. Family Means Everything
As a rule, Colombians have very tight-knit families. While I don't have any American friends or coworkers who live in multi-generational households, several of my Colombian colleagues share homes with their adult siblings, parents, and grandparents. Colombians who live independently still spend a lot of time with their families. One coworker regularly meets her mom for yoga classes, and another travels several hours each way to visit her parents every other weekend.
Another Colombian tourmate offered this observation: "When we celebrate the holidays with our families, we don't just stop by for a few hours. We spend the whole day, or even the whole weekend, with our family.
Pro Tip: If you've seen Disney's Encanto, the 2022 Academy Award-winning film for Best Animated Feature, it does a fantastic job illustrating family life in Colombia.
2. Education Is Important
In Comuna 13, still a lower-income neighborhood compared to El Poblado and others across Medellin, there is a strong emphasis on education. Our Comuna 13 tour guide shared a popular saying, repeated often by parents, educators, and other authority figures in Comuna 13: "If you drop out of school, your future holds two options: jail or an untimely death. But if you stay in school, your future holds endless possibilities."
And the emphasis on education appears to be working across the country. The Organization for Economic Cooperation and Development (OECD), a 60-year-old international policy organization based in France, reports that Colombia's education system has made impressive progress over the past 2 decades. Enrollment in early childhood and post-secondary education has more than doubled in the past 20 years, and Colombian children today spend 2 or more years in school than they did at the start of the 21st century.
3. Keeping Kids Busy Keeps Them Out Of Trouble
At the base of the Comuna 13 hillside neighborhood is a community center offering a long list of free after-school programs and other activities. By focusing on soccer matches, ballet performances, art classes, computer programming competitions, English lessons, and more, kids are less likely to get into trouble. And by providing the youngest generation with these additional opportunities to develop their bodies, minds, and creative spirits, Medellin will continue to be one of the world's smartest and most innovative cities.
4. Living Through Hell Helps You Find Happiness
If you've ever spoken to a cancer survivor, war refugee, or someone else who has lived through a truly hellacious experience, they're likely to possess a deep appreciation for life. Or, as someone once told me, "It can take nearly dying to make you realize how much — and how fully — you want to live." And it's this sentiment that one Colombian coworker believes is at the core of her country's being regularly recognized as one of the happiest in the world, despite all they've been through.
Fun Fact: As the U.S. President from 1993–2001, Bill Clinton was in office when Pablo Escobar was killed and Colombia began its transformation. Visiting Comuna 13 in 2017, the former president said, "A formerly violent community is now a prosperous and peaceful community."
Final Thoughts About Touring Comuna 13
While Comuna 13 is just a little corner of South America's northernmost country, it's one of the best ways to experience how far Colombia has come in the past 20 years and get a glimpse of its bright future. I recommend gliding up the mountainside on Comuna 13's outdoor escalators and experiencing this colorful community with a guide. This option gives you additional insight that you're likely to miss if exploring on your own.
We toured Comuna 13 with Lizeth from Zippy Tour Comuna 13. She met us at the San Javier metro station and ended our tour by delivering us back to the same spot. Not only was Lizeth's English impeccable, but as a resident of Comuna 13, she brought the neighborhood's history to life and shined a colorful spotlight on its bright future. If you choose to visit Comuna 13 on your own, I recommend visiting during the day and exploring the area nearest the escalators.
Learn about why Colombia is a favorite retirement destination: