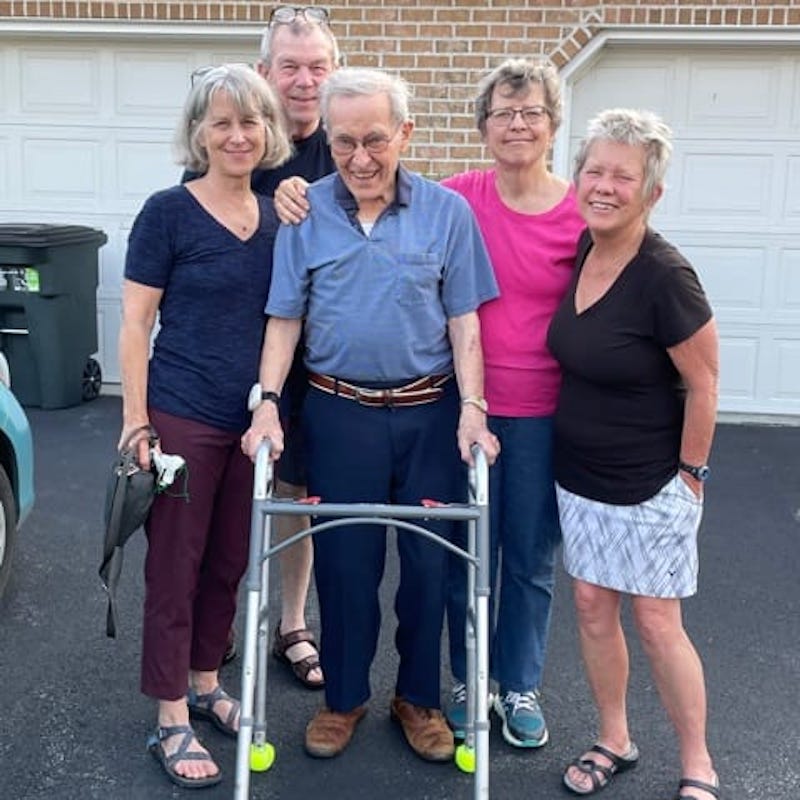 A year ago, my father, who lives in an assisted-living facility, turned 100. I've never known anyone else that age, so it always seemed unattainable. But after watching how cheerful he's been over the last year, becoming a centenarian seems not only possible, but maybe even desirable.
He isn't alone, either. According to the World Economic Forum, there are over 500,000 centenarians in the world. In his book Blue Zones: Lessons for Living Longer From the People Who've Lived the Longest, Dan Buettner describes the habits of centenarians throughout the world — in Sardinia, Okinawa, Costa Rica, Ikara, Greece, and Loma Linda, California (a community of Seventh Day Adventists). Here are the practices Buettner describes, and the ways in which my father is — and isn't — observing them.
1. Moving Naturally
Incorporating ordinary physical activity, such as walking, gardening, and doing housework, throughout the day is essential in all the Blue Zones communities.
My father, Tom Rogers, has always been physically active. My sibs and I laugh at the photo of him nude (sideways!) taken during his college years at the top of Mount Mitchell, the highest mountain in North Carolina.
He was jogging every day way back in the 1950s, long before it was trendy. Today, 2 months shy of his 101st birthday, he still circles around a patio on the grounds of the facility, using his walker.
2. Having A Clear Purpose
Knowing why you want to get up every morning makes you healthier, happier, and Buettner says it contributes to 7 years of extra life expectancy.
I asked my dad what his mission in life was. "To stay alive!" he said.
"Great!" I said. "And why do you want to stay alive?"
"To get phone calls from you!" he joked.
He didn't really say what his mission was, but I think he stays in the immediate moment most of the time (a good thing, given his memory!). He enjoys walking, reading, resting, eating, sleeping, and chatting with the staff.
3. Reducing Stress
Blue Zones centenarians build stress-relieving routines into their daily lives. Adventists pray, Ikarians nap, Sardinians enjoy an evening happy hour.
From my perspective, my father doesn't attract unnecessary stress. He's an unusually calm man, the perfect temperament for his former profession as a diplomat. However, he's faced a lot of unwanted stress, in the form of loss. My mother, his first wife, died young, at 53. He lost my brother, his only son, tragically soon after, and my sister 12 years ago. His second wife died 1 and a half years after they married.
Although it hasn't always been easy to keep adapting to stepmothers, I recognize that his decision to marry repeatedly has reduced his stress. It has also saved him from loneliness, which has been called the "silent killer." Indeed, many spouses die after the loss of their partner, often in the first three months. My father has now outlived three wives and a girlfriend. (I think he's done!)
From all those losses, he's developed resilience. As the facility's head nurse said, "He's a tough old bird."
He also has a great sense of humor. It doesn't take much to make him laugh these days, and he seems to be sillier the older he gets.
4. Eating Only To Satisfy Hunger
Okinawan centenarians observe hara hachi bu, or the 80 percent rule. They stop eating when their stomachs are 80 percent full and eat their smallest meal in the early evening.
My dad usually finishes everything on his plate, but he's clearly not overeating. If anything, it's the opposite. He sounds like a teenage girl, boasting that he's down to his high school weight, and for awhile his facility gave him a can of milky Encore everyday to fatten him up.
5. Consuming Mostly Plants
Beans are the foundation of most centenarian diets, with vegetables, fruit, and whole grains making up the rest. Meat is eaten only in small amounts. One interesting aspect about centenarians is that many of them grew up poor, which turned out to be an advantage, because they could afford to eat meat only on special occasions. My dad, however, has always eaten plenty of meat, so he's an outlier in that sense.
6. Drinking Moderately
Regular consumption of wine is part of the Blue Zones lifestyle. Up until about three years ago, my father was a heavy drinker who drank before and during lunch and dinner. After he had catheter surgery, however, his doctor said, "No more alcohol!" so my husband Barry and I, who were visiting at the time, removed all his liquor. To the amazement of our family, he surrendered to an alcohol-free lifestyle with barely a whimper.
7. Nurturing A Sense Of Spirituality
A common theme among centenarians is a deep commitment to faith. The religion varies (and it's not always a formal one), but they share a belief in some kind of guiding force. Being part of a faith-based community is apparently even more beneficial — Buettner says it adds 4–14 years to life expectancy.
My dad has always attended church — not out of religious belief, but because he believed the church could and should be a vehicle for social justice. He's been known to be disdainful of religion, even mocking it, though he enjoys listening to the pastor speak at his facility.
I decided to check in with him on the matter. "Daddy," I said to him on the phone last week, "do you have a spiritual side?"
"A what?"
"A spiritual part of your perspective."
"I think not." We both laughed.
"I think not, too, but I thought I should check."
8. Focusing On Family
Maintaining close family bonds is universal among Blue Zones centenarians.
While none of my biological sisters or step siblings live in the same state as my father (to our regret, he refused to live near any of us), we are all close. My sisters and I call regularly and take turns visiting him.
9. Fostering A Tribe
The world's centenarians enjoy strong social networks. The Okinawans call this a moia, a group of mutually committed friends who meet regularly. Until COVID, my father met monthly with a group of friends who attended the same church. At their monthly meetings they'd catch up on their lives and reflect on current issues or a book they'd read.
Unfortunately, my father has not been as sociable at his facility as before. He didn't think he needed to move out of his home — he went only because my sisters and I insisted — and once there, he hasn't mingled much, though he and his neighbor from "across the street," as he puts it, chat. He's also friendly with the staff, who love him.
Barring a painful, lengthy disease, I might like to live to 100. But much depends on circumstances. The centenarians around the world live in simple humble abodes, often with multigenerational families — far different from my dad's high-cost facility. In my case, while I love my stepdaughter, I don't see emigrating to Canada to live near her. Instead, I'd like to live year-round in our home in Guanajuato, Mexico — as long as I can still negotiate our hilly street to reach the shop two blocks away.
As a ripe elder, I'd hire Lidia, our cleaner, or someone like her, to be my go-to person to help when needed, and during the evening, I'd enjoy a glass of wine just like the Sardinians do. I can imagine nothing better.
For more inspiration, consider: