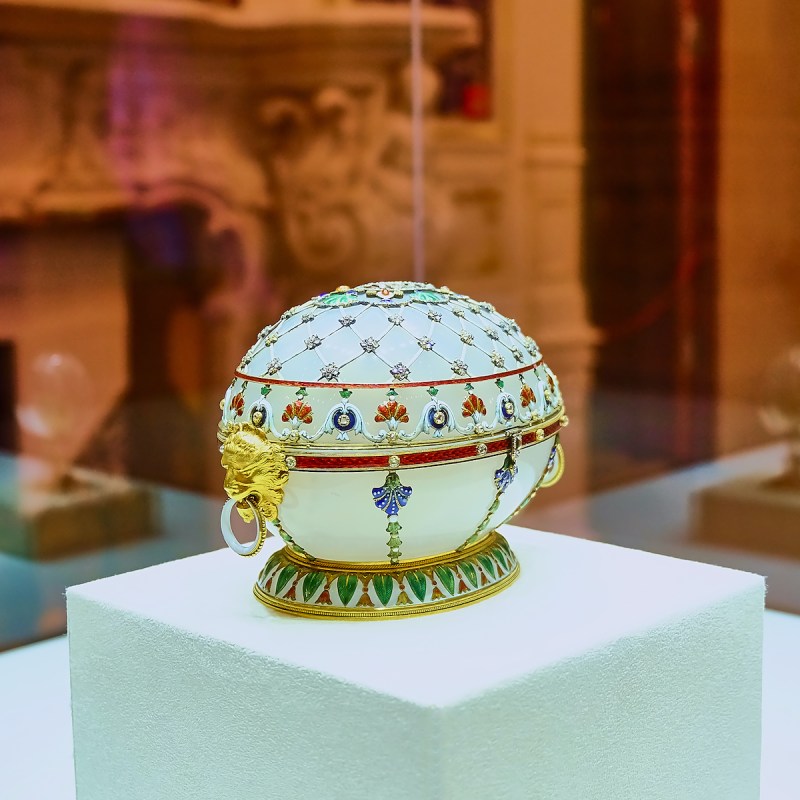 It is likely that Christians commemorate the resurrection of Jesus 3 days after his crucifixion in some way or another. The earliest recorded celebration of "Easter," however, dates back to the 2nd century. And, while today, Easter and the resurrection are mentioned interchangeably, many Easter traditions as we know them now are of ancient pagan origin.
Just think of the eggs that are present in boiled, painted, or chocolate form, either hanging from branches, resting in nests, or bought in over-priced chocolate boxes. In pagan times, eggs represented rebirth for obvious reasons, and although initially used to celebrate the coming of spring and the new growing season, it is easy to see why the eggs snuck into the religious Easter traditions as well. And then there is the Easter Bunny, reportedly of German heritage, representing fertility and bringing eggs around with him, which are then hidden and hunted for by children around the world.
The traditional food of hot cross buns eaten in the UK around Easter time dates back to 1730, when a monk decided to decorate the warm buns for Good Friday, appropriately marking them with a cross. Others eat an Easter ham, for which, once more, the Germans are responsible. As history has it, the meat of wild boars, shot in fall and cured throughout winter, was the only meat available when spring came to celebrate with a feast.
As for the name Easter, this derives from the Anglo-Saxon goddess Eostre, the goddess of spring. How and when the pagan spring equinox celebration and salutation for Eostre came to overlap with the Christian commemoration of Jesus's resurrection is unclear, but the fact is that the joined festival can be celebrated in all kinds of strange manners in Europe.
From eggs to parades, fireworks to small witches, and more eggs, if you are heading to Europe around Easter time, why not join in on some of the following traditions?
1. Egg Rolling
Preston, UK
Dressing up to go to the park and carrying painted boiled eggs in baskets is a Preston tradition that dates back some 150 years, with an early film of it available on YouTube, made in 1901. While it is said to be a Scottish tradition, it is Preston that has thoroughly embraced the custom. The annual Easter Monday event draws crowds from near and far, and the day also sees an Easter bonnet competition, food stalls, performances, workshops, dressing up, and live music.
Pro Tip: There is another famous egg roll you might be able to attend — at The White House. Tickets are awarded through a lottery system.
2. Easter Processions
Spain
The Spanish love a good religious fiesta and pull out all the stops during Semana Santa, or "Holy Week." Not quite like other fiestas in Spain, which often literally go off with a bang, Easter is a more solemn occasion often carried out in total silence but with impressive processions attended by all the church dignitaries, locals dressed in their finest, and pilgrims from across the nation. Life-sized sculptures of Jesus, Mary, and various saints and other treasures of the church are paraded through streets on floats, making for quite a spectacle. But this being Spain, once the Holy Week hits Easter Sunday, the day of resurrection, the fiesta changes and continues with music, great cheer, traditional foods, and a lot of merriment.
Pro Tip: Probably the best Easter procession and subsequent fiesta takes place in Seville in Andalucía, but wherever you happen to be, there will be Semana Santa events nearby.
3. Faberge Eggs
Moscow, Russia
Kremlin's Armoury dates back to 1508, making it one of the oldest museums in Moscow, and it holds not only an array of arms and armor, but also a selection of pretty Faberge eggs. The eggs are gem-encrusted on a little pedestal always with a surprise inside, from diamonds to a carriage, an easel, and other delicately crafted miniatures. All executed by the house of Faberge, under Carl Faberge, who crafted these eggs for Tsar Nicholas II as an Easter gift to his wife and other royal family members. It's absolutely stunning and a lovely thing to see for Easter.
Pro Tip: Faberge eggs occasionally go on display elsewhere, such as in Buckingham Palace, or as soon as May 8, 2022, in the Victoria & Albert Museum in London.
4. Giant Omelet
Bessières, France
Where there are eggs, there is often an omelet, and in this case, a seriously large one. The small town of Bessieres, less than 20 miles from Toulouse in the Occitan region of southern France, has a long tradition of making omelets. As legend will have it, Napoleon Bonaparte and his army rode through southern France and decided to rest in Bessieres, where a local innkeeper prepared an omelet for Napoleon. He liked it so much that he asked for a giant omelet for the next day to feast on. Whether that coincided with Easter is unknown, but since 1973, the town buys some 15,000 eggs on Easter Monday — it takes some 90 minutes alone to crack them — and cooks up a gigantic omelet which is used to feed visitors and the poor.
Pro Tip: Bessieres lies roughly halfway between Toulouse and the stunning historic city of Albi — birthplace of painter Toulouse-Lautrec.
5. ​Halloween-Like Witches
Finland And Sweden
You'd be forgiven for thinking I mixed up the seasons here, but no. In Sweden and Finland, a type of Halloween takes place on either the Thursday before Easter in Sweden, or the Saturday before Easter in Finland. Originating in the betrayal of Judas on Maundy Thursday, it was believed that evil was released into the world that day, and witches were part of that evil. In Sweden, it was believed that on Maundy Thursday, the witches flew off on their broomsticks to the island of Blåkulla to meet the devil. Either way, today children dress up as either witches, or old men and women and go from house to house. Sometimes, they offer small gifts such as handmade cards, wishing everybody a happy and blessed Easter, and in return receiving sweet treats.
Pro Tip: Another typically northern European tradition involved decorating willow branches with painted eggs. Being from northern Germany, I have taken that tradition with me around the world, and often get surprised looks.
6. Rocket Battles
Chios, Greece
One of the more unusual (if not the most unusual) Easter traditions in Europe is Rouketopolemos, literally meaning "rocket war." Near many Greek Orthodox Churches throughout Greece, fireworks are set off at night, following the midnight Anastasi Service and the traditional bell ringing announcing the resurrection. But on the island of Chios in the northern Aegean Sea, a mere 3 nautical miles from the Turkish mainland, they take things a little further. Two churches, standing roughly 1,300 feet apart, shoot rockets at each other. And, despite the origins of this strange tradition seeming to be unknown, until 1889, they actually used real canons. Today, fireworks are shot across from and at both the churches with great noise and cheer, drawing many tourists to the spectacle. Who wins is never very obvious. As to why? Who knows? But it is fun.
Pro Tip: Chios is the fifth largest Greek island and can be reached from Piraeus on a 9-hour ferry ride, or you can fly from Athens and Thessaloniki directly. It is a beautiful island full of stunning nature and secluded beaches, worth staying a little longer than just for Easter.
7. Strange Easter Courtships
Czech Republic And Poland
In the Czech Republic, men go out on Easter Monday to whip women with willow branches. So-called "Whipping Monday" sees men in rural regions go from house to house, whipping the women's legs and buttocks with branches, in turn, either receiving Easter eggs or, if they are older, a shot to drink. This rather sexist ritual has its roots in pagan times, seemingly connected to fertility. In the Czech Republic, the women get whipped, and in Poland, they get soaked with water. Both traditions hark back to pagan times when water was thought to cleanse but also promote fertility — like during a Christian Baptism.
On Śmigus-dyngus or "Wet Monday," many women find themselves woken up by a bucket of water being poured over them, and, according to lore, the woman who gets soaked first is the next to marry. Some areas follow the wetting with the whipping similar to that in Czechia. But Poland has gone one better, and not only do the women get soaked on Easter Monday, but they get their revenge on Tuesday — by soaking the men. Today, many Polish towns put the two together and celebrate one big water fight, with everybody ending up soaked to the bones.
Pro Tip: In central and eastern Europe, you tend to find the most intricately decorated Easter eggs, some made from real, empty eggs, others from wax or even wood. But should you ever want to start decorating your willow branches for Easter, this is the region to get your prettiest decorations.