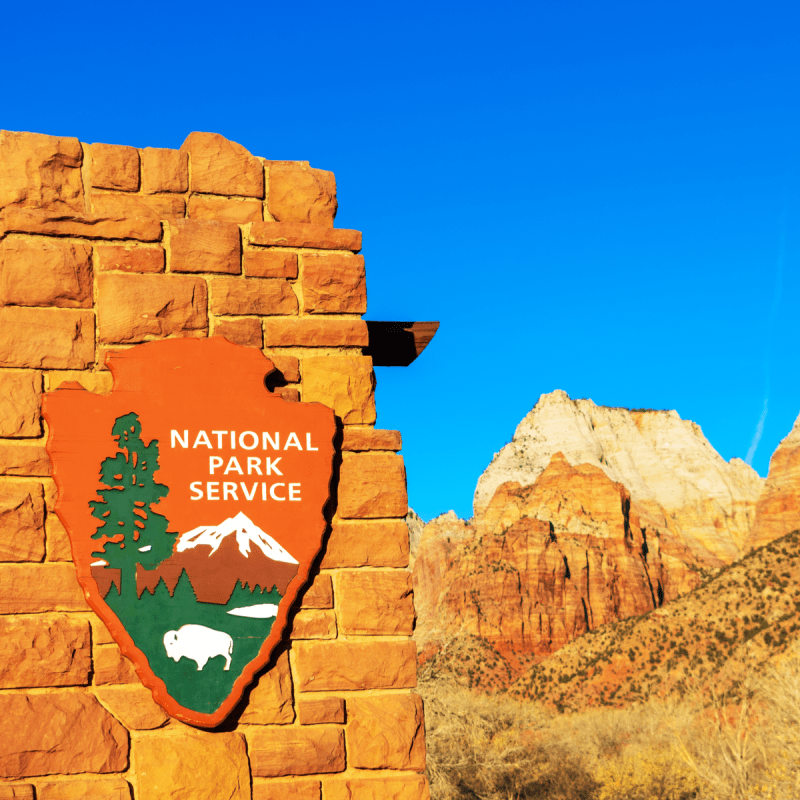 If you aren't familiar with National Park Week, the event is a weeklong celebration of America's national parks. What makes it even more special is that entrance fees to every U.S. national park will be waived on the event's first day — Saturday, April 16.
"Every April, during the presidentially proclaimed National Park Week, we join with the National Park Foundation, the official charity of America's national parks, to celebrate America's treasures," the National Park Service explains. "National Park Week is a time to explore amazing places, discover stories of history and culture, help out, and find your park."
This year, National Park Week is April 16 to 24, and its theme is "sPark Connections." The National Park Service is encouraging people to visit national parks to "sPark a connection with us" — and waiving admission fees is definitely one way to support that.
National Park Week
There are more than 400 national park sites in the U.S., including those in American Samoa, Guam, Puerto Rico, the Virgin Islands, and the Northern Mariana Islands. While each park will also have its own special programs, events, and digital experiences, all will follow the sPark theme. Here's a rundown of the week's themed days.
sPark Discovery: Saturday, April 16
National Park Week kicks off with a fee-free day "to encourage everyone to find something new by visiting a national park, especially one that may be close to home, a park you haven't considered visiting, or one you never realized is a national park!" the National Park Service (NPS) explains.
Keep in mind that while the NPS will waive entrance fees on this day, that does not cover amenity or user fees for activities such as camping, boat launches, transportation, or special tours.
sPark Creativity: Sunday, April 17
"National parks have inspired artistic expression and creativity for generations," according to the NPS. "What is your park muse? What masterpiece can you create?" These questions and more will be explored in parks throughout the system.
sPark Collaboration: Monday, April 18
"We get along with a little help from our friends," the NPS notes. "Meet our many partners that help expand our reach and offerings and connect people to parks. How can you get involved or participate in opportunities?"
sPark Innovation: Tuesday, April 19
The NPS explains that it uses technology to support conservation and preservation efforts while consistently working to improve visitor experience. This day will be a good opportunity to learn about innovation across the NPS.
sPark Opportunities On Workforce Wednesday, April 20
Events will be structured on this day so visitors can learn about work done by the NPS as well as employment opportunities at the NPS and its partner organizations.
sPark Preservation: Thursday, April 21
Today's events will explain the work done by the NPS to preserve historic, cultural, natural, and recreational resources. There will also be opportunities for visitors to learn how they can help those efforts.
sPark Action On Earth Day: Friday, April 22
"We look at the health of the environment and how we impact its well-being and vice versa," the NPS explains. Visitors will be able to learn more about how they can "contribute to a healthy world."
sPark Curiosity: Saturday, April 23
The NPS explains that it preserves and protects "unique places with fascinating stories and unique landscapes." sPark Curiosity will be organized so visitors can discover new things across the park system.
sPark Memories: Sunday, April 24
This day will be organized to help visitors learn about creating lasting memories and family traditions at national parks.
Know Before You Go
The NPS is encouraging visitors to share their experiences and memories at national parks on social media using hashtags #NationalParkWeek and #sParkConnections. You can learn more about doing that here.
Also, if you'll be visiting a national park or parks during National Park Week, or anytime, for that matter, be sure to check that park's website for current conditions and other updates.
Now that you're thinking about a visit, be sure to make the most of our national park content, including