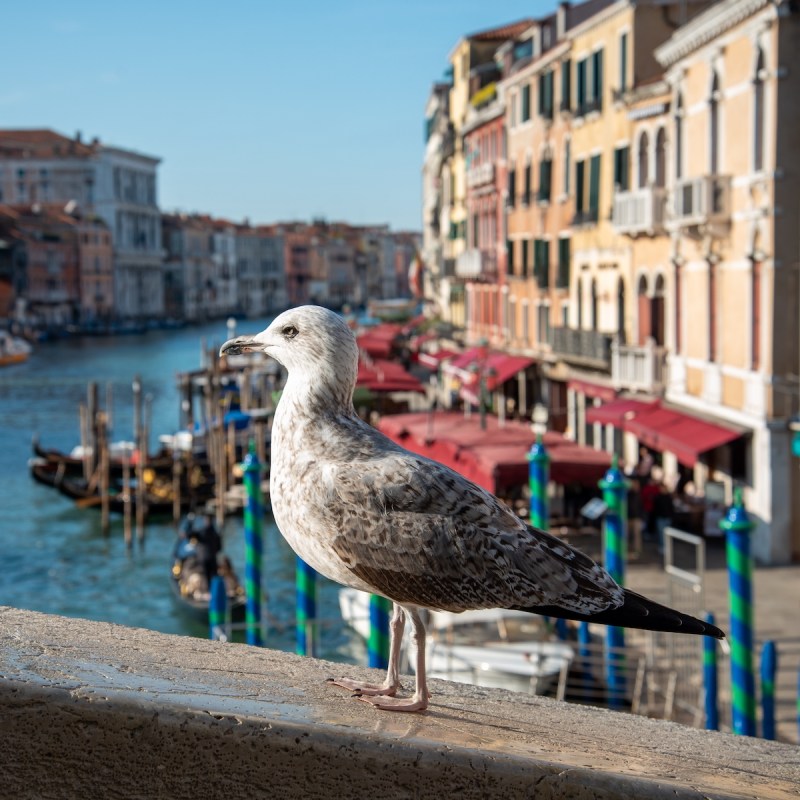 Venice, Italy, is known for its canals and traditional gondolas. Now, it may soon be known for seagulls and orange water pistols too.
The problem is that the number of seagulls in Venice has been growing in recent years. What's worse is that the seagulls are "aggressive and annoying."
While some tourists may laugh about the pesky birds, management at local hotels sees things differently.
"It's one thing for a customer to get up and 10 to 15 pigeons and seagulls pounce on the chips at the table, breaking glasses and more," Paolo Lorenzoni, director of the historic Gritti Hotel near the Grand Canal in Venice said, according to Italian news outlet, ANSA. "But in many cases, we have to reimburse customers for spilled drinks and for stains on their clothes."
The solution, at least for now, appears to be for restaurants and hotels to give guests orange water pistols so they can squirt the intrusive birds.
Why Action Is Needed
Members of a hotel association in Venice reached a point where they knew they collectively needed to do something about the seagulls, so they held a seminar to discuss the situation as well as possible solutions.
Lorenzoni isn't alone in his frank assessment of the seagull situation.
"As soon as guests get up, perhaps to go to the buffet, seagulls pounce on the food and take it away," one hotelier said at the meeting, according to The Guardian. "We are forced to intervene continuously to change tablecloths, as well as plates and glasses, which they often break. Some customers laugh about it, but others get angry."
Francesco Boemo, a hygiene and environment expert, coordinated the seminar.
"The huge number of seagulls, in addition to being an aggressive and annoying presence for people, presents a problem for health and hygiene, as well as for buildings and the environment," Boemo said, according to The Guardian.
He went on to explain, however, that the seagulls must be dealt with in a manner that isn't considered cruel. Because they are a protected species, the seagulls cannot simply be eliminated, "as is done, for example, with mice," Boemo said.
Humanely Solving The Problem
The seminar's attendees discussed several options for dealing with the seagulls. One possible solution, for instance, is to use sounds or odors that are offensive to seagulls – but are undetectable to humans. Another option is to hire a falconer to hunt the seagulls.
Lorenzoni, the Gritti Hotel's director, said hiring a falconer turned out to be cost-prohibitive, according to ANSA. And while the hotel also tried putting up a fake owl to deter other birds, they simply climbed on the owl instead.
The good news, however, is that during all the discussions, hotel management learned something else about seagulls: The color orange annoys them.
That discovery, in turn, prompted the Gritti Hotel and the Hotel Monaco & Grand Canal to begin arming guests with orange water pistols so they could squirt disruptive seagulls – if necessary.
"You don't even need to use the pistols; you just need to keep them on the table," Lorenzini said, according to ANSA. "As soon as they see the pistols, the seagulls fly away."
Know Before You Go
If you're planning a trip to Italy, keep in mind that the Italian government recently announced that a digital Green Pass, or COVID-19 health certificate, will not be required to enter public places such as restaurants, bars, and even public transportation after May 1. That documentation served as proof the bearer was either fully vaccinated for COVID-19 or had fully recovered from a recent infection.
Nonetheless, Italy is still on the Centers for Disease Control and Prevention's Level 4 list of countries with very high levels of COVID-19. Consequently, the CDC bluntly states "Avoid travel to Italy."
While you're thinking about it, be sure to read all of our Venice content, including Traveling To Venice, Italy: What To Know Before You Go and Venice, Italy To Require Reservations, Entry Fee Starting Next Summer.
You can also find all of our Italy content here, including