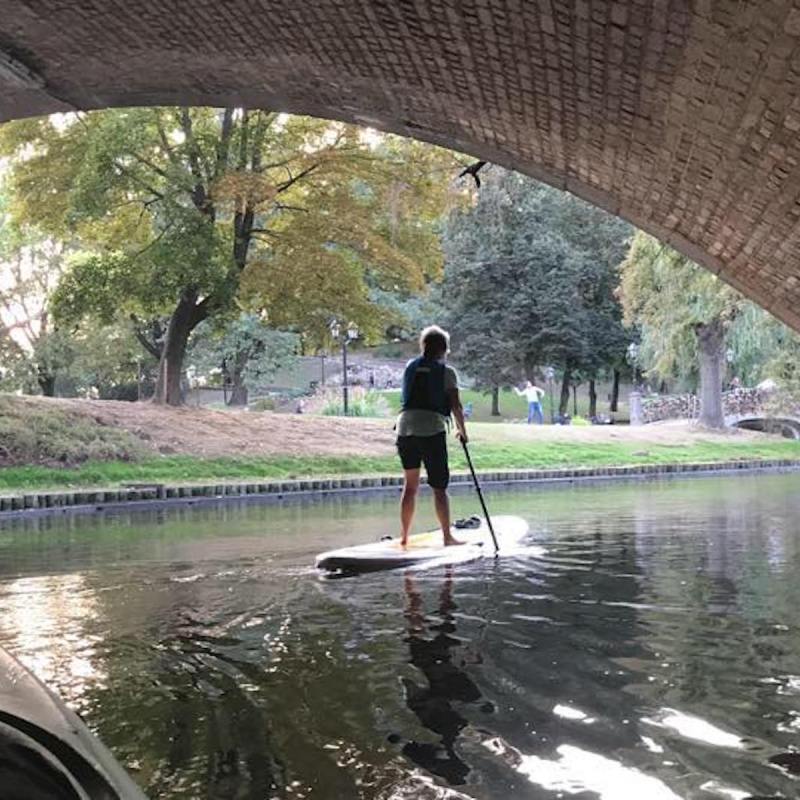 I blame it on my orthopedic surgeon who told me, 30 years after my skydiving accident and with barely any cartilage left, I shouldn't run anymore. (A sunny day, with a view of Mt. Rainier, the jump was stunning — right until the landing.) I broke my ankle into so many pieces that he told me he put together only the fragments he could recognize.
I'm hardly alone. A few of my peers aren't running anymore either, because we all need to protect our knees.
Running two marathons in the years after my parachuting jump probably didn't help my ankle, but I couldn't resist running the Big Sur Marathon (Personal Best: 3 hours and 56 minutes), with its inviting marketing pitch, "Run Along the Edge of the Western World." At the top of what was dubbed "Achilles Hill," a challenging but exhilarating 2-mile uphill stretch, runners were greeted by a pianist serenading us. 
After my discussion with the orthopedist, I thought, Now what? Walking was a start, but not enough. I've been a cyclist all my life, and with my husband Barry have bicycle toured in Europe 14 times, but Eureka, the "Victorian seaport" on California's North Coast where my Barry and I live part-time, has too many stoplights to get a sustained benefit while cycling. Inline skating? I loved it in my 40s, but Eureka's pavements are too rough. And while I'm an active hiker and backpacker, neither of those sports are feasible every day.
What was left? Swimming. Because I've never been a strong swimmer, I hired a coach. Once a week Josie trained me in the crawl, teaching me how to rotate my hips for greater efficiency and speed, and I developed a routine, swimming three times a week in the community pool. The problem was, I had to drive 7 miles each way to the nearby town, and I've always found the American custom of driving to exercise counter-intuitive. One day, on my "commute," which took me along Humboldt Bay, I thought, "Why don't I swim there? Skip the drive, the traffic, gas and pool fees, and just stroll one and a half blocks to the bay?"
I bought a "shorty," a thin thigh-length Neoprene wetsuit, along with a long-sleeve polypropylene shirt, gloves, booties, a bright multi-colored cap, and a tide schedule, since water temperatures can vary by as much as 8 degrees Fahrenheit depending on whether the tide is coming in or going out of the bay. I usually swam at slack tide, about half an hour each side of low and high tides, when the current was slowest.
Humboldt Bay is a busy place, with fishing, crab and oyster boats, kayaks, scullers, and a historic tour boat called the Madaket. Even with my rainbow cap, I could be hard to spot, so I usually swam along the shore.
Many benefits are associated with swimming in cold water, and I found it far more satisfying than doing the crawl back and forth in a chlorinated pool while staring down at stripes. I delighted in the bay's fresh air, open skies, seals, herons, the occasional sea lion, and all the room I wanted. Plus, soaking in our mini hot tub afterwards made for a delicious contrast after cold water, my skin erupting in goosebumps and my body tingling.
I would probably still be swimming in the bay, if not for the fact that one overcast day 8 years ago, gazing out at the bay from the Eureka boardwalk, I could barely believe my eyes. In the mist, I saw a figure who seemed to be walking on water. He looked mythic, out of biblical times. Could all those Sunday School stories be true after all?
But the man wasn't Jesus. He was standing on a vessel doing something I later learned was stand-up paddling, or SUP, an ancient sport with Polynesian origins. It looked magical.
I signed up for a private session at a local sports equipment store. But I'm a nervous learner, and my humorless, almost severe teacher did nothing to allay my anxieties. After two sessions, I decided stand-up paddling wasn't for me.
About a year later, though, our neighbors bought paddle boards from Costco, and one calm, sunny Saturday, Abigail invited me to go out with her. She suggested we go barefoot ("you pick up information from your feet that way"), and showed me how to hold my paddle. Soon we were off, effortlessly gliding around the bay, chatting and catching up. An hour later, I docked successfully, overcoming my fear of falling in the water while disembarking. I could barely wait to get back out on the water.
Soon after, I ordered an inflatable paddleboard. It takes me only an easy 3 minutes to schlep my board from our apartment to the dock. No need for a car or (worse!) a man. Now I paddle on the bay a couple of times a week. If the tide is right, I might visit a slough, where the narrow wandering passageways remind me of tiny lanes I've cycled on in England. In spring, I spot nesting egrets clustered high in the cypresses and schools of sandpipers resting on the mud flats in low tide. Sometimes I weave in and out of pilings, like skiers slaloming, or I playfully see if I can squeeze through the opening of a channel marker without touching. I never tire of the bay's docks, moorings, jetties, marinas, faded fishermen's boats, and decommissioned pulp mill.
Interesting as the bay is, I don't just paddle locally. Whenever Barry and I go on road trips in our camper van, we pack his rolled-up inflatable kayak and my SUP. We've paddled in lakes, rivers, sloughs, harbors, and bays all over northern California, Oregon, and even abroad. I keep an obsessive count: 10 bodies of water in California, 8 in Oregon, 3 in Mexico, and on the beautiful canals of Riga in Latvia.
One Saturday, Abigail, her partner Mike, Barry, and I paddled in Big Lagoon, about 45 minutes north of Eureka. We were away from the main swimming area, and I was hot, so I took off my clothes and paddled nude. Soon Abigail joined me, and Barry, not to be outdone, disrobed and paddled over in his kayak. Mike was the only one dressed!
Although stand-up paddling feels more like gliding meditation than exercise, it works the core, triceps, and obliques. The balance required is particularly beneficial for someone who's 70. Plus, if I happen to fall off, which has only happened twice, it's easy to get back on an SUP, unlike a kayak.
For more than 50 years, I thought of myself as a land mammal, a lover of running, hiking, backpacking, skating, and bicycling. While I'll always be loyal to land sports, in the last 10 years, I've discovered my amphibian self.
For more of Louisa's inspiring tips, check out her most recent stories: