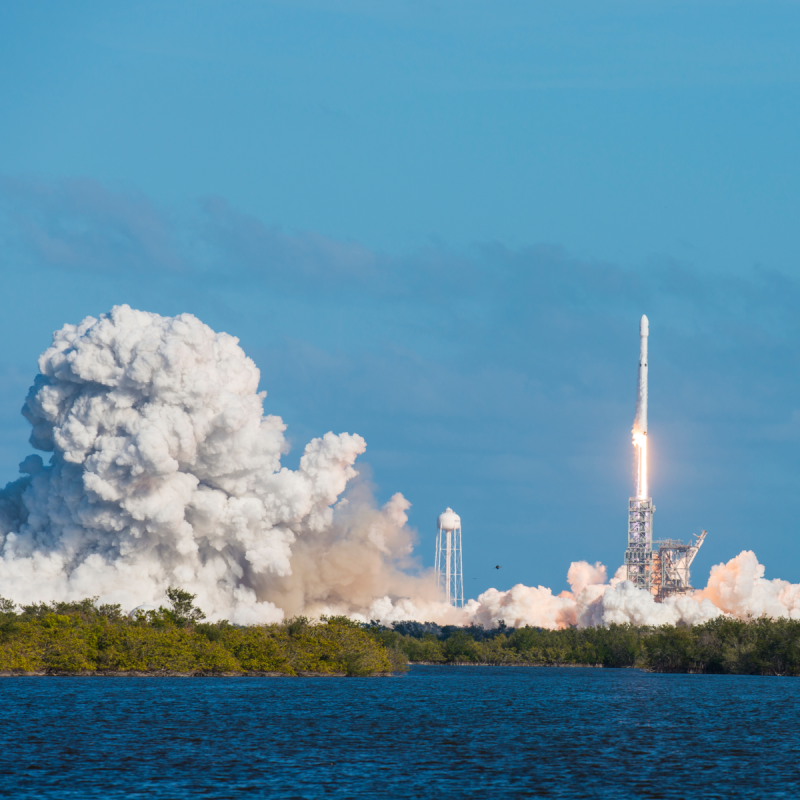 If you're a fan of NASA and space exploration, you'll want to update your calendar.
NASA and the Kennedy Space Center — on Merritt Island, Florida — are about to have a busy month. Two launches are planned, and NASA is also preparing for the next stage of a significant space exploration mission. If you can be at the Kennedy Space Center, you can even see the two launches and the Artemis I rocket.
Here's a rundown on what's about to happen at the Kennedy Space Center.
SpaceX Falcon 9 Axiom Mission 1 Rocket Launch (Ax-1)
April 3
While a specific time has not been announced, NASA is preparing for the first private mission launch to the International Space Station (ISS).
Axiom Mission 1, by Houston-based Axiom Space, will be commanded by Michael López-Alegría, a former NASA astronaut and current vice president of business development for Axiom Space. He will be joined on SpaceX's Crew Dragon Endeavour with Larry Connor, Mark Pathy, and Eytan Stibbe, "space participants," who each paid an estimated $55 million for the opportunity.
Once aboard the ISS, they will complete a 10-day mission that includes performing experiments and research, according to NASA.
Everyone who wants to watch the launch will need to pre-purchase a ticket, which includes admission to the visitor complex. You can learn more about viewing packages here.
SpaceX Crew-4 Rocket Launch
April 19
NASA and SpaceX are also working to launch another crewed mission to the ISS. This international crew will live and work aboard the ISS for a science-focused mission of 6 months, according to NASA.
The crew is made up of NASA astronauts Kjell Lindgren, mission commander; Bob Hines, pilot; and Jessica Watkins, mission specialist. The fourth astronaut is Samantha Cristoforetti, mission specialist, from the European Space Agency.
Viewing packages aren't available yet for this launch. If you'd like to watch the launch in-person, NASA explains viewing packages that will include admission and access to exclusive viewing locations behind NASA's gates should be available soon.
You can check for updates about those viewing packages here.
Artemis I Photo Opportunity
March 29–April 12
NASA has also transported the massive Space Launch System (SLS) rocket that will send an Orion capsule on an uncrewed trip around the moon as part of its Artemis I mission to one of the launch pads at the Kennedy Space Center. NASA is now preparing a series of tests for what's called the "launch stack," including a "wet dress rehearsal" to prepare for launch-day procedures such as the fueling of the massive rocket.
Artemis I, formerly Exploration Mission-1, will be the first integrated test of NASA's deep space exploration systems: the Orion spacecraft, SLS rocket, and the ground systems at Kennedy Space Center. This first mission will be the foundation for humans' deep space exploration. Future Artemis missions call for long-term lunar exploration as well as landing the first woman and first person of color on the moon, NASA explains.
"Under Artemis, NASA will carry out a series of groundbreaking missions on and around the moon to prepare for the next giant leap for humanity: a crewed mission to Mars," NASA administrator Bill Nelson said.
You can see the Artemis I moon rocket on Launch Pad 39B from the Kennedy Space Center tour bus. The bus takes visitors to the photo location known as "Camera Stop A/B," which is about 1 mile from the pad. You can learn more about the photo opportunity here.
If You Can't Go
If you can't be at the Kennedy Space Center in person, you can learn more about watching NASA live events here. You can also learn how to stream NASA TV here.
For more about NASA and space exploration, be sure to read: