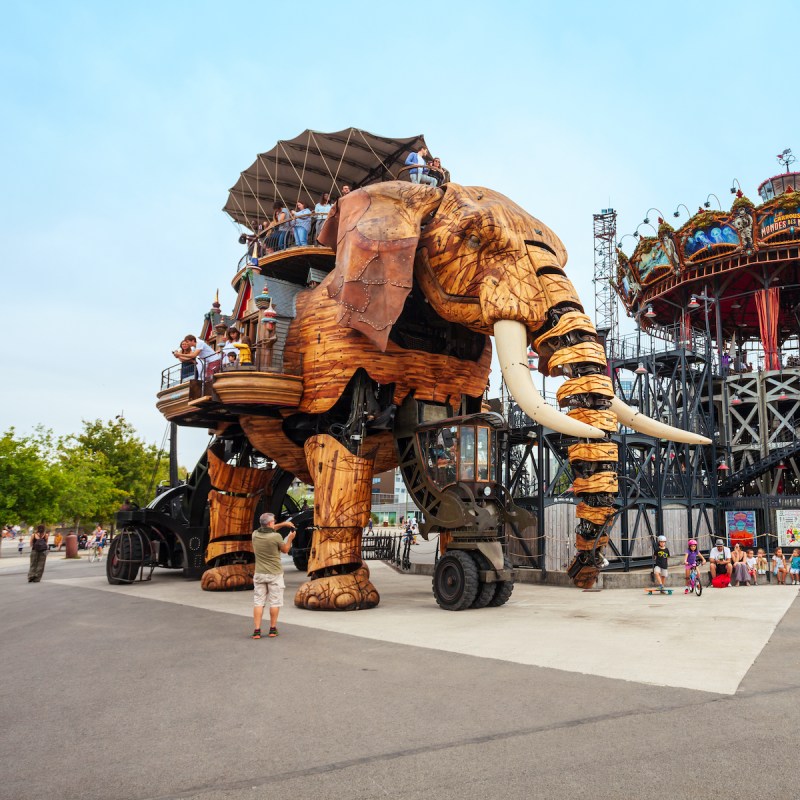 Europe is so varied that it truly does offer something for everyone no matter their age or interests. And if you are visiting with grandkids in tow, there is plenty to amuse them and interest you at the same time. Of course, nearly every country has theme parks (and no doubt they are fun), but here I tried to highlight some attractions and experiences that are fun for the grandkids but stand on their own for adults as well.
Admittedly, some of these attractions are aimed more at kids, others are aimed more at adults, but offer something a little special that will interest the younger travelers. It's a quirky mix that stretches across the board to make sure that your grandkids find something that inspires them.
Have fun!
1. Les Machines De l'Ile, Nantes, France
The Machines de l'Ile, a merger of art and mechanics heavily inspired by Jules Verne's fantastic creatures, is an initiative that was born out of the decline of the shipbuilding industry in Nantes. The best known of the Machines d l'Ile creatures is the gigantic mechanical elephant that takes visitors for a ride, walking along, trumpeting, spraying water, and looking at you with eerily real eyes. Then there is a triplex carousel, with levels representing the sea, land, and air, where you can not only go around in circles but also interact with your creature. If you must know, I chose to ride a dragon, whose eyes rolled and whom I could make puff smoke. You can visit the artists' lab, where creatures not just for Nantes, but for events all around the globe are being built, and it is simply magical for all ages.
Pro Tip: If you love dragons, then head north to Calais, where the same people built a gigantic dragon who takes you for a walk near the seaside.
2. Ossuary, Sedlec, Czechia
This is not for the faint-hearted, but then again, kids hardly ever are. Fascinated with all things creepy and scary, this should be right up their alley. In the Sedlec Ossuary, some 40,000 human bones have been used to make ornaments, chandeliers, a coat of arms, and various other items you had never imagined could be made from bones. It all started in the 1200s, when the abbot of a small monastery in the insignificant town of Sedlec just outside Prague went to Jerusalem and brought back with him some holy soil. Before you knew it, everybody, quite literally, wanted to be buried in the small cemetery, and they started to run out of space. Until, that is, an enterprising soul in the 1800s set about to tidy up and sort out all the bones piling up. The result is stunning, if a little creepy, and the grandkids will get some serious street cred back home showing off the pictures.
Pro Tip: Sedlec lies some 52 miles from Prague, so it is an easy day trip by car or organized tour. 
3. Viking Museum, Oslo, Norway
Getting kids interested in history can be a bit like pulling teeth, but mention Vikings and you are onto a winner. And when it comes to a nearly intact fully-fledged Viking ship that was dug up not that long ago, you really can't lose. The display in Oslo's Viking Museum is striking for adults and kids alike. And there is not just the boat, but helmets, armor, and even some dragons. Add to that the fact that you can reach the museum by boat from central Oslo, and it's a fun day out.
Pro Tip: From one Scandinavian capital to another – should you find yourself in Stockholm instead of Oslo, head straight to the Vasa Museum, where they house an entire and enormous warship dating to 1628. Not quite Viking-era, but still impressive.
4. Miniature Wonderland, Hamburg, Germany
Set in the historic Speicherstadt, Hamburg's UNESCO-listed port quarter, is a 16,630-square-foot miniature world that stretches from Scandinavia to Switzerland, including the entirety of Hamburg. The largest model railway in the world, with 8 miles worth of rail tracks and 1,300 trains, is not really only about the trains. The details are incredible, with live concerts taking place in one corner and a scuba diver being chased by a shark in another. Police are arresting criminals somewhere, whilst a couple is being romantic in a sunflower field. There are ships sailing the North and Baltic Seas, Hamburg's port and airport are there in amazing detail, and there is so much to see that you discover something new each visit. Try to spot the aliens! Even if you are not normally a fan of miniature displays or model railways, this one is utterly amazing.
Pro Tip: Just around the corner is the Hamburg Dungeon, perfect for smaller visitors who love to get scared out of their wits.
5. Treasure Hunt In The Louvre, Paris, France
When in Paris, a visit to the Louvre is pretty much de rigueur, but mention "world's largest museum" to a kid of any age and watch them run screaming into the distance. Unless, of course, there is a Treasure Hunt involved. This is such a fun way of seeing the Louvre's best pieces of art that the adults have just as much fun as the kids. You get a booklet full of clues and tasks, and off you go. Before you know it, they become little art connoisseurs. 
Pro Tip: If you are traveling with little nerds, or just love to have fun learning by yourself, continue straight on to the Palais de la Découverte off the Champs Elysees, a superb interactive science museum set in a most glamorous building which is part of the Grand Palais. And although a lot of the interactive stuff is in French, that doesn't seem to stop kids who do not speak the language as a lot of it is just straightforward fun.
6. The Colosseum, Rome, Italy
Just like with the Vikings, gladiators seem to rank highly with kids who don't normally like history. And there's no better place to see some serious Roman and gladiator history than in the Colosseum in Rome, where the gladiator tunnels are now open to visitors. Clambering around this impressive amphitheater with quite a ghastly history might even teach the kids something they never thought of as interesting.
And in addition, the old mantra of learning by doing might just do the trick here, in the local Gladiator School, dress up, have some fun, and before you know it, you've enjoyed a bit of history.
Pro Tip: And when in Rome, why not take the grandkids to learn how to make pizza and gelato? It's a souvenir skill that will allow you to take Italy back home with you.
7. A Speedboat Ride On The Thames, London, UK
Sightseeing can be such a bore, but not if you go on a fast speed boat. Hurtling down the Thames, passengers can take in all the sights including Westminster, Big Ben, the London Eye, St. Paul's Cathedral, The Globe, The Tower of London, Tower Bridge, Greenwich, and much more. The unique sightseeing experience is accompanied by the delighted squeaks of a handful of passengers strapped into a yellow boat that skips across the waves. Seriously, I don't think I ever had more fun sightseeing than on this speedboat with music blaring and the odd splash of water. This is the best way to introduce your grandkids to London. There is no age limit, although kids below 14 years of age need to be accompanied by an adult, and there is a minimum weight limit of 15 kilograms (33 pounds).
Pro Tip: Taking the same route, but at a fraction of the speed, there are other boat sightseeing trips that might be more suitable if your group is made up of very young grandkids or rather older grandparents.
8. The Atomium, Brussels, Belgium
This oldy-but-goody is not only the iconic landmark of Brussels but also great for grandkids. The Atomium looks like a cross between those cubes made up of magnetic silver balls and something that landed from outer space. In reality, it represents an iron crystal structure magnified 165 million times. Dating back to 1958, when the Atomium was built for the Universal Exhibition of Brussels World Fair, it still shimmers silver in the sunlight, but on the inside, it looks a little basic. Not that the grandkids will care when they travel up the escalator into the interior of the metal structure. To keep the younger visitors interested, they can download the app, Atomium Play with the free Wi-Fi available and scan the QR codes throughout the Atomium.
Pro Tip: The Atomium is set among several parks, the best being the Laeken Royal Park, which is lovely to stroll in.