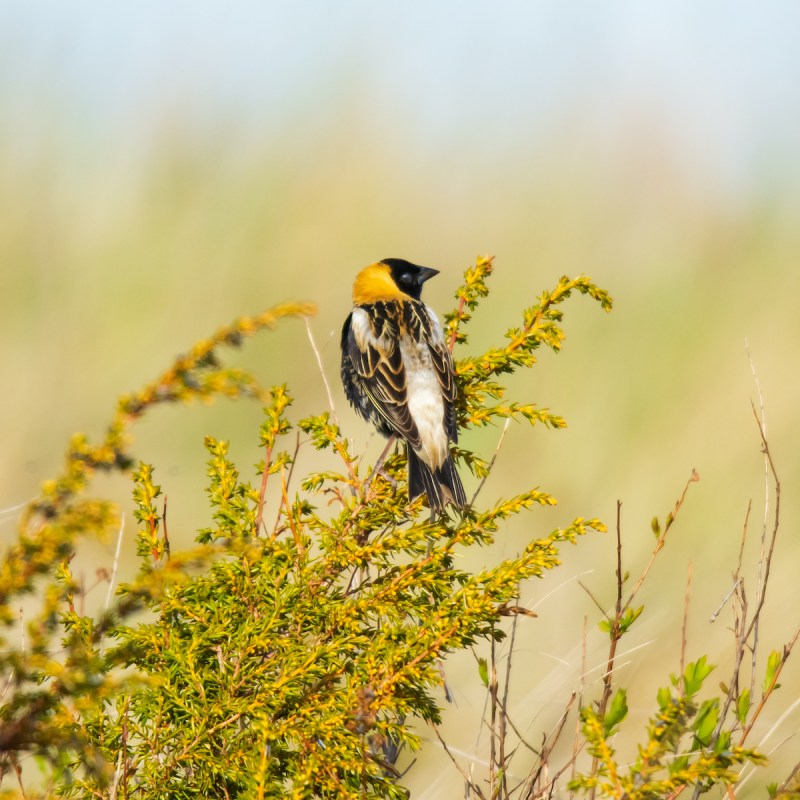 Michigan's Sunrise Coast begins in Mackinaw City, at the south end of the Straits of Mackinac, where the Mackinac Bridge connects Michigan's Upper and Lower Peninsulas. It continues 200 miles down the coast of Lake Huron following U.S. 23 to Standish. However, the Sunrise Coast Birding Trail covers only about 143 miles and stops at the Au Sable River in Oscoda, where the Saginaw Birding Trail picks up and continues through to Port Austin.
From the spring Raptor Watch at the Straits of Mackinac to Shoreline Park at the mouth of the Au Sable River, where you can see the endangered Great Lakes Piping Plover along Lake Huron's northern shores, the birding trail showcases hundreds of species.
With almost 30 stops officially on the Sunrise Coast Birding Trail and about half a dozen additional sites in Iosco County that may not have official signage, I found more great birding sites along Michigan's Sunrise Coast than I can mention.
Here are some of my favorites that represent a variety of birds. I list them in order from north to south.
1. Mackinac Straits Raptor Watch, Mackinaw City
Twice a year, conservationists count and monitor migrating birds of prey at the Straits of Mackinac. In spring, large concentrations of raptors sit at the tip of the mitten, waiting for the right conditions to cross the straits on their journey north. In fall, to a lesser extent, Lakes Huron and Michigan guide birds flying south for the winter over the same area.
Depending on the weather, the Mackinac Straits Raptor Watch spring counts run from March 5 to June 5. The counts occur at one of two sites about a mile apart in Mackinaw City. Wind speed, direction, and cloud cover all affect the bird's migration and which place is the best for counting at any given time. In autumn, they count from August 20 through November 10.
While conservationists report data on eagles, owls, kites, falcons, and hawks, it's the top spring site in North America for red-tailed hawks.
Driving west on Central Avenue, look on the left for the Raptor Watch signs. The red-tailed hawk numbers peak in the first week of April, while the big broad-winged hawk numbers are highest in late April. As a result, you'll most likely see golden eagles throughout April. Some years you'll even see Swainson's hawks and black vultures.
To fully enjoy the birds, wear warm wind-proof clothes. It's typically windy and 20 to 30 degrees cooler at the straits. So put on some sunscreen and bring a lawn chair — regular-sized binoculars in 7, 8, or 10 Power, and a 20x plus spotting scope.
Pro Tip: Birdwatching requires patience, and if you're in it for the long haul, you'll need some sustenance. One of my favorite year-round restaurants in Mackinaw City is Audie's Restaurant, where everything is scratch-made. Think house-made pie! Need I say more?
If you decide to go bird watching in Mackinaw City, check out this article on How To Spend A Long Weekend In Quaint Mackinaw City, Michigan.
2. Historic Mill Creek Discovery Park, Mackinaw City
Historic Mill Creek Discovery Park, found 3 miles south of Mackinaw City, is the perfect spot for birdwatchers who want to include the whole family in their outing. The site, situated in a 625-acre northern hardwood forest, was integral to Michigan's lumber industry during the 18th century. Today, a replica of a steam-powered sawmill is part of the experience. Historic Mill Creek Discovery Park is one of Michigan's state landmark parks and combines nature, history, and adventure.
My family started at the visitor's center, where bird feeders attract pileated woodpeckers, white-throated sparrows, rose-breasted grosbeaks, and red-breasted nuthatches. We enjoyed the close-up view of birds, and the visitors center offered the history buffs in our family a 15-minute movie, The Power of the Water: The Mill Creek Story.
While the 50-foot-tall observation tower took us to a spot high in the treetops, where we could observe Baltimore orioles, Blackburnian warblers, and scarlet tanagers, we also had a stunning view of the Mackinac Bridge. The tower is also an excellent spot to view other birds that love this part of the forest, like red-shouldered hawks, bald eagles, and northern goshawks. During the spring migration, you may even spot a golden eagle.
Take on the climbing wall challenge, where you can see cavity nesters like the pileated woodpecker and the northern saw-whet owl in the wall's holes. Bird songs mark your climbing milestones as you go up the five-story wall. You'll find so much to do with nature trails, ziplining, and interactive activities here — plan at least half a day for your visit.
Pro Tip: Mackinaw City is the best place to eat when visiting the park. If you want to sample one of Michigan's iconic dishes, the pastie, Hunt's Mackinaw Pastie and Cookie Company is open year-round.
3. Rockport State Recreation Area & Besser Natural Area
With over 4,200 acres to explore, the Rockport State Recreation Area & Besser Natural Area showcases a variety of bird habitats. The woods and lowlands in the area are nesting habitats for hermit and wood thrushes, winter wrens, and several types of warblers. In addition, since the site includes the Lake Huron coastline, we saw many migrating waterbirds.
Situated on the north side of the Rockport State Recreation Area, you can access the Besser Natural Area from Grand Lake Road. The pines here are a nesting area for American redstarts and pine warblers. While the Besser Natural Area isn't open during the winter, the one-mile hiking loop takes you past various woodland habitats from spring through fall.
Pro Tip: Up North 23 Restaurant and Lounge, located on the Lake Huron shore, is the perfect place to see a stunning view while enjoying a meal on the deck. The chef sources ingredients from local farmers, including the components for the famous house-made barbecue chips. Since the restaurant's owners are potato farmers, the chips couldn't get much fresher.
4. Alpena Wildlife Sanctuary, Alpena
Located in the north end of Alpena, Alpena Wildlife Sanctuary is a 500-acre wildlife sanctuary that features a birding site. The marshy area and the lazy Thunder Bay River provide nesting habitats for marsh birds, including least bitterns.
What I like most about this area is the variety of ways to bird-watch. The 17-acre Island Park features several nature trails and wooden observation platforms in various environments. You'll see woodlands, dunes, meadows, and marshy areas. In the summer months, we kayak to get a closer look at the birds.
Thunder Bay National Marine Sanctuary, located next to Northwestern Lake Huron, is one of the most dangerous water sections on the Great Lakes. They named this area "Shipwreck Alley" because fog and other unpredictable weather coupled with the rocky shoreline have claimed about 200 ships in the Thunder Bay area. Admission is free.
Pro Tip: All that hiking and kayaking will make you hungry, so try the Red Brick Tap and Barrel, where they offer everything from salmon tacos to veggie gyros and wagyu beef burgers. Specialty cocktails and an impressive whiskey collection complement the menu.
5. Sturgeon Point Lighthouse State Recreation Area, Harrisville
Situated 5 miles north of Harrisville, Sturgeon Point Lighthouse State Recreation Area is a 60-acre state park. I'm always excited when I spot a bald eagle, and here one often soars above the lighthouse.
Various species migrate through the area and use the 1.5-mile shoal that juts into Lake Huron as a gathering point. As a result, you'll see nesting species, including yellow warblers, red-eyed vireo, American redstarts, and the widely popular northern cardinals. Lake Huron provides the perfect habitat for these birds, from lake grasses in wetlands to mature forests and dunes.
The lighthouse keeper's quarters are now a maritime museum open from Memorial Day through mid-September. Admission to the museum is free.
Pro Tip: After birding, stop by Alcona Brew Haus for a burger and brew. If you prefer to sample a Michigan classic, try their walleye dinner.
6. Foote Site Park & Foote Tailwater Site, Oscoda
Located about 5 miles west of Oscoda, Foote Site Park & Foote Tailwater Site is a haven for aquatic birds. I especially enjoy the trumpeter swans that nest offshore. You might even catch a mom taking the babies out for a swimming lesson.
If you're adventurous, you can boat or kayak on the Au Sable to get a closer look at the birds that populate the water. You'll see geese, a variety of ducks, Caspian terns, belted kingfishers, blue herons, and loons.
Near the picnic area, you hear the red-headed woodpeckers. Around the Foote Tailwater Site, you might see bald eagles, a raven, or some turkey vultures.
Pro Tip: Tait's Bill of Fare is a fine dining experience in a relaxed atmosphere. Check for their daily specials on their Facebook page.
Editor's Note: Because Foote Site Park and Foote Tailwater Site are not Google Map locations, they are marked with their GPS coordinates (44.4317, -83.45138) on the map above.
7. Tawas Point State Park, East Tawas
While Tawas Point State Park is on Michigan's Sunrise Coast, it's technically on The Saginaw Bay Birding Trail. I mention this because, during the peak migrations, Tawas Point is known throughout the world for its large number of migrating warblers. You'll also see raptors and shorebirds at Tawas Point. May is the prime time for viewing at this site.
You can also find more birding hotspots through eBird. The Explore Hotspots function will show you some great places in Michigan — the orange- to red-colored pins having the higher number of species observed there.
Pro Tip: Mangos Mexican Cuisine and Tequila Bar offer traditional Mexican cuisine accompanied by excellent margaritas. Pair the fajitas with your favorite flavor of frozen margarita.
If you want to explore more of east Michigan's coast, check out these articles: