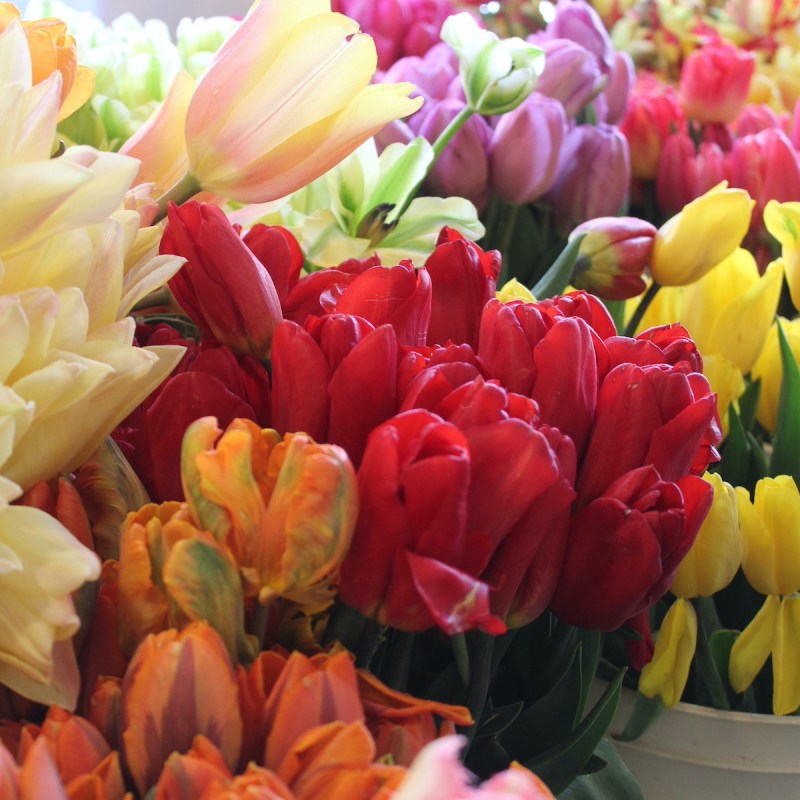 Every April, a kaleidoscope of color, in the form of tulips, emblazons the otherwise lush, green agricultural lands of the Skagit Valley in Washington State.
Located 60 miles north of Seattle, the Skagit Valley becomes a very popular destination spot for springtime adventures and day trips, with the Tulip Festival front and center as its main attraction. The festival is designed as a driving tour with the majority of flower fields situated between two small towns: Mount Vernon and La Conner.
And with this being one of the largest tulip festivals outside of Holland, there are activities specifically centered around the bloom. You do not have to travel out of the country to gaze upon this iconic spring flower.
Things To Do At The Tulip Festival
The Skagit Valley Tulip Festival has been blooming for over 30 years, showing off its vibrant colors to thousands of visitors each year. The festival spans the entire month of April, from the 1st to the 30th. But of course, mother nature being mother nature, the bloom has its own special timing and can be seen in various stages during the month. Maybe more than one trip to the fields is something to consider.
If your springtime travels find you traipsing through the tulip fields, here are some gardens that are an absolute must to visit.
RoozenGaarde
RoozenGaarde Flower and Bloom is a multi-generational grower of tulips, irises, and daffodils. They are the oldest and largest producer of these flowers in the country. Every year they put out the RoozenGaarde® Bloom Map, which is a downloadable map displaying which tulip fields are currently blooming and at what stage they are in their growth. It includes many road names too, which makes finding these colorful fields a little easier.
At RoozenGaarde, there are over 5 acres of display gardens as well as 50 acres of farmland devoted to growing tulips and daffodils. Inside RoozenGaarde is a gift shop and greenhouses where visitors can purchase their own bulbs to take home. Select from the 150 varieties seen in the display garden and showcase your favorites in your own garden.
RoozenGaarde happens to be the largest wholesale and catalog retailer of tulips in the country. Thinking of buying a bouquet of tulips at your local grocery store? They most likely began at RoozenGaarde's.
Admission to these spectacular displays is $15 for anyone ages 3 and up. The price includes parking and access to all the gardens and bloom fields. All tickets are general admission and can be purchased in advance online.
Pro Tip: Purchase tickets in advance for guaranteed entry.
Tulip Town
Tulip Town is the other major grower in the valley. During the festival, they are a great stop for families with a variety of activities for every age and interest. Most days they offer face painting, trolley rides, and a café with good old-fashioned churned ice cream. These are all in addition to their display gardens, indoor flower show, and local vendors set up to share their wares.
Tulip Town offers several ticket packages including general admission, a Photography Pass, and the Experience Pass touring the farm. Packages begin at $15 for ages 12 and up, $7 for ages 6–11, with kids under 5 free. General admission includes parking, entry, a trolley ride, and access to the bloom fields and display gardens.
Garden Rosalyn
A newer addition, Garden Rosalyn is smaller than Tulip town and Roozengaarde but has more to offer than beautiful tulip fields. The garden also features designed flower beds, a windmill that makes for great photo opportunities, and a lake inhabited by geese and ducks.
Helicopter Tour
If seeing the rainbow of color from the skies is on your bucket list, then consider taking in the scenery from above in a helicopter or charter plane.
San Juan Airlines offers tours over the tulip fields throughout the month of April as do Atomic Helicopters, offering scenic flights of the Pacific Northwest variety, and Bellingham Helicopter Services.
Tulip Festival Street Fair
Taking place over three days in April, the Tulip Festival Street Fair in Mount Vernon is one of Northwest Washington's largest outdoor art shows. Half a mile of artisan vendors line up for the "Street Fair" as locals call it. For a full list of events including concerts and fairs during tulip time, the Skagit Valley Tulip Festival Brochure has it all.
What To Pack
Pack for the day's outing by dressing in layers for any kind of weather (it is the Pacific Northwest after all). Be sure to bring rain gear and boots as the fields can be muddy, even if the sun is shining.
Bring along a stash of snacks to keep hunger at bay while wandering around the beautiful gardens. And of course, do not forget your camera!
Skagit Valley Restaurants
After a long day tromping in fields, a delicious meal is in order. With Mount Vernon on one side of the bloom fields and La Conner on the other, these two cities serve up a smorgasbord of food options to suit any palette.
La Conner is a quintessential small town. With a population of around 900 people, it exudes that small-town vibe. But do not be fooled, it holds more charm than its size leads you to expect. It is situated on the banks of the Swinomish Channel waterway and was once a vibrant fishing town. Today the downtown corridor is home to an array of craft stores, art galleries, and eateries. Walk through town along the boardwalk for serene scenery of the water and an eye-catching glimpse of the famous Rainbow Bridge which arches itself gracefully over the channel, connecting the city of La Conner with the Swinomish Indian Tribal Lands.
Additionally, finding yourself in Mount Vernon for the evening might also find you promenading along the river walk. This pedestrian trail parallels the waters of the Skagit River through Mount Vernon's artsy downtown district. Stroll through cobblestoned courtyards while browsing the various antique shops, art galleries, and eclectic mix of restaurants and breweries.
Snow Goose Produce
It's almost tradition for many Pacific Northwesterners to stop at the iconic Snow Goose Produce. This seasonal, open-air market is worth the visit for a little shopping while noshing on the biggest ice cream cone in these parts. Other cool finds range from local, organic produce to artisan jewelry and woven baskets (purchase one to hold all your flowers and goodies). The market is located on the south side of the bloom fields making it accessible from much of the area.
Pro Tip: Several flavors of locally sourced ice cream are served in handmade waffle cones, but you better have cash if you want a scoop!
Nell Thorn Waterfront Bistro
While strolling through the town of La Conner, you can work up an appetite. When it is time for dinner, stop in at Nell Thorn Waterfront Bistro for an upscale bistro vibe, water views, and exquisite entrées like their Polenta with shiitake gorgonzola sauce or any of their handmade gnocchi dishes. At Nell Thorn, using regional ingredients not only supports local farms in the Skagit Valley but also supports their ethos of sustainability while nurturing the earth by developing a lighter footprint.
Call ahead for a reservation, especially during tulip season. This restaurant becomes popular for a little respite as well as sustenance. Nell Thorn is open for both lunch and dinner but is closed on Mondays.
Pro Tip: Nell Thorn has their own parking lot, which makes finding a space a little easier during the busiest of times.
The Calico Cupboard
Maybe a hearty breakfast is your thing — especially if a full day of walking through gardens is on your itinerary. The Calico Cupboard serves all-day breakfast from traditional plates or recipes with a more modern twist, including gluten-free and organic ingredients. Calico Cupboard has two locations, one in La Conner and one in Mount Vernon, making this an ideal stop along your tulip trail adventures.
Pro Tip: Calico cupboard's gigantic cinnamon rolls are a well-known trademark. Pick one up to-go and snack on it later for a treat.
Trumpeter Public House
Situated next to the Skagit Riverfront trail in downtown Mount Vernon, find the Trumpeter Public House, an old-world English pub-style atmosphere with an elegant, warm, and relaxed feel. The Trumpeter is the place to kick back and imbibe a cocktail or local brew — they offer the largest selection of spirits in Skagit County. Pair any refreshment with their locally-sourced dinner menu and call it "the perfect ending to a perfect day."
Reservations are highly recommended and seating is limited. The Trumpeter is open Tuesday–Saturday from noon–9 p.m.
Hotels In Skagit Valley
With so many sites to see, extending your Skagit Valley Tulip Festival experience into a long weekend is the perfect solution to take it all in.
While Mount Vernon hosts a number of chain hotels that can be well-suited for families, it is La Conner that offers a lovely variety of options when it comes to lodging. There are quaint bed and breakfasts, small hotels on the water, and private rentals available online, all depending on your need and desire.
Katy's Inn
Located in the heart of La Conner, Katy's Inn has early Victorian architecture. this quaint bed and breakfast is a favorite among visitors and locals alike for its friendly, family-oriented service and the romantic antiquity of the home. Every morning, a full complimentary breakfast is served in the dining room, a nod to a bygone era. One of the rooms is pet-friendly so furry family members can join you for a flower-filled weekend.
La Conner Channel Lodge
At La Conner Channel Lodge, look over the waters of the Swinomish Channel from your balcony while sipping a complimentary glass of wine. This boutique hotel is situated in the small downtown area and is within walking distance of all the shops and eateries in La Conner. From street level, its architecture is in the classic Pacific Northwest style with its Craftsman rooftop and cedar siding. A complimentary breakfast is served each morning, which you may also enjoy out on the veranda, making this the perfect spot for a couples weekend or quiet getaway relaxing and watching the sunset, all after visiting the tulip fields, of course.
Book early, as La Conner accommodations fill up quickly.
Pro Tip: For a treat, take home a piece of the festival with you in a wine bottle by visiting the official winery of the tulip festival, Pasek Cellars. They are a family-friendly tasting room and they offer tours of their winery and wine-making process. They call it "wine in motion."
Related Reading: