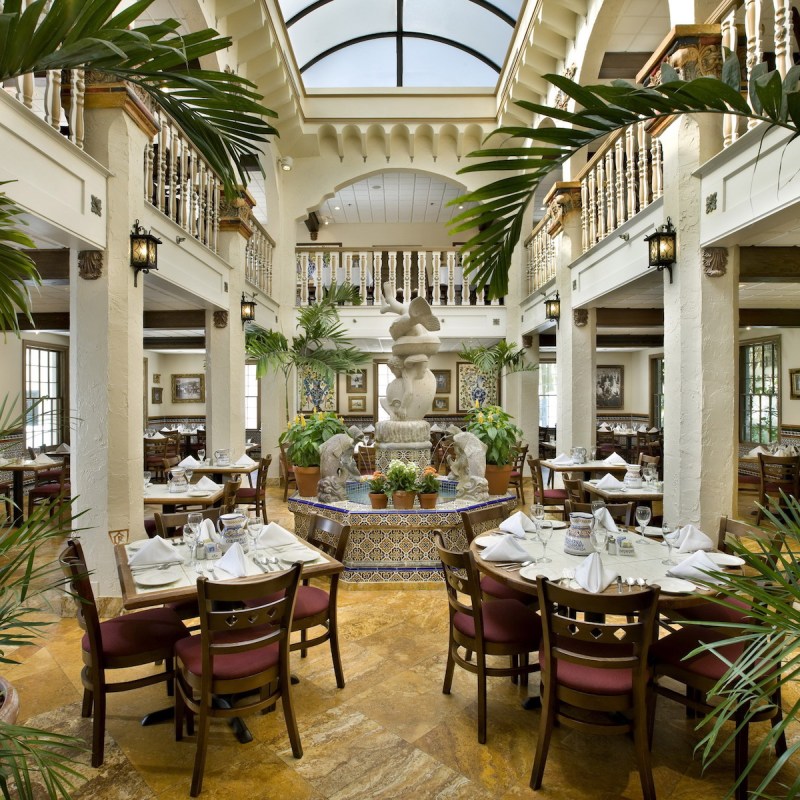 Romantic walks along historic streets, sunsets on the waterfront, and a history rich in Spanish influence have always been the main attractions in St. Augustine, Florida, the oldest city in the continental U.S. But I also love St. Augustine's variety of dining options that range from casual to chic. Restaurants and cafés show off the Ancient City's fusion of Mexican, Latin American, and Floridian coastal influences and mix them with timeless views.
I've visited St. Augustine on multiple occasions, and each time, I discover new restaurants to add to my favorites. If I want seafood twice a day, I can have it. If I change my mind and go vegetarian, I can do that, too. And if I feel like adding an ethnic spin to my menus, St. Augustine addresses that desire, as well.
What's distinctive here is the sense of place that St. Augustine affords. Pedro Melendez de Aviles and Ponce de Leon may have happened upon St. Augustine by accident, but I make a point to return on purpose for the history and romance that captivates my soul and the delicious flavors that satisfy my palate.
Here are six of my favorite restaurants with views ranging from beautiful outdoor vistas to indoor panoramas with special features of their own.
1. Casa Reina Taqueria
Casa Reina Taqueria is one of St. Augustine's newest and most colorful eateries. Set in a standalone building across from the city's historic Plaza de la Constitución, the restaurant overlooks centuries of St. Augustine history. The 120-year-old "Queen's" home — now the completely renovated Casa Reina — is an example of turn-of-the-century St. Augustine style, originally built as a private dwelling and later converted into the Blenmore Hotel and a gathering place for the American Legion.
To take full advantage of the restaurant's lively vibe and stunning views, I suggest you head to the rooftop. Time your dinner well and you'll enjoy the changing hues of sunset over the Bridge of Lions and Matanzas Bay, which harmonize with the colorful cuisine. Apple-green guacamole is a refreshing starter to the pink glazed salmon entrée surrounded by Mexican corn, cilantro, and pico de gallo. Or choose one of the vegetarian "casa tacos" or enchiladas, both filled with bright avocado slices and a rainbow of veggies.
Casa Reina offers nearly 70 tequilas and mezcals along with a bevy of creative cocktails. Colorful and boozy, Montezuma's Gold is a potent mix of crema de mezcal, licor de elote, and Bouchant orange liqueur. Or choose the appropriately named Mexican Sunset, a multi-toned concoction of rum with cherry juice, grapefruit, and lime. For a one-two mezcal and tequila punch, try the Oh My! — you'll echo the name once the ancho chiles kick in.
Pro Tip: Be specific about your desired location when you request outdoor seating, and note that the rooftop is reached via a long flight of stairs. St. Augustine doesn't get very chilly, but you might want to bring a light wrap or sweater, as breezes can drift in from the Bayfront.
2. Catch 27
Catch 27 offers scenic outdoor dining and a medley of seafood from Florida, the 27th state. Surrounded by 18th-century homes in the historic district, the restaurant's softly lit backyard has a rustic, old-world atmosphere.
I daydream about Chef Joshua Smith's decadent deviled eggs. They're served with a fried oyster on top and a touch of tangy tomato-bacon jam. Bacon also finds its way around dates smeared with St. Augustine's own heat-generating datil pepper jelly. Main courses change with the season, with a focus on coastal ingredients. Try the shrimp and grits, the lionfish ceviche, and whatever the catch of the day is, simply grilled and served with seasonal veggies. But there's no need to worry if someone in your group doesn't eat fish — there are meat and veggie choices as well. The fried chicken with sour cream mash is a revelation.
Equally modern and classic, Catch 27's craft cocktail menu mixes oldies with new-fangled creations like the Black Manhattan, a twist on a traditional whiskey-based drink with Averna and bitters added.
Pro Tip: Catch 27 is one of St. Augustine's most sought-after restaurants. Book early if you hope to score a table, and be flexible with your timing.
3. Leña Asado At Urban Asado
A distinctive experience born out of the popularity of a mobile grill, Leña Asado at Urban Asado invites you to a chef collaboration using wood-fired grills. The outdoor dining space along the shores of the San Sebastian River is lit by torches and hanging lights. Picnic tables and fireplaces, unadorned but fitting for traditional Argentine grill cooking, are scattered adjacent to a repurposed shrimp packing house.
While seating affords gorgeous waterfront vistas over docked shrimp boats, the preferred view is that of the open kitchen, an outdoor grill where multiple chefs prepare a menu of grilled meats, provoleta, and veggies. Chef Matt Brown and Asador Nick Carrera are the masterminds behind this unique experience, and they'll happily chat with you about the inspiration for the evening and the menu. If the meat-centric dinner isn't to your liking, a seafood version can be pre-ordered. The restaurant is BYOB, and I suggest bringing a couple of bottles of cabernet. For dessert, a moist olive oil cake is also prepared on the grill.
Pro Tip: Even though you may be seated directly in front of a fireplace, it can get very windy here. Along with your bottles of wine, pack a jacket or maybe even a beanie to keep you comfortable. The exclusive asado dinners take place on weekends only, and reservations can be tricky.
4. St. Augustine Seafood Company
Casual and buzzy, St. Augustine Seafood Company sits front and center on pedestrian-only St. George Street, the major tourist thoroughfare of St. Augustine. You stand in line at the counter and order your meal from items listed on menu panels as you might at a fast-food restaurant. But the food here is anything but fast food — it's fast casual. Oysters — raw, fried, or in po' boys — fresh fish sandwiches, and shrimp baskets are standouts. You can add giant onion rings, homemade coleslaw, and the tomato-based Minorcan conch chowder (made with St. Augustine's heat-packing datil pepper) along with an array of sauces ranging from a very tame tartar to a challenging, fiery datil-Buffalo.
Please don't stay indoors in the cafeteria-like restaurant: The outdoors is where you'll be immersed in a setting that's totally old St. Augustine. You might even imagine a conquistador tying up his horse here as you sit under the lantern-adorned, 300-year-old oak tree in what is known as Colonial Oak Music Park. Pick a seat and wait for the servers to deliver your meal.
Pro Tip: The Taberna del Caballo bar sits just outside so you can grab a beverage to accompany. Check the schedule — there are often free rock, blues, and country concerts in the park.
5. Ancient City Brunch Bar
If I had to choose somewhere to begin my day, it would be the Ancient City Brunch Bar. It's the spot-on place for caffeine fueling before your city exploration. Named for its enviable location just off St. Augustine's "ancient" plaza in the Historic Quarter, the café also sits across from Trinity Parish, the oldest Protestant church in Florida.
Ancient City Brunch Bar has an inspiring story. Started during the pandemic from a concept by teenage twins Emily and Sophia Schroeder for an entrepreneurial class, the girls and their mother came together to feed residents their delicious "bruncharcuterie boards." Replacing charcuterie meats and cheeses with quiches, bacon, waffles, fruit, and more, the boards were so popular that the original "to go" catering concept moved into a brick-and-mortar location and added sandwiches and pastries. The Brunch Bar uses recipes passed down from Grandma Schroeder along with original creations from the twins. Utensils and dishes from family collections create a feeling of dining in the Schroeder family home — it's comfortable and cozy and the sidewalk tables put you right in the middle of history.
Pro Tip: Be sure to look around outside. You're standing where the United States was discovered more than 500 years ago. Nearby Aviles Street is the oldest street in St. Augustine.
6. The Columbia
I'm picky when it comes to perfection. And, for me, The Columbia is St. Augustine dining perfection. One of several restaurants of the same name specializing in Cuban and Spanish cuisine, The Columbia dates back to 1905 and sits exactly where it should, in the heart of the historic district. The view here is all about the restaurant itself, a hacienda-like building with an outdoor fountain and patio and multiple rooms on multiple floors. Dining areas provide an immersion into Hispanic culture with hand-painted tiles and Spanish-style fountains.
Its signature dishes are justifiably wonderful. Order the restaurant's Cuban bread, and you'll get a loaf of the crustiest bread imaginable. The Columbia's Original "1905" Salad is prepared tableside with ingredients that are fresh and not too surprising: iceberg lettuce, lemon, olives, Swiss cheese, ham, and grated Romano cheese. But there's something magical about the presentation and mixing of the dressing with the ingredients that creates what is a true masterpiece. Another classic, the restaurant's Spanish bean soup, is based on old family recipes, as are the pompano en papillote and paella a la Valenciana — a thrilling array of mussels, clams, fish, chicken, pork, vegetables, and rice with a dash of saffron. For dessert, a glass of red or white sangria blends perfectly with traditional white chocolate bread pudding.
Pro Tip
If you fall in love with any of the dishes, the gift shop has recipe books available.
Ready to book your trip to St. Augustine? Check out some of the top vacation rentals below:
Dreaming of St. Augustine – your dream vacation awaits you
Top guest reviews
Loved the beach access and the sunrise/sunset viewing! Enjoyed a fabulous family meal and lovely walks along the beach. Enjoyed all the decks too. We got to see great birds, dogs, and an occasional dolphin sighting.
This place is amazing. It is just as it is shown in the pictures and more! We cannot say enough good things about this place! Very happy we decided to select this place. We plan to return! Host and Hostess are very easy to deal with and communicate regularly!
This was our second time staying here. I cannot say enough great things about this place. Perfect view, location, decor, etc. Looks even better in person. The townhouse is equipped with everything you could possibly need. Highly recommend!
Loved the house, location and property owner was great. Almost had the beach to ourselves. Would definitely stay again.
best beach house. great location, perfect views
Read Less ∧
Read More ∨
Dreaming of Juist – your dream vacation awaits you
Intrigued by the Ancient City? Consider: