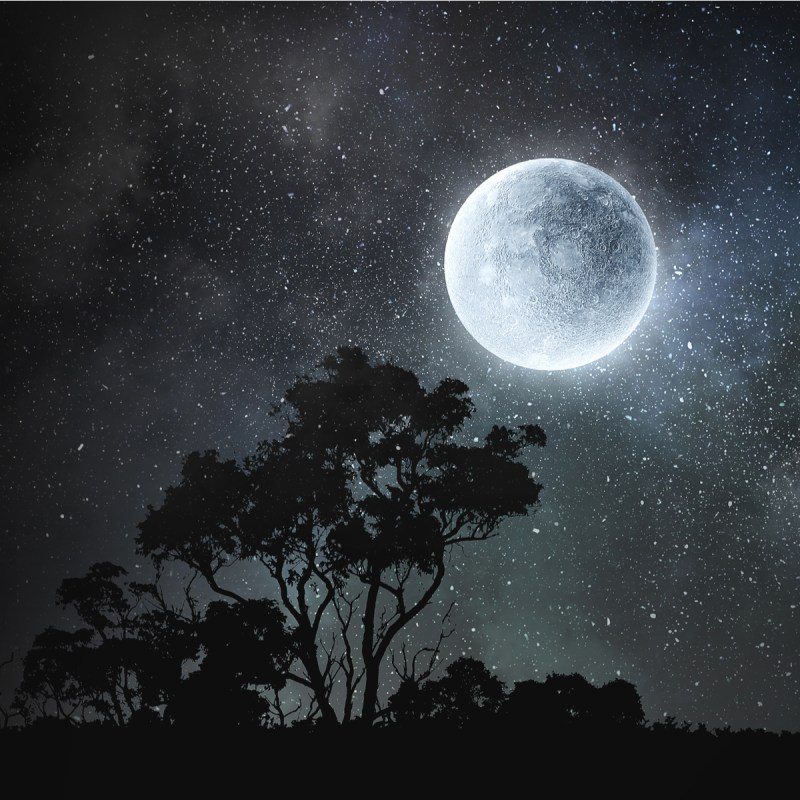 It may not seem like it for parts of the U.S., but spring is right around the corner. The name of March's full moon even heralds spring's arrival.
March's full moon, known as the Worm Moon, will occur on Friday, March 18. If you enjoy looking at the full moon, take heart: The moon will appear full Thursday, Friday, and Saturday night.
The Worm Moon
The Old Farmer's Almanac explains that the names it uses for full moons come from Native American, Colonial American, and European sources.
March's full moon is commonly called the Worm Moon. It gets that name because March's full moon generally coincides with when the ground in North America begins to thaw and earthworms begin to become active, The Old Farmer's Almanac notes.
There are, however, other traditional names for full moons. For instance, some Northern American tribes call March's full moon the Sap Moon or Sugar Moon because this is the time of year when they traditionally began tapping maple trees to make syrup, according to Moongiant.
Viewing The Full Moon
A full moon occurs when the moon is opposite the sun in its orbit around Earth. When this happens, the side of the moon visible from Earth is entirely illuminated — appearing "full."
March's full moon this coming Friday will occur at exactly 3:18 a.m. Eastern, EarthSky explains. Astronomically, the moon will only be full briefly, but it will appear full to the unaided eye Thursday, Friday, and Saturday evenings.
If the sky is clear and dark in your area, you'll also see two bright stars near the moon. Those stars are Denebola and Regulus. Both stars are in the constellation Leo, one of the easiest-to-see of the 13 Zodiac constellations.
Finally, the Worm Moon will stay up all night and be high in the sky around midnight each night, so you'll have plenty of time to look at the moon all three nights, if the weather cooperates.
The Next Full Moon
The next full moon will occur on Saturday, April 16, at 2:57 p.m. Eastern, but you'll need to wait for the moon to rise above the horizon to see it.
April's full moon is known as the Pink Moon because it takes place around the same time as moss phlox, one of the earliest widespread flowers of spring blooms, NASA explains.
April's full moon will have another name too. This year, it will be the Paschal Full Moon because it will be the first full moon after March 21. Since Easter falls on the first Sunday following the full moon that occurs either on or after March 21, and the moon will be full on Saturday, April 16, Easter will be observed on Sunday, April 17 this year, Time and Date explains.
If you enjoy looking at the stars and planets, be sure to read all of our stargazing content, including: