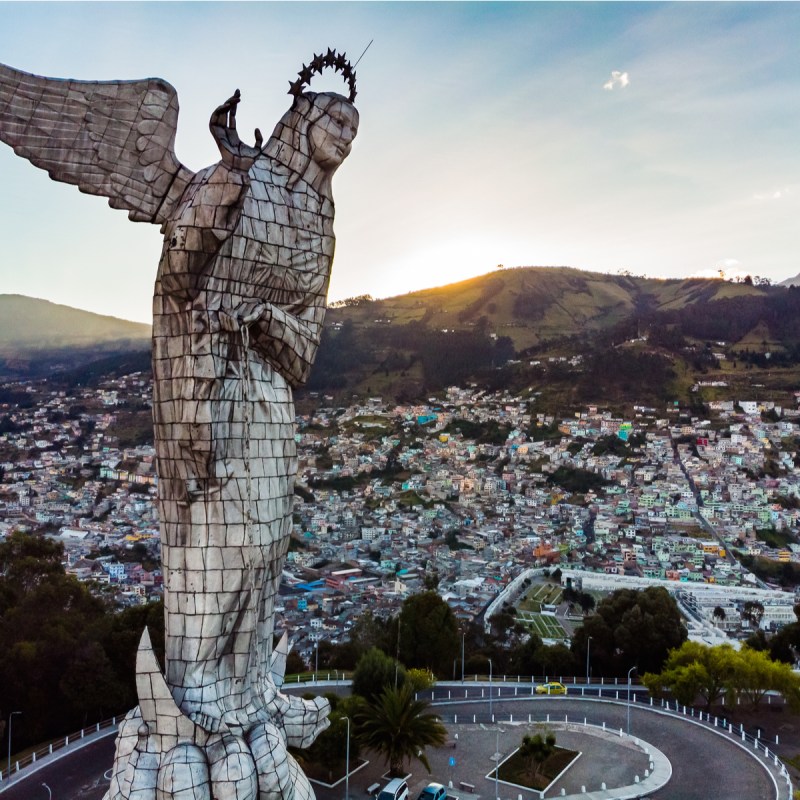 It's imperative to feel comfortable and safe while traveling.
Medjet
provides premier air medical transport, travel security, and crisis response memberships, providing peace of mind for an affordable price.
Stepping out into the quaint cobblestoned colonial center of Quito, it feels as though you can almost touch the bluebird sky and clouds above. Perched at 9,350 feet, Quito is indeed at lofty heights, the second-highest capital city in the world (after La Paz, Bolivia). Heads up, so to speak: This isn't a destination for anyone who doesn't do well at high elevations. However, if you can handle a few days at almost 2 miles above sea level, charming Quito is worth a visit and serves as an exquisite jumping-off point for greater adventures in Ecuador.
I wasn't sure what to expect from Quito, Ecuador. To be honest, my entire travel planning for the country had pretty much started, and then stopped, in the Galapagos for an upcoming Quasar Expeditions cruise. But the more I read about the city up in the clouds, the more my family and I wanted to see it for ourselves. So with the help of Quasar, we added a few days to the beginning of our itinerary with a stay at the historic Casa Gangotena hotel, and I'm glad we did! (Note that we were guests of Quasar and Casa Gangotena, but all opinions are my own.)
Once you arrive from the U.S., about a 5-hour flight from Miami (I'm based in the New York area and transferred through Panama, which was an under 2-hour flight), you'll land at the modern and efficient Quito airport. From here, it's about an hour's drive through mountain highways to the old colonial center of the city. (Tip: Hiring a tour guide and driver is highly recommended for ease of travel; both Quasar and Casa Gangotena offer tour options and private drivers.)
Within a half hour's travel from the city are haciendas and mountain lodges where you can relax with views of the staggering 14,000-foot Cotopaxi volcano in the distance and horses and cloud forests to explore nearby. However, staying in the city center allowed us to immerse ourselves in the colors and sights of this fascinating capital, considered by many to be the best-preserved historic center in Latin America, which I highly recommend. Here are some of the highlights of Quito to explore on a visit.
1. Casa Del Alabado Archaeological Museum
To gain a greater sense of the history and culture of the indigenous people of Ecuador, the Casa del Alabado Archaeological Museum – located in the oldest home in Quito – is an important stop and was where I started my explorations of the old city. We gained valuable insights into the pre-Columbian culture of the country through archeological objects and artwork that span centuries of Ecuadorian history. There are also fascinating household objects, jewelry, and carvings that show what life was like in the country dating back to as far as 7000 B.C.
Pro Tip: The shaded courtyard by the museum's entrance is a lovely spot for a cool drink.
2. La Plaza Grande
Also called Independence Square, this cobblestone meeting place is the central plaza of Quito's historical center. The square is framed by four buildings: the Presidential Palace (viewed from the outside only – keep an eye out for the costumed guards); the Archbishop's Palace, which is now filled with restaurants and shops; the beautiful Cathedral of Quito; and the much more functional architecture of the Municipal Palace, where many government offices are located.
At the plaza's center is the Statue of the Heroes of the Independence monument, which memorializes the heroes of "the First Cry of Independence," when Ecuador gained independence from Spain in 1822. This is a great spot for people-watching during the day; if you're here on a Monday, you can also see the changing of the guard. I didn't get a chance to witness the spectacle, but evidently, it gives Buckingham Palaces a run for its money with a military band, a parade, and even an appearance by the president of Ecuador if he's on the premises.
3. Local Dining In A Historic Setting
The former Bishop's Palace in the heart of Old Quito across from the Plaza Grande is now home to shops and restaurants. On the second floor you'll find La Vid, the type of hidden gem dining spot I always hope to find in a new city, but rarely do. The setting is ideal for a clear evening, with nearly floor-to-ceiling wooden framed windows that are swung open to let in the gentle sounds of the plaza below.
The menu is filled with Ecuadorian specialties all under $20; local favorites fritada (fried pork) and encocado (a stew made with coconut and either fish or shrimp) are both standouts. All meals start with a complimentary aperitif of warm orange juice and cinnamon spiked with sugar cane liquor served in a small crystal cup along with another gift of the house, a warm globe of beet and maize bread. It's a great taste of the country's cuisine.
4. La Iglesia De La Compañía De Jesús
There are more than two dozen churches in Quito, with many just a block or so away from each other around the central plaza. Unless you want to spend all of your time here within church walls, you won't be able to visit all of them, but there are a few stand-out options, including the literal jewel box of La Iglesia de la Compañía de Jesús. Built between 1605 and 1765, its unassuming exterior hides a beautiful Baroque jewel box interior completely covered with glistening gold leaf, intricate columns, and elaborately decorated paintings and statues.
5. The Church And Monastery Of San Francisco
There are churches, and then there are churches. This grand structure sits on its own plaza a short distance from La Plaza Grande. It's striking from the outside when you first view it. With a whitewashed exterior and sitting elevated above the area, it covers an entire side of the square. The old monastery walls hold a verdant garden you can explore before heading into the church, which began construction in the 1500s. One highlight here is the view from the bell tower (note that there are narrow stairs and low ceilings). The views from the top take in the entire historic center as well as an iconic Quito site: the "winged Maria" on the hillside overlooking the city.
6. El Panecillo
To get a closer look at the statue, get a taxi up the short volcanic peak known as El Panecillo. This translates as "small piece of bread," a nod to its squat, squared-off shape, although I'm hard-pressed to say this is what I think of when I look at the green hill dotted with colorful homes. The statue of the Virgin Mary was erected in 1976. It was created by Spanish artist Agustín de la Herrán Matorras out of 7,000 pieces of aluminum and stands nearly 150 feet high. Seeing the towering crowned and winged sculpture up close is impressive (locals claim that this is the only Virgin Mary with wings like an angel), and so are the views from El Panecillo with the entire old city of Quito laid out at your feet.
7. Rooftop Cocktails With A View
Casa Gangotena is to Quito what the Plaza is to New York City, a historic icon that's as much a place for locals to gather as for visitors to stay. It's perched right on the central San Francisco plaza, catercorner to The Church of San Francisco, and was originally the private home of the former president of Ecuador. The building, which once housed just five residents but 50 staff, has been transformed into an elegant boutique hotel with 30 rooms. Even if you're not staying here, you can find out more about the history and see the palatial interiors by coming for a meal or, my personal favorite activity, a cocktail on the rooftop's garden patio which even has a fireplace for chilly evenings. From here, you'll have a view of the square and the illuminated monastery and church right at your feet and be able to stand in the glow of the winged madonna towering above while you sip a local libation for a one-of-a-kind Quito evening.
8. Chocolate Tasting
Ecuador is known for two main exports: roses and chocolate. You'll see displays of roses in many hotels and office buildings (there are even roses encased in glass at every customs desk at the airport). And it's even easier to find chocolate to sip, taste, or gobble up in shops around Quito. One easy shop to locate is the República del Cacao, which has multiple locations around the city. There's a display room that explores the "bean through bar" process of creating Ecuador's smooth and creamy treat. Additionally, you will find a full range of hot beverages, cakes, cookies, and ice cream to eat on the premises, plus bars to purchase to bring home.
Pro Tip: Many Ecuadorians add a cube of salty cheese to their hot chocolate to balance out the sweet beverage.
9. Step Onto The Equator
If you've traveled to Ecuador, you may have given some thought to the country's name, and the fact that, yes, the equator, dividing the northern and southern hemisphere, runs through the center of the country. When I visited Quito, there were a few interesting phenomena related to being so centrally located on the globe. First, the sun rises and sets the same time every single day the entire year – about 7:30 a.m. and 6:30 p.m., respectively. There are also no big seasonal changes, just a rainy and dry season. I didn't have time this visit to Quito, but you can have a guide take you to the nearby Museo Solar Inti-Nan, the equator museum, which is billed as sitting on the line (although you'll have to take their word for it). Here you can explore many of the phenomena attributed to spending time on the equator, including balancing an egg so it stands straight up (a trick I have tried on the solstice) and watching water drain in reverse as a sink crosses the invisible equator line.
Pro Tip
There's no need to exchange money before you arrive in Quito since Ecuador uses the U.S. dollar as its official currency.
For more information and ideas on Ecuador, be sure to check out these articles: