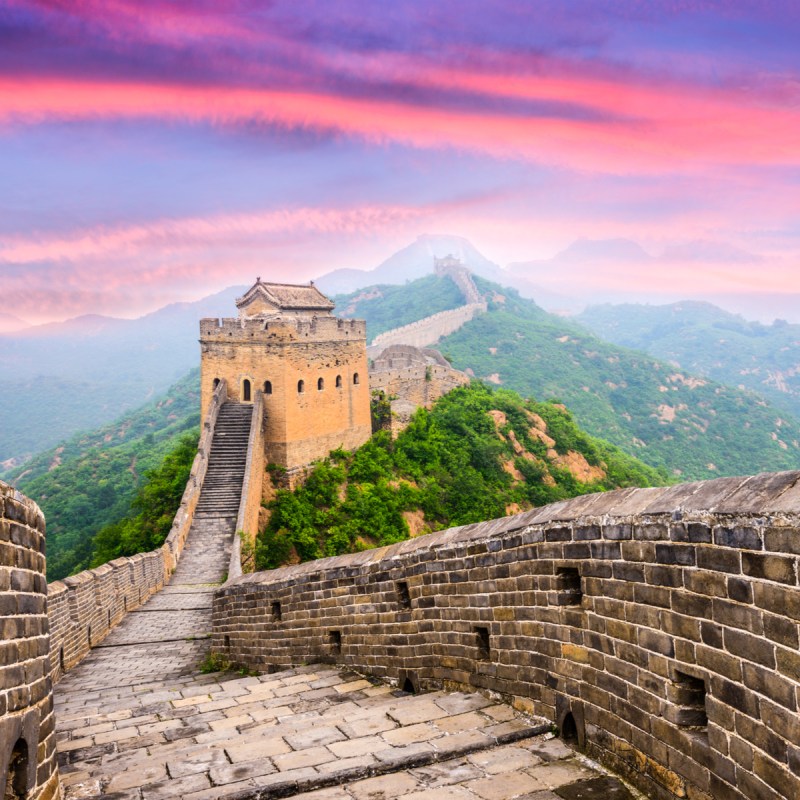 Beijing is large enough with plenty of sights to keep you busy for a few days, but there are some superb historic spots outside of the city, a few hours' drive away at most, that ought not to be missed when in Beijing, and are even worth adding a couple of days or more to your itinerary.
The most important is of course the Great Wall of China, for which I have included three separate entries on this list for reasons you will discover; and there are museums, tombs, and simply beautiful landscapes, all within easy reach by train, bus, or private car from the city. All are also available as part of organized tours with a guide, which is very useful in China, not least because of the language barrier many of us face.
I am adding rough distances and ways to get to each site, so you can plan ahead, but there are a few destinations that can be seen together on a full day out. Where that is possible, I will mention it. So, here is my list — happy planning!
1. Badaling Section Of The Great Wall
The Badaling section of the Great Wall is the most popular, with 70 percent of visitors coming to this section because it is probably one of the highest and widest, and as such is rather impressive. At 45 miles northwest of Beijing, it is within easy reach from the city center. You can get there by bullet train from Beijing North Railway Station/Qinghe Railway Station to Badaling Great Wall Railway Station. It takes a mere 30 minutes. Once there, you can either take a cable car up to the wall or walk, and then you can explore some relatively flat sections of the wall, though much of the ground is steep. You'll find plenty of restaurants — even a KFC — by the entrance, plus shops and villages that cater to the influx of visitors, which can easily reach the cap of 65,000 per day, walking along the 4.7-mile-long section.
Pro Tip: If you are taking a tour to Badaling, most of the time, you will stop at the Ming Tombs along the way. The Ming Tombs is a site where 14 of 16 emperors of the Ming Dynasty (1368 A.D. to 1644 A.D.) are buried.
2. Mutianyu Section Of The Great Wall
Also 45 miles from Beijing, to the north, lies the lesser-visited and more comfortable-to-walk Mutianyu section. Surrounded by beautiful mountains with a cable car to the main entry point and fewer restaurants and souvenir shops, this is a more authentic section with fewer crowds. There is no direct train, nor is there a direct bus, but it is a comfortable hour's drive if you go with a private guide.
Pro Tip: There is a toboggan ride down once you are finished exploring — perfect for a bit of a thrill.
3. Jinshanling Section Of The Great Wall
Some 87 miles northeast of Beijing, this is a little further away than the first two options — and even less crowded. It not only offers you a longer drive through the mountainous terrain, which is interesting to look at, but also another option, and a slightly different experience. This section hosts a marathon race each April and is great for serious hikers, with plenty of trails nearby.
Pro Tip: Sadly, it is not possible to walk between the sections I've recommended as the entire length of the wall is not in good condition, but there are stretches where you can hike across several sections with an experienced guide.
4. Shilinxia Scenic Area
Shilinxia means Gorge of the Stone Forest, and this area is named after a deep gorge surrounded by sharp, rugged mountains, a landscape that is otherworldly and quite magical. To get the best view of the four-mile-long gorge some 50 miles outside of Beijing, go to Pinggu, where they built an amazing circular glass viewing platform that is not for the faint-hearted. You will have seen the pictures, I am sure. But, once you have convinced yourself that it is indeed made from strong glass, the views are worth the slightly panicky feeling. You can take a couple of connecting buses from Tiananmen Square or go on an escorted tour.
Pro Tip: This is also a region of good ski resorts, should you come during winter.
5. Longqingxia Gorge
This gorge, just as impressive as the Shilinxia Scenic Area, but 50 miles to the north of Beijing, does not have a viewing platform made from glass, but instead, in winter, an ice sculpture and lantern festival, which is stunning. But even in the summer, the landscape is breathtaking. To get there take the train from Beijing North Railway Station to Yanqing Railway Station, and from there, Bus No. 875 to the gorge, or take a guided tour, which will also usually involve an excursion to the Badaling Section of the Great Wall as well.
Pro Tip: This is such a beautiful spot where you can easily spend a day. A must-do is going on a boat ride down the gorge, during which you can simply marvel at the scenery.
6. Fragrant Hills
Isn't that a fabulous name? This forested area sprinkled with temples is at its best in fall when the coloring of the maple trees is awe-inspiring. The park is not on one level and ascent can be quite steep at times, but there is a cable car to the main peak, taking some of the sting out of it. From the peak, on a clear day, you will be able to spot Beijing's skyscrapers on the horizon.
You can get there by subway line 10 to Bagou Station, transfer onto the Western Suburban Line to Xiangshan Station, and from there it is a 10-minute walk to the main ticket office. If you are lucky enough to visit in fall, then try and get there for sunrise, with the rising sun making the red leaves shine even more spectacularly. It's an early start, but worth it.
Pro Tip: Only 5.5 miles from the Summer Palace, this is a perfect combination of nature and historic sights.
7. Summer Palace
A must-see in my mind, the Summer Palace is a stunning former residence and imperial garden of the Qing Dynasty, which preceded the Ming Dynasty of Forbidden City fame. With sprawling gardens, plenty of temples, and even a superb luxury hotel on the grounds, this is a perfect place to linger. I especially love the 2,360-foot-long canopied and ornately decorated Long Corridor walkway, where members of the Imperial court went for strolls, looking out across the large lake that was excavated to add to the scenic setting.
Pro Tip: There is a fabulous souvenir shop in the gardens, so allow some space in your baggage for a few trinkets.
8. Peking Man Museum
When Peking Man's tooth was found in the 1920s it caused a sensation, and this site is a must for all those interested in the history of mankind. There is a state-of-the-art museum exhibiting the most important finds and allowing you to place Peking Man (a hominid skeleton scientists estimate is some 400,000 years old) in our evolution. The actual site where Peking Man's remains were found is about a 10-minute walk to the cave and requires an additional ticket purchase. The Zhoukoudian suburb is not easily reached by public transport as the subway does not extend quite that far, but there are plenty of private tours.
Pro Tip: The way there often takes in the pretty Marco Polo Bridge (also known as Lugou Bridge), the 11-arch granite bridge first mentioned in Marco Polo's travel diary back in the 13th century. More recently the Marco Polo Bridge became known for the Marco Polo Bridge Incident, which brought about the second China-Japan War in 1937. Please note that since the river was diverted, now you often only find grass under the bridge.
9. Eastern Or Western Qing Tombs
These are two different complexes of imperial tombs of the Qing Dynasty (1644 to 1912), situated at opposing ends of Beijing. The Western Qing Tombs lie roughly 33 miles west, while the Eastern Qing Tombs lie 84 miles to the east. Which one to choose? Well, the Western Qing Tombs, which were opened in 1730, feature the most complete preserved ancient royal mausoleums in China and are "home" to 80 people, including several emperors. The Eastern Qing Tombs are some of the best-preserved and largest tomb complexes and include the fabulously named Dongdongling tomb of the Empress dowager Cixi. Both are part of the same UNESCO World Heritage listing.
Pro Tip: Both complexes are stunning and are set against equally impressive mountainous landscapes, so your decision is only a question of how much time you can spare.
10. Tanzhe Temple
The Tanzhe Temple, or Temple of the Pool and Zhe Tree, is Beijing's oldest, with a history of some 1,700 years. It is also one of Beijing's largest temples. A beautiful Buddhist complex, it is perfect for photographers as you have not only colorful temples and worshippers but also monks and ginkgo trees waiting to be snapped. At 18 miles outside of Beijing's center, you can easily get there on Subway line 1 to Pingguoyuan Station, then change to Bus 931 to Tanzhe Temple.
Pro Tip: The complex is famous for its tall cypress and pine trees, as well as the ginkgo trees, but should you come in mid-April, then the magnolia trees are in bloom. Not only does it get really picturesque but also a little busier than normal.
For more on Beijing, consider