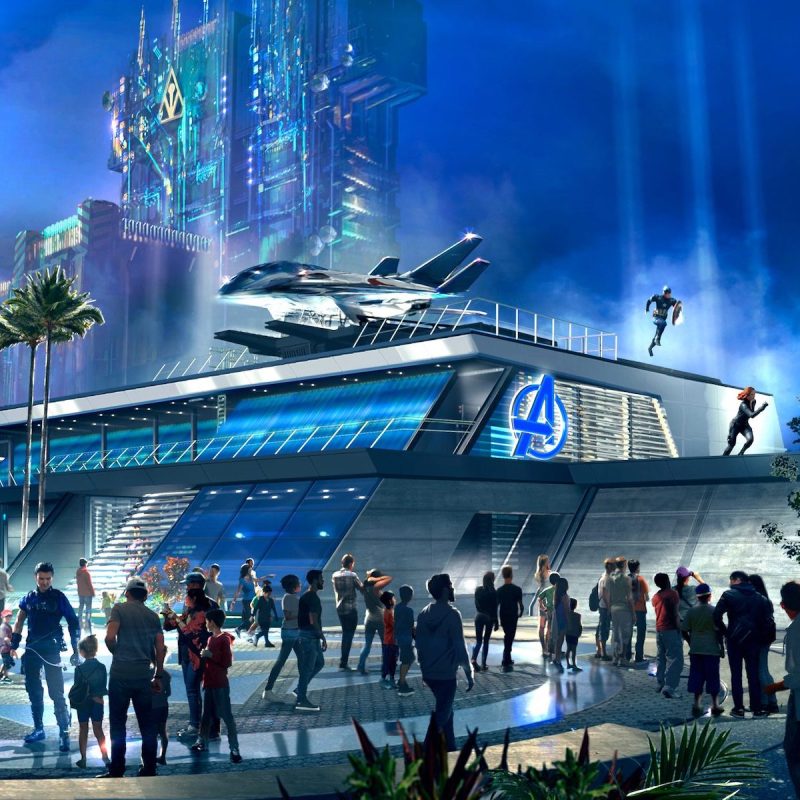 It's not quite time to say "Avengers, assemble!" but Disneyland Paris just got one big step closer to opening its Avengers Campus this summer.
"Look what came flying in last night!" Disneyland Paris wrote on Twitter. "The highly awaited arrival of the Quinjet took place at Avengers Campus."
"Our Walt Disney Imagineering and Marvel teams have already successfully brought to life the Avengers Campus in California, as well as the Stark Expo at Hong Kong Disneyland, and we are thrilled to be the next step in Tony Stark's vision for training more heroes for the future!" Scot Drake, creative executive at Marvel Global Portfolio, wrote in a blog post. "It's been just a few hours since the Quinjet has safely landed, and we couldn't be more excited for what's to come with the opening of Avengers Campus this summer!"
The Avengers Campus at Disneyland Paris is scheduled to open this summer. What's sure to make the event even more exciting is that Disneyland Paris is celebrating its 30th anniversary this year.
The Quinjet's Importance
The Quinjet, based on technology originally developed by a group in Wakanda led by Black Panther, is used in the Marvel Universe by the Avengers so they can quickly travel to wherever they are needed.
"When we started imagining Avengers Campus, we immediately thought of creating a powerful centerpiece that would draw guests into the heart of the action, thus encouraging them to bring out their inner superhero," Drake wrote. "We also looked for a symbol of the global interconnection between the campuses, and the idea of the Quinjet quickly emerged as the most iconic piece of Avengers equipment that would rally superheroes around the world."
To build a full-size Quinjet, Walt Disney Imagineering (WDI) Paris partnered with UK Loco, a British company that is a long-term, trusted partner of WDI Paris. Incidentally, UK Loco already had worked on Disneyland Paris's Toy Story Playland, Crush's Coaster, and Ratatouille: L'Aventure Totalement Toquée de Rémy experiences.
"Seeing the Quinjet come to life from an idea in a brainstorm to a sketch on the wall, then a virtual design model, and finally to the iconic centerpiece it is today, is an incredibly moving experience, and it inspires us all to continue delivering our best," Drake wrote.
"With this new Quinjet, we wanted to take the Avengers into a new era, where we are welcomed to step up and make the Earth a safer place alongside Earth's mightiest heroes," Drake continued. "I can't wait until we welcome our first recruits to assemble at this beautiful new Avengers Campus later this year!"
Know Before You Go
So far, Disneyland Paris has simply said its Avengers Campus will open this summer, and has not specified a date. However, the Avengers Campus opening will coincide with Disneyland Paris celebrating its 30th anniversary.
You can learn more about those celebrations and special events, which begin March 6, here.
For more about the Avengers Campus at Disneyland, be sure to read Avengers Campus Opens Today At Disneyland, Here's What You Need To Know and Disneyland's New Avengers Campus Is Selling A $100 Sandwich.
You can also find all of our Disney coverage here, including The Only Disney Packing List You'll Ever Need.