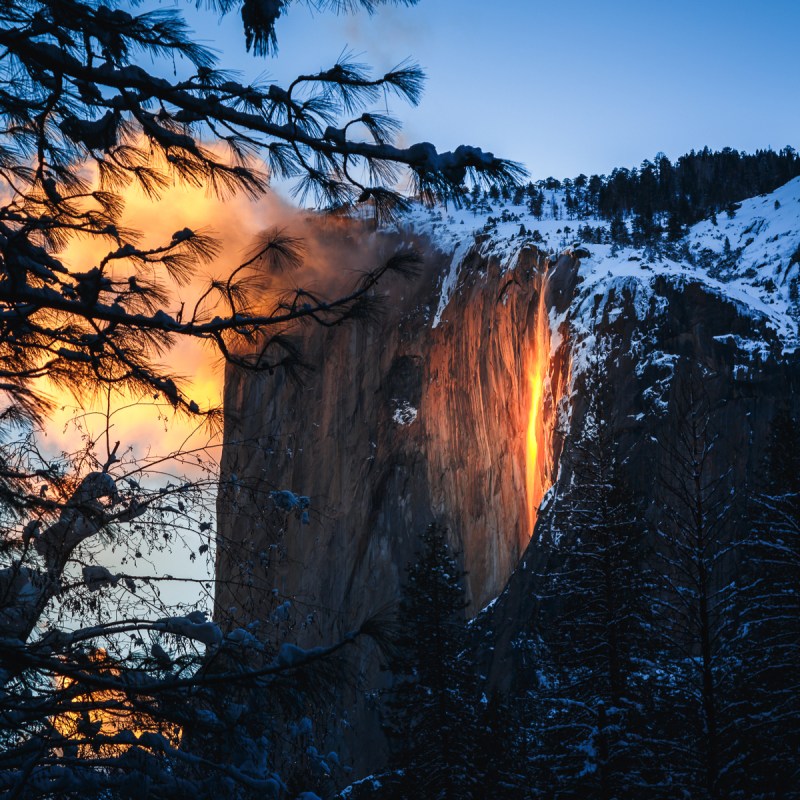 Something unusual is about to happen in Yosemite National Park — and the window for seeing it is only about 2 weeks.
Water only flows over Horsetail Fall waterfall on the eastern edge of El Capitan in the winter. Sometime in mid-February, when conditions are perfect, the waterfall becomes what's known as "Yosemite Firefall."
For Firefall to happen, the phenomenon first requires significant snowpack in the mountains. Then, warmer temperatures in February melt the snow, which feeds the waterfall. When the sky is clear, the sun's setting rays strike the waterfall to create what appears to be a waterfall of liquid fire. The fire-like glow of orange and red colors lasts for about 10 minutes.
The expected dates for the phenomenon this year are February 10–28, according to calculations by the National Park Service (NPS).
Here's everything you need to know if you'd like to see Firefall at Yosemite National Park this year.
Growing Popularity
In the past, there weren't a lot of people who knew that sunset on Horsetail Fall created Firefall. And while a few people traveled to see the phenomenon, crowds weren't large.
That all changed in recent years, however, as people began posting stunning photos of Firefall on social media. Consequently, crowds got larger each year, causing significant environmental impact.
"For example, on February 22, 2019, more than 2,000 visitors viewing Horsetail Fall gathered in areas mostly lacking adequate parking and other facilities," the NPS explains. "Visitors spilled onto riverbanks, increasing erosion and trampling vegetation. As riverbanks filled, visitors moved into the Merced River, trampling sensitive vegetation and exposing themselves to unsafe conditions. Some undeveloped areas became littered with trash, and the lack of restrooms resulted in unsanitary conditions."
Restricted Access
Due to Firefall's growing popularity, the NPS has implemented a number of viewing restrictions to minimize visitors' impact on Yosemite. These restrictions are in effect every day from noon to 7 p.m., from mid- to late-February.
The best way to see Firefall is to park at the Yosemite Falls parking area, and then walk 1.5 miles — each way — to the viewing area near the El Capitan picnic area, the NPS advises. The good news is that the picnic area has vault toilets and trash and recycling dumpsters.
Next, keep in mind that one lane will be closed to vehicles on Northside Drive so pedestrians can walk on the road between the viewing area and Yosemite Falls parking. That said, parking, stopping, or unloading passengers on Northside Drive between Camp 4 and El Capitan Crossover will be prohibited.
Finally, it must also be noted that the NPS may completely close Northside Drive for approximately an hour after sunset on busy weekends when crowds are largest.
Know Before You Go
If you do plan to visit Yosemite's Firefall, there are several things to keep in mind. First, although reservations are not needed, face masks are required – regardless of vaccination status — while in all NPS buildings and crowded outdoor spaces.
Secondly, it will be cold and dark after Firefall. Be sure to have warm clothes and a flashlight for the walk back to the parking area.
You can learn more about the Firefall restrictions, and even find a park map, here.
While you're thinking about Firefall and Yosemite, be sure to read all of our Yosemite National Park coverage, including: