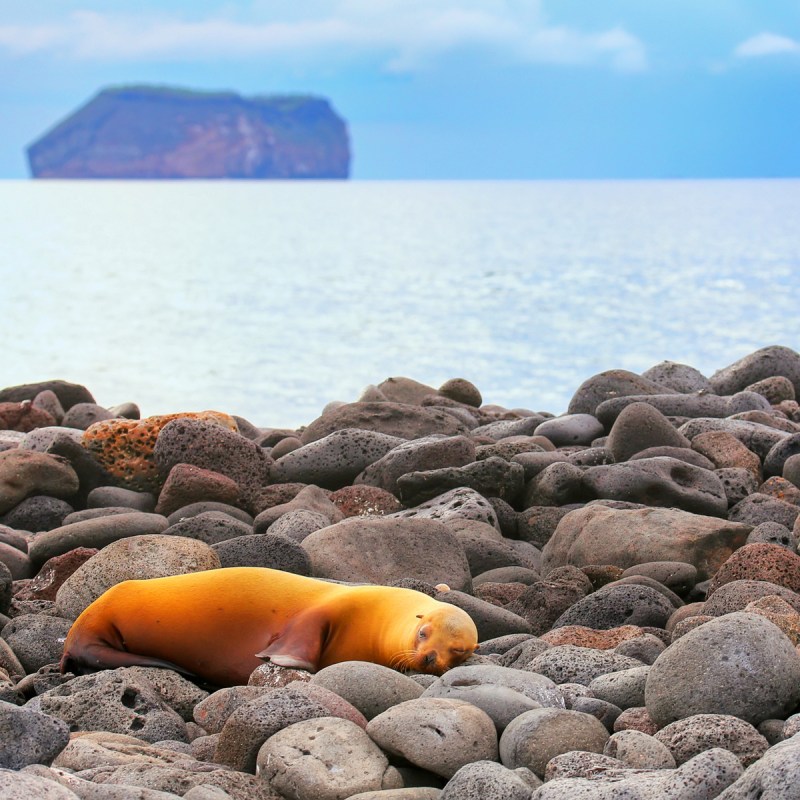 The area around the Galapagos Islands is one of the largest marine reserves in the world. Last week, however, the conservation area got significantly larger.
Ecuadorian President Guillermo Lasso signed the new reserve into existence last Friday. Called the Hermandad Marine Reserve, the 17,500-square-nautical-mile-protected area approximately doubles the size of the Galapagos Marine Reserve.
"Today we're declaring a marine reserve with an area of 60,000 square kilometers, equivalent to an area three times the size of Belize," President Lasso said, Reuters reports.
Essentially, the addition of the new conservation area creates what can be thought of as a protected underwater corridor for marine life that travels between the Galapagos Islands and Costa Rica's Cocos Island. Environmentalists say the reserve will help protect at least five critically endangered species — including hammer sharks, whale sharks, turtles, Reuters reports.
"It's like creating a new highway for them to travel," Gustavo Manrique, Ecuador's minister of environment, water, and ecological transition, said in a Washington Post article.
Charles Darwin And The Galapagos
The Galapagos Islands — about 600 miles off the coast of Ecuador — sit where three ocean currents converge. The islands, which are a UNESCO World Heritage Site, are home to marine iguanas, giant tortoises, flightless cormorants, and numbers of finches, a National Geographic article explains.
English scientist Charles Darwin visited the islands during his voyage aboard the HMS Beagle in the 1830s, and "noted that although all of the islands shared similar volcanic compositions, environment, and climate, each isolated isle was home to its own set of unique species," National Geographic explains. Darwin hypothesized that the species had adapted to the unique diet and environment of their home, and years later, based his theory of evolution by natural selection on some of these experiences.
Protecting Wildlife
More than 50,000 square miles surrounding the Galapagos has been set aside as a marine reserve since 1998. The problem, Manrique told the Washington Post, is that "The boundaries are created by humans but the species don't know about boundaries," and often get caught just outside protected areas.
To help solve that problem, half of the new Hermandad Reserve is fully protected from fishing activity. The other half is protected by a ban on what's known as "longline fishing," a practice favored by Asian fishing fleets.
A United Effort
Ecuador is cooperating with Colombia, Costa Rica, and Panama to link their marine reserves and protect the span of the Pacific Coast. Indeed, the leaders of those countries were present when President Lasso signed the new decree.
"My special thanks to Colombia, Costa Rica, and Panama," Lasso wrote on social media. "With the #ReservaHermandad, the marine corridor of the Eastern Tropical Pacific Migravías Cocos-Galapagos-Malpelo-Coiba advances. Together we have shown that it is possible to reach agreements in favor of humanity."
By the way, "Hermandad" means "brotherhood."
The creation of this new "Brotherhood" Reserve sends a "clear message for the world," Lasso said, a Phys.org article reports. Lasso went on to describe the "brotherhood" as "a new relationship with the Earth, a new understanding of what constitutes progress for humanity."
For more about the Galapagos Islands and our Ecuador coverage, be sure to read: