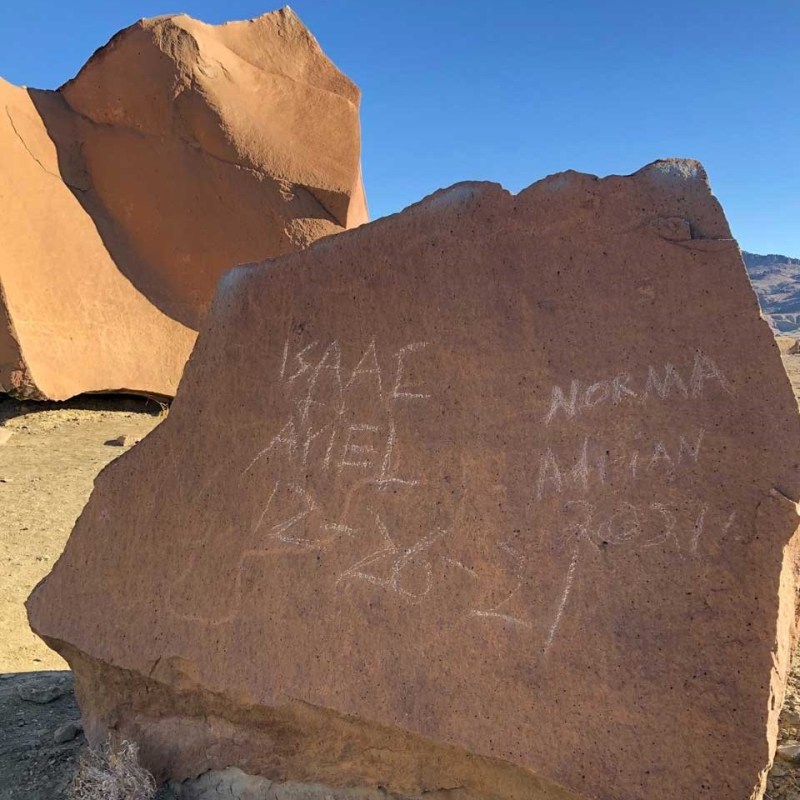 Ancient stone artworks in Big Bend National Park have been "irreparably damaged" by vandals, according to the National Park Service.
The prehistoric artworks are believed to be between 4,000 and 8,500 years old. The vandalism, which was committed on December 26, 2021, was etched over "abstract images of geometric forms, circles, and undulating lines," the NPS reports.
Park staff has already treated the vandalism, however, "much of the damage is, unfortunately, permanent."
"Big Bend National Park belongs to all of us," said Bob Krumenaker, superintendent at Big Bend National Park. "Damaging natural features and rock art destroys the very beauty and history that the American people want to protect in our parks. With each instance of vandalism, part of our Nation's heritage is lost forever."
Graffiti is expensive and difficult to remove, the NPS explains. It's also illegal.
"Damaging park resources is a violation of 36 CFR (Code of Federal Regulations)," the National Park Service explains. "Rock art and ancient cultural sites are also protected under the Archaeological Resources Protection Act (ARPA)."
A Popular Setting
Big Bend National Park — located in southwest Texas along the Texas and Mexico border— includes a large section of the Chihuahuan Desert as well as the entire Chisos mountain range. The park, which gets its name from a large bend in the bordering Rio Grande River, is believed to be home to more types of wildlife than any other national park in the United States. According to the NPS, the park is home to 11 species of amphibians, 56 species of reptiles, 40 species of fish, 75 species of mammals, more than 450 species of birds, and about 3,600 species of insects.
"Once a remote and seemingly inhospitable area reached only by miles of dirt roads, Big Bend has become one of the most popular vacation destinations in the state of Texas, visited by more than 450,000 visitors each year," says the NPS. "Scenic vistas, diverse wildlife, outdoor adventure, historic sites, dark skies, and border culture rank among the features visitors enjoy in Big Bend."
The Recent Vandalism
On December 26, 2021, when visitors scratched their names and the date on the ancient petroglyphs located in the Indian Head area of the archaeological site. Although the petroglyphs have been treated by NPS staff, the names "Norma," "Adrian," "Isaac," and "Ariel," along with the date 12/26/21, are clearly visible.
"The surface scratches and discoloration are permanent," Tom VandenBerg, Big Bend National Park's chief of interpretation and visitor services, told CNN.
Anyone with information about the vandalism is encouraged to contact the Big Bend National Park Communication Center at (432) 477-1187.
A Growing Problem
VandenBerg told CNN that Big Bend National Park is of archaeological importance and is a "prime example" of a Chihuahuan Desert ecosystem, with wildlife and plants living alongside 13,000 years of human history.
Unfortunately, park archeologists have documented more than 50 cases of vandalism within Big Bend since 2015.
"If you discover vandalized rock art, please don't attempt to clean it yourself," the NPS cautions. "Trained staff will attempt to mitigate the damage as quickly as possible, using highly specialized techniques."
Know Before You Go
Big Bend National Park is open all year, but as the rangers note, the best time to visit is from late fall to early spring because the winter months bring "beautiful days and pleasant temperatures."
If you are planning to visit Big Bend this winter or early spring, keep in mind that this is the busiest time of the year at the park. Consequently, parking at many of the park's most popular areas and trailheads may be limited. The campgrounds and lodge will most likely be full every night as well.
You can learn more about visiting Big Bend, including how to reserve campsites, here.
While you're thinking about it, be sure to read all of our Big Bend National Park coverage, including: