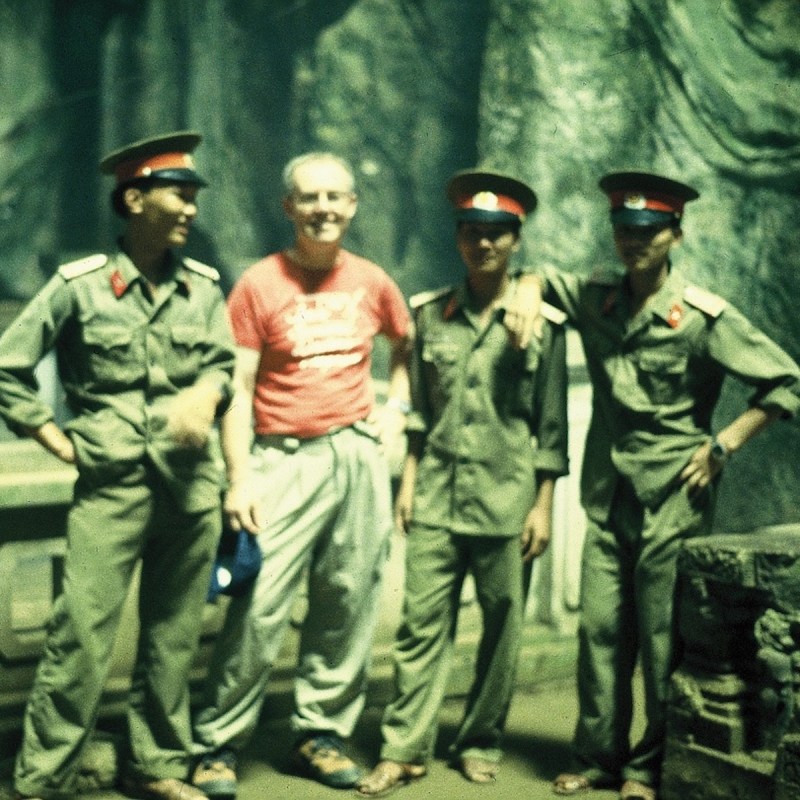 It was the strangest vision I'd ever had. The airplane stopped at the gate, I looked out the window and saw the sign, in English, it read, "Welcome to Hanoi International Airport." Never in my wildest imaginings did I think I'd ever see that sign. On my first tour of Vietnam, I flew an Army helicopter, carrying troops to engage the enemy. Landing anywhere near Hanoi would have been unthinkable. Now, I was safely seated in an airplane, at Noi Bai Airport in Hanoi, about to begin my second tour as a tour-ist. Surreal doesn't quite say it.
Welcome To Hanoi
In July 1970, I turned 21 in Vietnam, halfway through my year of flying combat missions. I returned to Vietnam in September 1992 for a different kind of tour, not flying this time, but sightseeing, and getting to know the Vietnamese people.
Mark Twain once wrote, "Travel is fatal to bigotry, prejudice, and narrow-mindedness." My time in combat in Vietnam changed my life; my return as a tourist/veteran changed me yet again. And, despite the poisonous history between our countries, the Vietnamese accepted me in their midst with open arms. For two weeks I traveled across Vietnam — no longer a war but a country — reveling in its recovery, and absorbing the gracious acceptance of its people.
I Meet My Interpreter/Guide
My guide, a young fellow named Nhat (Nyut), met me at the arrivals gate holding his company-crafted sign with my name spelled correctly, which doesn't happen often. This simple fact helped erase a misconception for me. While stationed in Vietnam as a soldier, I'd seen local Vietnamese only in a subservient capacity. Filling various roles for the U.S. military, they were assigned jobs such as hooch maid, PX clerk, trash removal, etc. They appeared to be simple, poorly-educated peasants. Nhat explained that, in fact, 95 percent of the Vietnamese are literate, compared to a rate of roughly 90 percent in the U.S. at that time.
A Hotel In Hanoi
As we headed into downtown Hanoi, I was impressed with the city's layout and infrastructure, much of it owing to French influence. One thing I noticed was that drivers considered traffic signals mere suggestions, and they loved the sound of their car horns. "Honking is a common courtesy," Nhat said.
We arrived at the hotel, a modest three stories near Hoàn Kiếm Lake. This is the 30-acre lake in the middle of Hanoi that Navy pilot John McCain parachuted into after his SkyHawk was shot down in October of '67. It would not be my first brush with war-related images and artifacts. Nhat told me that the Vietnamese don't refer to the "Vietnam War;" they call it The American War, to distinguish it from several conflicts they've encountered across a thousand years of their embattled history.
The Rice Bowl Of Asia
One reason Vietnam has been contested is its fecundity. The southern half of the country has been called the rice bowl of Asia. In most areas of what was once South Vietnam, rice can be harvested three times a year. The northern half of the country is less fertile. Indeed, one of the rationales for reunification, according to Nhat, was that the north could barely feed itself.
Seeing a prominent military presence in Hanoi, 30 years after hostilities ended, I asked why? Nhat's answer was cryptic, and instructive: "We have a very big neighbor," he said, referring to China, just 40 miles away.
We Explored Vietnam's Capital City
After a rest at the hotel, I met Nhat, and together we motorbiked — him driving, me riding — to explore Hanoi. First stop was a simple restaurant, where we enjoyed traditional Vietnamese spring rolls, and a cold 33 Beer. Total cost for the two of us at that time, about $4.00. Then it was off to explore the area.
If anyone doubts the industrious nature of the Vietnamese, a walk around Hoàn Kiếm Lake will dispel that. People offered street food, sold arts and crafts, and hand-made clothing items. Some were refilling ballpoint pen inserts and selling them!
Puppetry Is A Cultural Touchstone
Near Hoàn Kiếm Lake we visited a must-see cultural touchstone. Thang Long Water Puppet Theater is a small venue with big significance for the Vietnamese. The 1-hour show featured several sketches, as puppets recreated the history of this small southeast Asian nation. For more about Hoàn Kiếm Lake and its significance to the Vietnamese, see Wendy Lee's TravelAwaits article from August 2020.
Pro Tips: Thang Long Water Puppet Theater is located at 57B Đinh Tiên Hoàng St. Book early in the day, as shows sell out. Current ticket prices, according to the website, are 100,000 VND (Dong), or about $4.50.
The Tomb Of Ho Chi Minh
Ho Chi Minh is called the George Washington of Vietnam, and reverence for him endures long after his death in 1969. Nhat and I headed to Central Hanoi to visit the tomb of this venerated leader. The mausoleum looks across Ba Dinh Square, where Ho declared Vietnam's independence from France on September 2, 1945. In his speech that day, Ho said, "All men are born equal: the Creator has given us inviolable rights, life, liberty, and happiness!," words that should sound familiar to every American.
We entered a queue, two abreast, waiting to enter the massive tomb. The experience was martial, almost magisterial. Soldiers in formal uniform checked our attire, warned that no pictures were allowed, marched us to the entrance, and ushered us inside.
And there was the great man lying in state, encased under glass, withered hands across his chest, wispy beard poking from his chin. I shuffled past Ho Chi Minh, 5 feet away, as North Vietnamese soldiers, former enemies, watched my every move. Unnerving perhaps, fascinating certainly, an experience I'll never forget, absolutely.
Pro Tips: Located at 8 Hung Vuong Street, admission is free. Expect long lines at various times. Take an umbrella, as it may be hot or rainy. No shorts and no cameras are allowed. Ho's body travels to Russia yearly, usually in October, for stabilization, so check before visiting.
The Vietnam Military History Museum
Adjacent to Ba Dinh Square, the military museum is a repository of items from both the American war, including pieces that could very well be from John McCain's SkyHawk, and from the Vietnamese success at Dien Bien Phu, the 1954 battle that drove French forces out of Vietnam. At the front gate of the museum sits a famous battle tank. The heavy machine is the very one that crashed through another gate, this one at the Presidential Palace in Saigon, now Ho Chi Minh City, on April 19, 1975, ending the American presence in Vietnam.
Returning to the hotel, Nhat and I entered Hai Ba Trung Street, part of the "French Quarter" of Hanoi. We stopped by an arch reading Maison Centrale, or Central House. Behind the arch once sat the infamous Hỏa Lò Prison. In Vietnamese, the name means "furnace." To American POWs, it meant the Hanoi Hilton. The prison structure has been razed, but the arch remains. The property is now the site of another hotel, the Somerset Grand.
Pro Tips: At Dien Bien Phu Street, adjacent to Ba Dinh Square, the museum holds many artifacts from various Vietnamese military efforts. The Hanoi Hilton is located at No. 49 Hai Ba Trung Street.
Ha Long Bay
Ha Long, "Descending Dragon" in Vietnamese, is a UNESCO World Heritage Site. With 600 square miles, containing 775 small islets, Ha Long Bay is ideal for boat tours. Ha Long Bay figures prominently in Vietnamese history as the site of a crucial naval battle.
Pro Tip: Two hours by car from Hanoi, with numerous small hotels, the best way to see Ha Long is to book a cruise from either Hanoi or Hai Phong.
Cúc Phương National Park
Nhat and I traveled 2 hours by car southeast of Hanoi to visit Cúc Phương National Park. The park holds human artifacts dating back 12,000 years. Cúc Phương covers 100 square miles (62,000 acres), where dozens of species of birds, mammals, reptiles, and fish are protected. Cúc Phương is an excellent place to hike and bird. With our guide, Nhat and I explored caves that were once occupied by ancient inhabitants.
Pro Tip: The best time to visit the park is the dry season, November–February.
Former Enemies Meet
Nearby, I met Mr. Loan, my former adversary, a retired member of the North Vietnamese Army. Sharing war stories, we realized that we'd been stationed close to each other during that conflict. It filled me with wonder knowing that Loan may have watched me fly over him during my time in his country. He agreed to pose with me for a picture, and I felt a bit of closure. I hope he did as well.
Seeing Hanoi was one of those travel experiences that touched me more than I'd expected it might. I saw no battle damage, only the appearance of prosperity. I sensed no animosity; people greeted me warmly. I didn't expect to wish I had a few more days there, but I did. It was time to head south to what was once called South Vietnam. The second part of my trip would dredge up vivid memories of flying over that beautiful country 20 years prior.
For more to do in Vietnam: