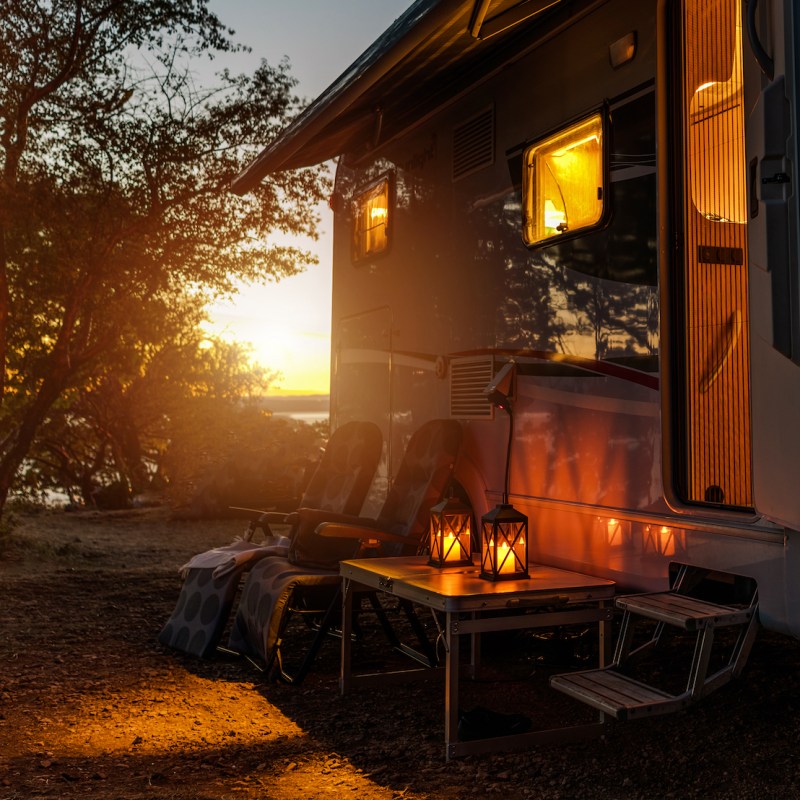 The first time I stayed in an RV was for "Muddy Gras," an event at Muddy Bottoms, an off-road and outdoor recreation park in Louisiana, where the object seemed to be to get your ATV stuck in the mud. I remember being quite grateful for the RV's shower. Not only did the RV give us a place to crash so we didn't have to leave the party, but we didn't have to pile into the truck after a long day of getting very dirty.
Since then, my husband and I bought a camper. It allowed our cat and I to travel with him when he went on the road for work. For about a year, we posted up in campsites from Kansas to Kalamazoo. That time of transcience helped us save enough money to buy our first house. The camper lost its allure shortly after we purchased our new abode. Towing it seemed like too much trouble. Setting it up for a weekend away just wasn't worth it. Long story long, we ended up selling it.
But just because we got rid of our camper doesn't mean we have to stop camping! Tent camping is great when the weather is great, but it sure is nice to have your own bathroom and kitchen. That's where RVshare comes in! The peer-to-peer RV marketplace lets you rent other people's RVs so you can have all of the fun of an RV without the maintenance and expense of ownership. But that's not all! Several of these RV rentals are available for delivery. That means you don't have to worry about how you're going to tow (or drive) the darn thing, let alone park it. They'll even set it up for you, so it's ready when you are!
We spoke with a few people who have used RVshare's delivery service to see what their experience was like. Here's what they said about the one delivery service you've got to try this year.
Raymond J., Houston, TX
Where did you go? What did you do?
My family and I went to Lockhart, Texas, to compete in a Motocross Race at Spoaks, MX. We arrived Friday night at 11:30 p.m. from the Houston area, participated in Motocross practice sessions Saturday on the MX track, then went shopping in San Marcos, TX for Christmas gifts and had dinner, then went back to the RV at the MX park and slept Saturday night. Sunday morning we were up early for the races all day and departed about 4 p.m. Sunday. We never met Ronnie the RV owner. Ronnie dropped off the RV at about 5 p.m. Friday night, then came back Sunday at about 5 p.m. to pick it up. We were long gone on our way to go out to eat on the way home back to Houston.
Tell us what you liked about the RVshare rental delivery service.
My favorite thing about the delivery service is not having to do the work associated with prepping the RV by filling up the water tank, towing the RV, which is stressful and expensive with gas prices rising, and just being able to arrive whenever we wanted with no specific timeframe to meet up with the owner. The ease of just arriving and climbing inside the RV and going to sleep was so awesome. The owner Ronnie really went the extra mile to make sure the RV had everything we could ever need already in place and set up for us. Even had some lawn chairs set out, a grill outside ready to go with charcoal and lighter fluid, cooking utensils, and an outdoor patio mat made our spot perfect for us.
Did anything about the service surprise you?
I knew the rental came with a generator but I was surprised to find 15 gallons of gas at the ready with an already full generator fuel tank ready to power the RV when we arrived. There was leftover gas Sunday when we left, so I could tell Ronnie knew exactly how much fuel we would need to power the RV essentially the entire weekend without having to fool with trips to gas stations to steal our fun time.
How did the service enhance your vacation?
The service helped us to relax to the point where we were in no particular hurry to get there to meet a schedule or deadline to get to a destination. We were so relaxed from start to finish compared to other times when we rented other RVs we had to pick up by a certain time, do all the legwork of prep and towing, get to a spot by a deadline, set up the RV late evening in the dark, get the generator going, bring in our bed linens and get those on the beds, deploy lawn chairs, etc.
Would you use the RVshare rental delivery service again and/or recommend it to others? If yes, why?
We are already booking again with the same owner in February just a couple of months away. I definitely will be recommending this delivery service to friends and family and I will say more RVshare owners should offer "all-inclusive" amenities and delivery services. With all the extra work the owner saved us, it sure was worth paying the extra money to be relaxed and rested to focus on the real reason for our trip — moto racing.
Anything else you'd like to add?
I feel like we all have enough work to do in our daily lives, so no matter what your destination is or reason for getting out to camp in an RV, you're most likely getting away to just relax a little and take a time out for yourself and your family. Go all the way and do yourself a favor by having the RV delivered and set up for you so you can focus on what's important and that's your family's fun.
Trish Giraldo, Huntsville, TX
Where did you go? What did you do?
We spent an extended weekend at Lake Livingston, TX. We met up with two other friends and their respective families to enjoy nature walks, bike riding, plenty of campfire cooking, and relaxing.
Tell us what you liked about the RVshare rental delivery service.
I loved the options and convenience of the RVshare delivery service. With our SUV, we would've been able to tow a rather small travel trailer due to the weight and our tow capacity. It really limited our choices. However, with the RVshare delivery service, we were able to select a larger RV that was conducive to our growing family's wants and needs for "glamping."
Did anything about the service surprise you?
Our expectations for the delivery service were simply to arrive at the campsite to find a clean, comfortable RV with a few basics (towels, linens, pillows, etc.). What we arrived to was all of that and so much more! The owners had everything set up for us already: The outdoor rug and camping chairs next to the RV, the awning rolled out, an extra tank of propane, and even a freshly baked loaf of pumpkin bread for us to enjoy during our weekend! Inside, the RV was fully stocked with every amenity we could need — dishes, utensils, coffee, spices, soaps, cleaning supplies, and even games and toys for the children! The beds were surprisingly comfortable.
The owners took the time to show us everything in their RV and provided us with their cell phone numbers to call them at any time if we needed anything. So, not only was the RV a great surprise but so was the outstanding hospitality!
How did the service enhance your vacation?
This rental experience definitely enhanced our little vacation by allowing us more time to relax with less time worrying about pick up/drop off of the RV and setting everything up.
Would you use the RVshare rental delivery service again and/or recommend it to others? If yes, why?
We will absolutely use RVshare's rental delivery service again. In fact, our friends who went camping with us were so impressed with our experience that they want to use it on our next joint camping trip! The moderate fee for the service is well worth the convenience and time saved for those precious vacation hours with family and friends, and it enables folks to perhaps rent an RV they wouldn't otherwise be able to rent due to towing restrictions.
Tammi G., Highlands Ranch, CO
Where did you go (destination)? What did you do?
Mystic Hills in Deadwood, South Dakota, for 4 days and 3 nights. We had a family reunion with about 40 people. It was awesome! We visited Deadwood and mostly hung out at the campgrounds with the family and played games, told stories, ate lots of food, did photoshoots, and four-wheeled.
Tell us what you liked about the RVshare rental delivery service.
Amazing! Super convenient because the trailer was there upon our arrival. All set up. We were able to just show up and start having fun immediately.
Did anything about the service surprise you?
We were happily surprised that it was not just dropped off and left for us to set up. We arrived and every single thing was arranged for us. The owners even left us a goodie basket with s'mores to enjoy with the kids. They also left very detailed instructions on how to use everything. The only bummer was that we had no cell service when we arrived. The backroom had a video game system, but the TV monitor was cracked, so it was unusable. It took us a while to find service to let the owners know. But they were great about it once we got ahold of them.
How did the service enhance your vacation?
Definitely more relaxing time and fun to be had. We also just picked up and left when we were done. Didn't have to empty the septic system nor hook up the trailer to leave. Also, we did not waste a ton of gas pulling a trailer on our vehicle. That was super awesome!
Would you use the RVshare rental delivery service again and/or recommend it to others? If yes, why?
HIGHLY RECOMMEND IT TO OTHERS. Many of our family members were envious that we literally showed up, had fun, and left when we wanted to. Also, it took way shorter time for us to get to the campground from Colorado since we did not have to pull a trailer. Saving time and gas was beyond mention!
Anything else you'd like to add?
Just that everything was set up and ready for us to adventure upon arrival helped make our family reunion stress-free and super enjoyable with kids in tow. And one of the best memorable experiences for our whole family.