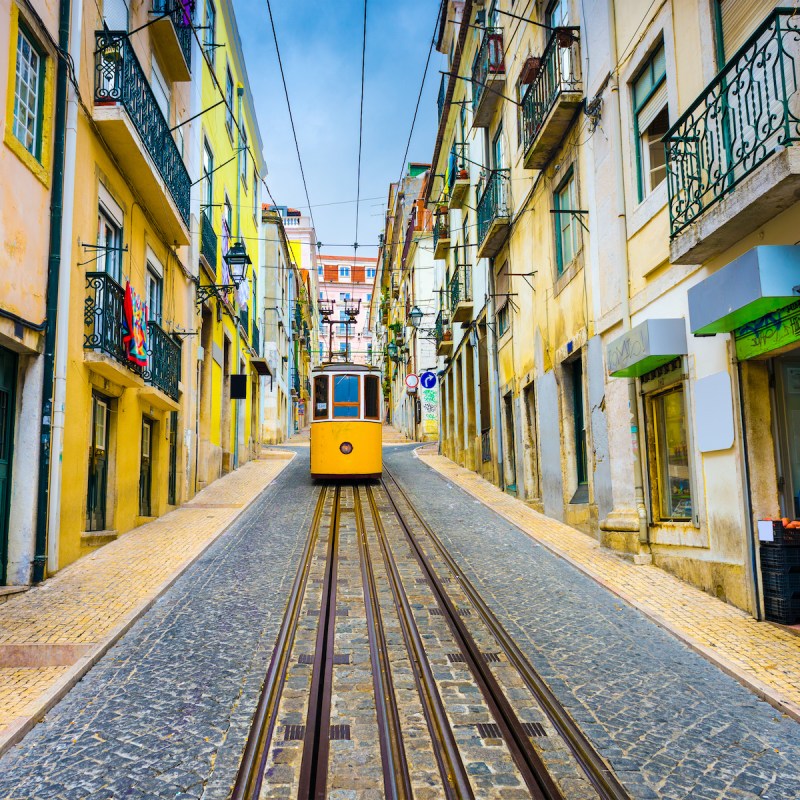 Dreaming about moving abroad? The idea of setting up a house in a faraway place captures the imagination. It sure did for us. That's why we moved to Portugal. Now that we're here, we get calls and emails all the time from people interested in the possibility of moving abroad, too. One of the things that most surprises us is how many misconceptions people have about making such a move. We thought it would be fun to share some of the most common myths that arise and offer a glimpse of reality. 
1. You Can Live For Next To Nothing
Probably the biggest myth that we hear is that you can live abroad for next to nothing. There are certainly some cost savings depending upon where you are moving from and where you are planning to move. Moving from a major metropolitan area such as New York or Los Angeles to a small rural village would likely provide savings. But moving to another major city or a resort area may not. 
A large expense in most places is housing. The cost of our apartment is a little bit more than what we paid for our apartment in Wisconsin. Housing near Lisbon and along the coast is pricey. Food at the grocery store costs a little bit less and dining out ranges from highly affordable neighborhood spots to expensive Michelin star chef tastings. We do save on healthcare. Our private insurance here is about half the cost in the United States. There is also a public healthcare option. Prices of electricity and natural gas are higher and the expense of operating a car in Portugal and most of Europe is substantially greater than in the United States. We can't speak for the prices in all countries, but the price of our daily life in Portugal is slightly less but not next to nothing.
2. Bring Either Everything You Own Or Nothing With You
Another myth is about how much stuff to bring. There seem to be two different camps. One is to bring everything you own with you. The other is to come with two suitcases and that is all. Having made some tough choices focused on streamlining, minimizing, and leaving behind a great deal, we think both of these camps are misconceptions. We got rid of almost everything but wish we had kept more of what we would just have to buy again.
The opposite is also a myth. We have friends who shipped literally every piece of furniture, every dish, and every decoration they own. Since most people's dwellings are smaller here, it's uncomfortable in a place stuffed with belongings. People start giving away things they paid to ship. Each person has a personal comfort level but it's a myth that you have to either keep it all or get rid of everything. 
3. You Will Miss Everything From Your Old Life
When you move abroad, there are things from your old life that will not remain accessible. If you love going to a certain restaurant, you will not be able to do that. Special shops and parks will be out of your everyday experience when you move. But part of the fun of moving abroad is discovering new favorite places, people, and things. 
There may be some things that you miss from your old life, but you will not miss everything. We continue to entertain, take daily walks, enjoy a great meal out, and bake cookies. Calling friends and family now may take place on Zoom or WhatsApp instead of the telephone and the timing may be quite different, but the connection is still there. 
4. You Won't Miss Anything From Your Old Life
Just because you don't miss everything from your old life doesn't mean you won't miss anything. We miss the ease of finding whatever we want in a store at a reasonable price. Because habits and customs are different here, finding some items that are common every day in the United States, like hot dogs and relish, is difficult here. Replacing items such as small kitchen appliances or televisions is more expensive. And, of course, family visits take a lot of advance planning.
To address what we need, we comparison shop, discover alternative items, and learn to make our own versions of some things. We also tap into our network of friends for information and tips. So, while we don't miss a lot from our old life, it's a myth that we don't miss anything at all. 
5. It Will Feel Like Being On Vacation All The Time
For those in a position to retire, play golf, and go sightseeing every day, the idea that moving abroad will feel like being on vacation all the time might not be a fairytale. For the rest of us, it is. Just because you move to a new location doesn't mean that everything runs perfectly without your involvement. We still work, so some of our day-to-day life is exactly the same. 
The advantage of moving abroad is that you can more easily travel to new and different places. We have visited other parts of Portugal and look forward to exploring more of Europe as soon as it is safe to do so. Travel throughout Europe is much more affordable when not coming from the United States. However, we still need to pay the light bills, check out at the grocery store, and wait for a bus or train. Daily life is not a vacation just because it's in a new place.
6. It Will Be Hard To Make Any Friends
One of the major worries people have is that, if they move abroad, they will not make any friends. This for us has been a huge misconception. Before we moved, we connected with people in Facebook groups, through Meetups, and various other online sources. Some friends who knew we were moving to Portugal introduced us to friends of theirs who live here. 
It actually is easier to make friends when you move abroad. Many of the people who have moved abroad have similar outlooks and interests. And because you are learning to adapt to your new environment, it makes the desire for friendships with people who understand what you're going through common to all. We have a thriving social life and are building friendships here we know will last a lifetime. 
7. You Don't Need To Learn The Language
When moving abroad, some places have thriving expat and immigrant communities that speak the same language. Certain cities that cater to international travelers also have many people who speak multiple languages. That is the case with where we currently live in Portugal. Almost everyone speaks English. Even so, it is a myth that you do not need to learn the language when you move abroad.
The most important reason to learn the language is to enjoy the local culture and become more a part of it. We miss out when we don't catch the subtleties of the language. Also, from a practical standpoint, some of the services and vendors you need to deal with only speak the native language, and you will have to wait for someone who can communicate with you, which may take a long time. Learning the language when you move abroad enriches the experience, even though it may take a while. 
8. Your First Stop Will Be Your Forever Home
When we first moved to Portugal, we were in a tiny furnished apartment at the top of a hill. It had no heat, no air conditioning, no screened windows, and no way to get airflow without risk to our cats. But it was okay because we knew it was just our first stop. We were there for convenience while we got ourselves settled and took care of administrative matters. 
Most of the time, the first place you move abroad is not where you will stay. You may move to one country and, while exploring, discover another you like more. Or, you just start out with convenient accommodations you don't love. You don't have to stay there forever. We know that we would like to try living in several different areas before we choose our forever home. It is a myth that you have to know exactly where you will stay permanently just because you move abroad.
9. You Can Just Figure Things Out After You Move
The last myth is that you can fly by the seat of your pants and figure things out after you move. We thought about moving abroad for years, did our research, and then when we finally decided to move, it took nearly a year. Some of the issues related to moving abroad also change frequently. The visa requirements we had are different from those of some friends who are just now applying. 
Moving abroad is no small undertaking and you want some stability when you do it. Having a place to live, knowing some people before you move, even being familiar with the location of banks, grocery stores, hospitals, and public transportation makes the move much easier. We felt quite at home even a few days after we had moved because we knew what to expect where we were and had people to greet us when we arrived.
Moving abroad can be one of the most exciting and enriching experiences of your life. There are a lot of myths about what it is actually like and how you should do it. Once you plan for the reality, it is a lot better than a fairytale.
TravelAwaits has a series of informative articles about retirement, personal inspiration, and travel tips to help you navigate through important aspects of your life.