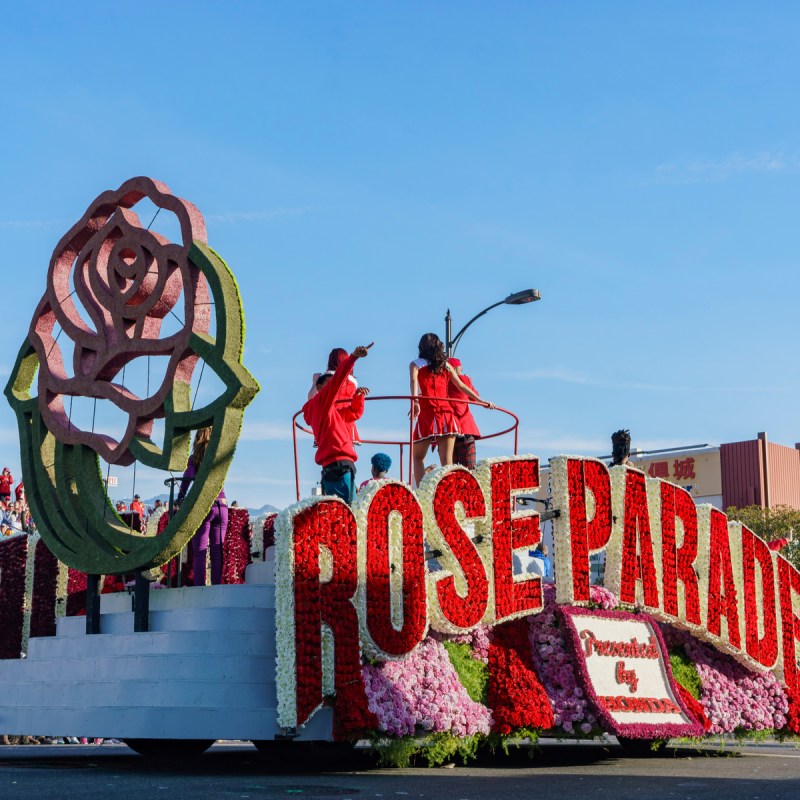 If you're like millions of other people, you'll likely wake up on New Year's Day and watch the Rose Parade. After all, watching the parade, which started in 1890, is an annual tradition for people around the world because it's broadcast internationally.
The Rose Parade was canceled last year due to the COVID-19 pandemic and was replaced by The Rose Parade's New Year Celebration TV special. This year, however, the 133rd Rose Parade, beginning at 8 a.m. Pacific in Pasadena, California, is back in its traditional format.
The theme for this year's parade is "Dream. Believe. Achieve." As the Tournament of Roses Association explains, the theme celebrates "education's ability to open doors, open minds, and change lives."
Let's jump right to it. Here's what you need to know about this year's Rose Parade.
Noted Dignitaries
2022 Grand Marshal
LeVar Burton is the 2022 Grand Marshal of the 133rd Rose Parade. Burton, as you recall, is an actor and director, but he also is an educator and lifelong children's literacy advocate. After the Rose Parade, Burton will participate in the pre-game celebration for the 108th Rose Bowl Game, which kicks off at 1 p.m. PST with No.10 Utah facing off against No. 7 Ohio State.
Rose Queen
Nadia Chung has been named the 103rd Rose Queen. Among other activities, the high school senior is a journalist for the Los Angeles Times in the High School Insider division, a company member of the California Contemporary Youth Ballet, an intern at the Outlook Newsgroup, and president of her school's speech and debate team.
Chung plans to study political science and journalism in college. She aspires to attend law school and then become a civil rights attorney.
Parade Entries
The Rose Parade, which travels along a 5.5-mile route through Pasadena, features dozens of commercial, non-commercial, and self-built floats along with 20 marching bands and 18 equestrian units. Interestingly, the only cars in the parade are vintage automobiles carrying Grand Marshal Burton, the mayor of Pasadena, the Rose Bowl Game Hall of Fame Inductees, and the Tournament of Roses President.
Floats
As you may already know, every inch of each float must be covered with flowers or other natural materials. Those materials may include leaves, seeds, or bark. Delicate flowers, such as roses, are placed in individual vials of water. Those vials are then meticulously set into the float.
Marching Bands
No parade is complete without marching bands, and the Rose Parade certainly doesn't disappoint. Over its storied history, the parade has included high school, college and university, and military marching bands. Among those bands have been marching bands, drum and bugle corps, brass and percussion bands, and bagpipes.
Equestrian Units
What you don't see in every parade is equestrian units, and that's part of what sets the Rose Parade apart. Every year the parade features a wide variety of horse breeds, including Curly Horses, American Saddlebreds, Gypsy Cobs, Andalusians, miniature horses, and draft horses.
What's more, the riders also display a variety of special skills and colorful costumes linked to the parade's theme while also honoring the unit's traditions.
Special Performances
Opening Performance
The Rose Parade will kick off with a performance by LeAnn Rimes. Her performance will feature a re-mixed and re-mastered song, titled, "Throw My Arms Around the World," which was created especially for the 2022 Rose Parade
Rimes, an international multi-platinum-selling singer, and winner of numerous awards including two Grammy Awards, first appeared in the Rose Parade in 2006. She will be accompanied by the Rose Parade Dancers, the Mark Keppel Dance Company, Rose Parade Flag Bearers, and four drummers. Her performance will conclude with fireworks.
Mid-Parade Performance
Presented by the Louisiana Office of Tourism, the Rose Parade's Mid-Parade Performance will feature Laine Hardy, winner of the 17th season of American Idol, and the New Orleans-based Hot 8 Brass Band. They will perform their version of "Born on the Bayou."
Grand Finale
As the 2-hour mark approaches and the final float begins its trip down Colorado Blvd., four members of the Golden Knights — the United States Army's Parachute team — will jump out of a plane and land in the middle of the street.
Following the Golden Knights' landing, Jimmie Allen, Best New Artist GRAMMY nominee, and CMA New Artist of the Year will perform his song "Good Times Roll." Allen will be accompanied by his four-piece band, the Rose Parade Dancers, the Mark Keppel Dance Company, and the Rose Parade Flag Bearers.
Watching The Parade
If you're one of the lucky people who will be attending the parade this year, keep in mind that overnight camping is only permitted on Monday, December 31. You can stake out your preferred position on the sidewalk along the parade route beginning at noon December 31.
You can find information about all of the other details for attendees here.
If you can't be there in person, you still have a number of options for watching the parade.
The Rose Parade will be broadcast live at 8 a.m. Pacific time on New Year's Day. The broadcast will air on ABC, Hallmark Channel, NBC, RFDTV, and Univision.
Coverage of the Rose Parade will also be broadcast internationally, so be sure to check your local listings for details about those broadcasts.
Finally, of course, following the Rose Parade, the 108th Rose Bowl Game will be broadcast at 1 p.m. Pacific time, exclusively on ESPN.
If you'd like to learn more about Pasadena and the Rose Parade, be sure to read: