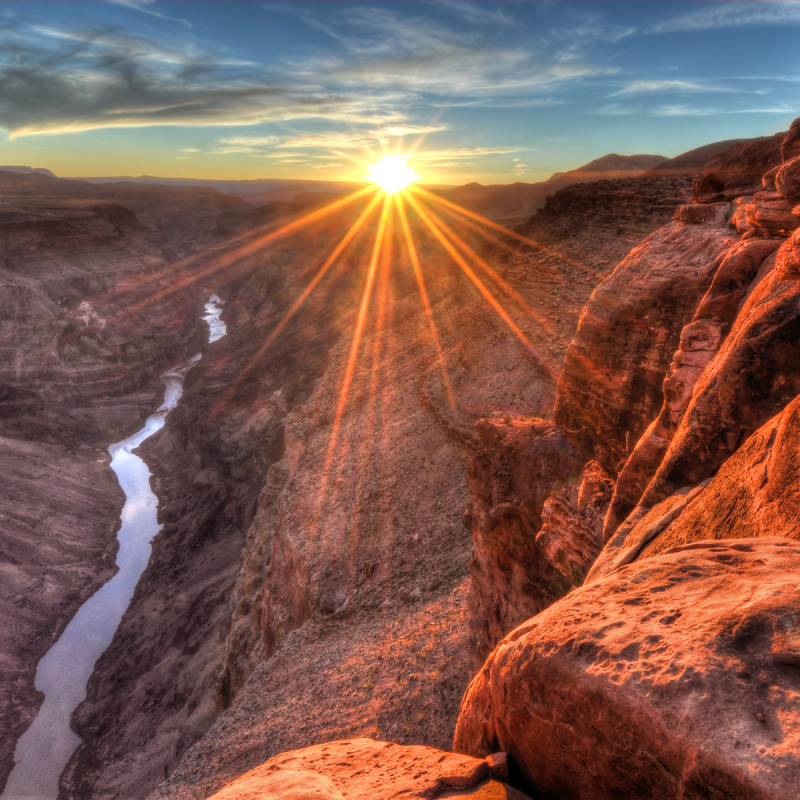 Collectively, TravelAwaits' writers have visited each of the seven continents, explored nearly every country around the world, and have experienced their fair share of adventure. They have had to overcome adversity at times, and push through difficult challenges along the way: Whether battling sexism, personal demons, or discovering new potential from deep within, our writers have experienced immense growth during their travels. We hope their experiences will inspire you to find the inner-traveler in you, and pursue your dreams this upcoming year!
Where I Decided To Retire After Moving 33 Times During My Life
Where does one settle after jet-setting for much of their life? TravelAwaits' writer Peggy Cleveland shares her thoughts on how she and her husband settled on where they would settle. They both desired either a view of the mountains or water, and — as luck would have it — found both! Discover where Peggy decided to retire after moving 33 times during her life.
5 Things I've Learned From Getting Lost In Europe
Not every trip or adventure will go exactly according to plan; hiccups, unforeseen circumstances, and even basic missteps are sure to rear their heads from time to time. The key to enjoying and making the most of your travel experiences is to learn how to go with the flow. Sharon Odegaard shares five things she learned from getting lost — in Europe.
How I Overcame My Fear Of Flying To Become A World Traveler
Like countless others around the globe, Desiree Rew had a dreadful fear of flying from an early age. This fear morphed into regret as experiences were missed that she realized she could never get back. If you, like Desiree, suffer from a fear of flying that is crippling your travel desires, see how she overcame her fear of flying to become a world traveler, and maybe you will be encouraged to take the next step too!
How To Travel Mindfully: Advice From A Tibetan Monk
Barbara Winard set out to learn Tibetan for an upcoming trip she had planned. While she admittedly learned little of the language during her lessons with a Tibetan monk, she developed a more far more enlightened understanding of travel itself. She shares from his words of wisdom about traveling mindfully in her thought-provoking article from May.
My Biggest Travel Regret: Why I Didn't Climb Mt. Sinai When I Had The Chance
It is easy to look back on a situation in hindsight and have all of the answers you wish you had had in the moment. But when a stressful situation is thrust upon you, finding the ideal solution is not always possible. Sue Davies and Regina Ang learned this lesson early in their travels together. Discover why not climbing Mt. Sinai when she had the chance is Sue's biggest travel regret.
4 Things I'm Doing To Get My 50+ Body In Shape
When a relative mentioned to Peggy a desire to travel at a younger age while health still allowed, Peggy knew it was time to reconsider her own health goals if she and her husband were going to successfully travel into their golden years. She shares four things she is doing right now to get her 50+ body in shape.
How Bicycling Along a Dusty Moroccan Country Road Helped Save My Marriage
Relationships can be a challenge even during the best of times, and exploring a foreign country with a significant other is one sure-fire way to increase tension between the two of you. However, tension doesn't necessarily have to lead to a negative outcome. In fact, discover how bicycling along a dusty Moroccan country road helped save Louisa Roger's marriage.
What A 200-Mile Bike Ride Taught Me About Women With Breast Cancer
Combining a personal passion with a cause worth fighting for is a fantastic way to give back to others. Writer Stan Thomas took this to heart when he signed up for the Tour de Pink in 2016 while looking for a cycling race that he could take part in. What he wasn't expecting was how the race would impact him personally. Stan shares what a 200-mile bike ride taught him about women with breast cancer.
Items I Realized I No Longer Needed After 15 Days In The Amazon Jungle
When Heidi Brandes set out to celebrate turning 50 in the heart of Brazil, she expected challenges and hardships roughing it for nine days in the Amazonian jungle. What she — and her companions — did not expect was being forced to face the jungle without the gear they had so meticulously packed for the trip when it went missing during their flight. In the end, she experienced an eye-opening adventure: Discover the items she realized she no longer needed after spending 15 days in the Amazon jungle without.
The Unique Trip I Took At 25 That Still Influences My Travels Today
You can learn a lot from books, but not everything, as Emese Fromm discovered when she was 25. As a recent immigrant to the U.S., she set out to explore the rest of the country and it brought her to Arizona where she discovered that she had much to learn about the indigenous people of the area that she had only read of through books of fiction. Emese shares more from the unique trip she took at 25 that still influences her travels today.
How My Husband's Parkinson's Disease Has Changed My Travels
Receiving a life-changing medical diagnosis for your spouse can be debilitating or life-giving depending on how the information is received. Chelle Koster Walton and her husband Rob faced such a crossroads in December of 2019 when he was diagnosed with Parkinson's Disease. Learn how her husband's disease has changed her travels and their lives.
I Took My First Ski Lesson At Age 50 And Loved It
It's not that Heidi avoided the slopes until she turned 50; her home in Oklahoma just never offered her the opportunity to ski. So when she found herself at a ski resort at the age of 50, she immediately signed up a ski lesson — and loved it! Heidi's decision just goes to remind us all that it is never too late to try something new.
How I Found The Best Job Of My Life During Retirement
While many see retirement as an opportunity to take it easy, Robin O'Neal Smith had other ideas. Not content to just sit back and do nothing, she discovered that she could get paid to do something she truly loved: travel. Read more in her compelling explanation of how she found the best job of her life during retirement.
How A Baseball Cap Helped Me Virtually Eliminate Travel Regrets
Writer Stan Thomas learned a valuable travel lesson centered around a baseball cap. To buy or not to buy, that was the question: and yet he hesitated. This hesitation led to a regret that he carried home with him from his trip. See how one baseball cap helped Stan virtually eliminate travel regret from his life, and the life lesson it taught him.
What I Learned Helping My 72-Year-Old Mother Fulfill Her Travel Bucket List
At times, the adventures we experience aren't just for us: they are for the loved ones in our lives. Writer Erika Ebsworth-Goold discovered this when she and her sisters were tasked with helping their mom fulfill a bucket list dream of hiking into Grand Canyon — and back out — in one day. This was a grueling trip for them all, both in the planning and execution. Erika shared what she learned during this experience and provides advice for those looking to do the same.
That Time Everything Went Wrong When I Was A Tour Guide In Europe
Barbara Winard saw the job of her dreams advertised in the paper and jumped at the chance to explore Europe as a tour guide. Free transportation, lodging, and food while seeing the sites, what more could she ask for? Well, the trip wasn't the laid-back adventure she had hoped for: She shares how everything went wrong during that trip as a tour guide in Europe and offers up advice for others looking to repeat her mistakes.
How A Stay At This English Hotel Helped Me Reconnect With My Adult Daughter
Samanatha Preistly and her daughter are close, so when it was time to send her off to university, Samantha new the time apart would be difficult. After three years of studying and graduating with honors, it was time for her to reconnect with her daughter. Both adult women how, and Samantha had just the destination in mind to bring the two generations together. Discover how a stay at this English hotel helped her reconnect with her adult daughter.
How A Trip To Norway Changed My View Of My Family And The World
Cindy Barks set off for her first international trip one summer during college. This trip took her to Norway where her grandfather immigrated from many years prior. She and her sister had the opportunity to meet the family he had left behind decades earlier, never to see in person again. Cindy reflects on how this trip to Norway changed her view of both her family and the world.
This is just a sample of the personal stories TravelAwaits' writers have shared with readers over the years. From stories of self discovery, to tales of overcoming trials, these avid travelers have been through it all and hope to inspire you to attempt something new, even if it means getting out of your comfort zone. Take a look here for more stories of inspiration just like these.