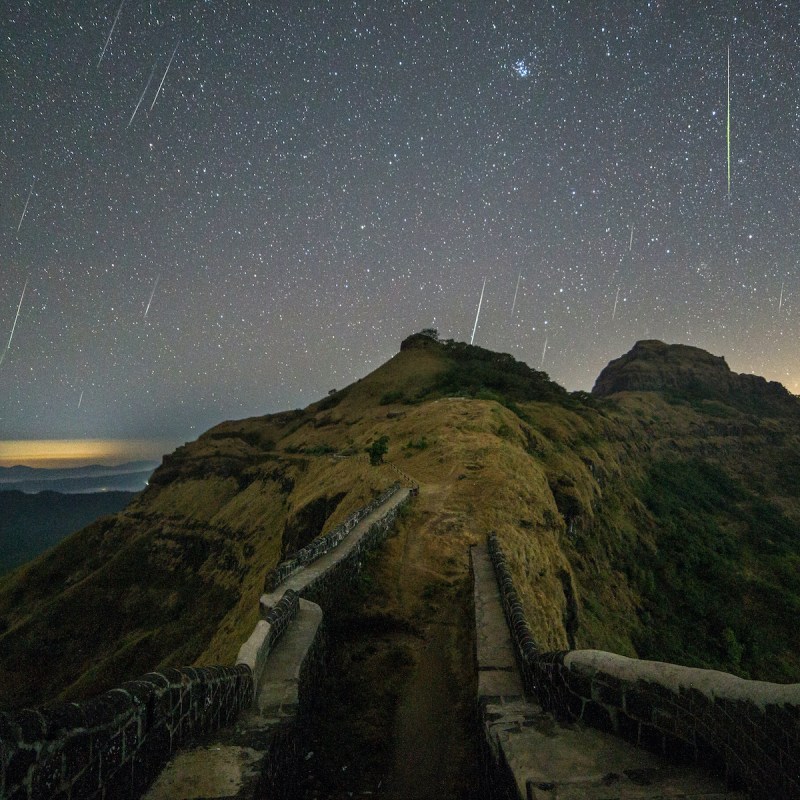 The Geminid meteor shower is often considered to be the best meteor shower of the year because it begins an hour or two after sunset and lasts all night.
The meteor shower occurs every December from about December 4 to December 16. If you enjoy stargazing, keep in mind that the Geminid meteor shower will peak this year between late December 13 and very early December 14.
Estimates vary, but depending on your location, you can expect to see more than 100 meteors per hour if conditions are optimal.
Why We See Meteor Showers
When comets orbit the sun, they leave a "dusty trail" behind. The individual pieces of debris in this trail are often no larger than a grain of sand. Every year, the Earth passes through these debris trails on its own orbit of the sun. When those bits of debris collide with Earth's atmosphere, they disintegrate and create colorful streaks we call meteors.
The Geminid meteor shower, however, is unique because the meteors in that shower come from an asteroid rather than a comet.
Sky watchers first noticed the Geminid meteor shower in the mid-1800s, but the shower's source wasn't known until NASA's Infrared Astronomy Satellite spotted a new asteroid in 1983, nearly 100 years after the shower's discovery. That asteroid, now known as 3200 Phaethon, measures 5.10 kilometers in diameter and takes approximately 1.4 years to orbit the Sun, NASA explains.
Each year in December, the Earth passes through the meteoroids left by 3200 Phaethon, which creates the Geminid meteor shower. By the way, the Geminid meteor shower gets its name because its meteors appear to emanate, or begin, near the constellation Gemini.
The Best Viewing Times
While the Geminid meteor shower occurs for nearly 2 weeks, its peak – when you'll see the maximum number of meteors per hour – will occur around 2 a.m. Eastern time on December 14, according to The Farmers Almanac.
Of course, you'll be able to begin seeing meteors around 9 p.m., and the show will continue until just before dawn, but during the peak, you may be able to see about 120 meteors per hour.
An added bonus is that the meteor shower most likely won't be washed out by moonlight. That's because the nearly full moon will drop below the horizon in the early hours of December 14, making the meteors easier to see.
Time and Date has created an "Interactive Meteor Shower Sky Map" you can use to help locate the Gemini constellation, along with other tools to help determine when and where you should look for the meteors in your location. You can find that map here.
How To See The Geminid Meteor Showers
While you don't need any special equipment or skills to see the meteors, it does help if you view them from a secluded and dark space. EarthSky has an interactive map you can use to find dark places that offer optimal stargazing. You can find that map here.
Be sure to dress for the weather. You may even want to take a comfortable chair and blankets or sleeping bags if you plan to be outside for long periods.
Once you're in your viewing spot, allow your eyes 15 to 20 minutes to adapt to the dark. Then, all you need to do is lay down or look up to watch the meteors.
Pro Tip: Avoid looking at cellphones or other devices. They may not seem very bright, but your eyes will need to adapt to the night sky again after looking at the device's lights.
If you're interested in stargazing, keep in mind that a once-in-a-lifetime celestial event is about to happen – beginning December 14.
After December 14 you'll be able to see the newly discovered Comet Leonard each night just after sunset as it approaches the sun. Then, on January 3, the comet will pass the sun and move out into space – never to be seen from Earth again.
You can learn more about Comet Leonard, including the best times for viewing it, in "How To See New Comet Leonard This Week Before It's Gone Forever."