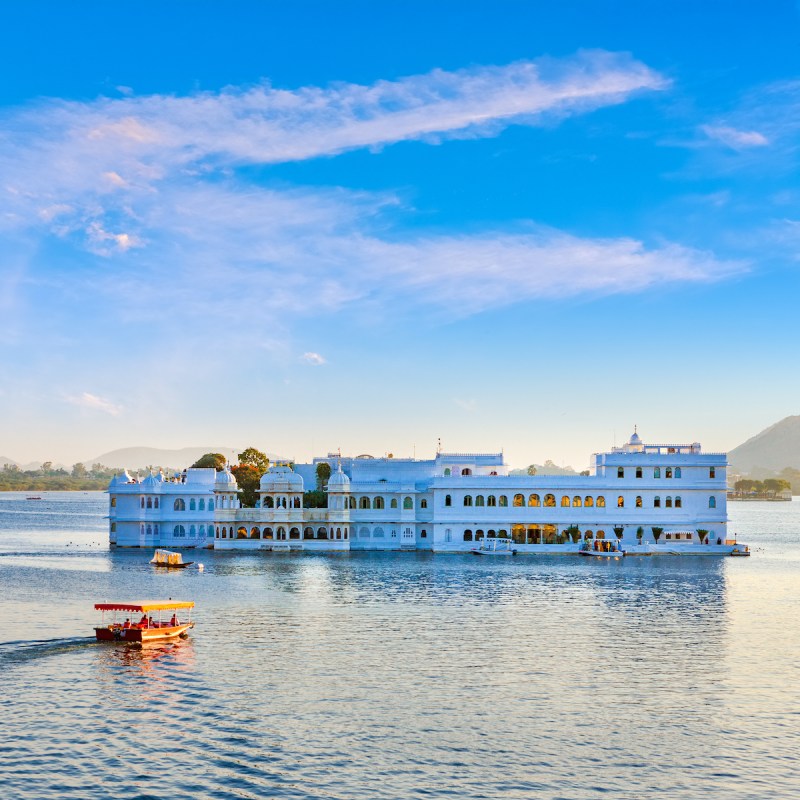 Somehow, staying on an island for your vacation sounds much more glamorous than staying on the mainland, and if it is a private island with just one resort on it, even better.
There are a few magical places in the world where that is the norm, just think about the Maldives. Every island is so small, they can only put one resort on it, apart from the main island, that is. And, yes, the Maldives are super luxurious and glamorous, but I won't mention them here, as not only the resort I stayed at years ago has since changed hands, so I can't really recommend it firsthand anymore, but also there are just too many to pick a favorite. If you are lucky enough to visit the Maldives, it doesn't matter where you are staying, you won't be disappointed.
Elsewhere in the world, wherever there is a sea or even a lake, you can often find a luxurious hotel that takes full advantage of the location and the appeal of being on a private island. And, if there wasn't an island before, some hotels just built their own. Here I have picked some of my personal favorites. Some because of the stunning views, from sunsets to the turquoise sea, others because the setting and hotel itself are simply out-of-this-world. And a couple for altogether different reasons.
Hopefully, there will be a few that will inspire you to plan a stay in a luxury hotel on your very own private island.
1. Taj Lake Palace Hotel
Udaipur, India
I was on a tour through Rajasthan when we stopped in Udaipur. Not just stunned by the utterly beautiful setting of grand palaces and iconic steps on one side of Udaipur's many lakes, Lake Pichola, and the mountains on the other, there was also the beautiful and historic Lake Palace floating ethereally in the mist. The Lake Palace was built around 1750 as a summer place for the Maharana of Udaipur, and is literally a palace in the lake; there is no space around it in the water, just a mooring for boats carrying guests. Today, it is a luxury hotel, and surely one of the most beautiful there is. With a lush garden in the center, a superb restaurant, a rather freezing-cold pool, and simply breathtaking views, this is one of the world's best spots for a special occasion.
Pro Tip: Just opposite the Lake Palace lies the City Palace, a rambling structure built 400 years ago for the ruling Mewar family. It was depicted as a hotel in James Bond's Octopussy (1983), which also featured the Lake Palace.
2. Matangi Island
Fiji
It took three flights in ever-decreasing-size planes, a drive, a boat ride, and a walk along the beach to get to my little bure, or Fijian hut, on Matangi Island in Fiji. I still think of it as my most exotic location ever, even though I lived in Australia at the time, and it was practically local. But the little island is a gem. The owner still lives on this island, and it has been in his family since 1878. There are only a few bures, and one main building where you take all your meals, which are always fresh and locally sourced. There is a spa and a scuba club, and one horseshoe-shaped bay where you can be dropped off by boat and have it just to yourself for the day, and the snorkeling is sensational. Small, personal, and in the evening — and upon arrival and departure, the island's staff comes together to sing for you. Sounds naff, but believe me, they can sing like angels, and accompanied simply by a ukulele, they bring the South Sea to you.
Pro Tip: The International Dateline officially runs through the neighboring island, but luckily Fiji adopted one time zone, otherwise confusion would reign supreme.
3. Fregate Island
Seychelles
Fregate Island lies a short boat or helicopter ride from the main island of Mahe and is a perfect hideaway with only 17 villas and one Presidential Villa, with beaches that have a "don't disturb" sign and a phone to call for cocktails. You can eat in the main building, where there is also a lovely bar and pool, but equally, you can have your meals served on your veranda. The only thing people ask of you is that you share your food with the local wildlife, and thus, when you get your breakfast tray, numerous birds and other wildlife come to join you, leaving you to feel a little like Cinderella. An island where conservation has been on the menu for decades, it is a haven for wildlife, from tortoises to turtles, from lizards to an amazing selection of birds, such as the famous frigate birds and the utterly charming white terns, which always come in pairs.
Pro Tip: Each villa comes with a golf buggy for personal transport, but don't miss exploring the island's wild side on a guide-led nature walk. You'll see cashews growing, stunning vistas, and learn about the local flora and fauna.
4. Burgh Island Hotel
England
A dedicated lover of all things Art Deco, this is a dream location for me. The Burgh Island Hotel is a true iconic example of the Art Deco era and has been popular throughout its history. So much so, that Agatha Christie wrote two novels here, which were also later filmed here for the authentic setting, and Noel Coward stayed, as did Edward VIII and Wallis Simpson, the aviator Amy Johnson, Premier Winston Churchill, and even Josephine Baker and the Beatles, if not all at the same time.
Located on Burgh Island off the coast of South Devon, a tidal island that can be reached on foot at low tide, but also has a bus on stilts, just in case; the hotel is apart from one ancient, historic pub and a ruined chapel, the only building on the island.
Pro Tip: Do visit the Pilchard Inn pub on the island. The hotel has a great restaurant, but for a decent pint or a jug of Pimms accompanied by good pub food, you can't beat it. And it is hugely historic: it dates to 1336!
5. Burj Al Arab
Dubai, United Arab Emirates
The Burj Al Arab is not only Dubai's most iconic luxury hotel, but it sits on its own, manmade island, reached by a causeway open only to guests. It might not be a private island like the ones mentioned above, set in a vast ocean, miles from anywhere, but it may well be. Once you step across the threshold, you step into another world, and while the blingy décor might blind you at first, you get accustomed to the over-the-top splendor rather quickly. The Burj Al Arab used to be one of the hotels where anybody who thought they were somebody stayed, even before social media, but it has settled down a little, and it is a fun getaway, something really quite unusual and unique, to be enjoyed for a night or two.
Pro Tip: While you are there, walk down to Pierchic, my favorite Dubai restaurant. It is perched at the end of a pier, as the name suggests, and offers views across to your hotel island like no other. And the food is fab!
6. Heron Island
Queensland, Australia
You can't talk about island stays without mentioning the islands of the Great Barrier Reef. There are a few super-luxury private island resorts, such as Orpheus Island Lodge and Lizard Island, but my favorite is Heron Island. Not as fancy as the others, but it does have the best scuba diving of probably the entire Great Barrier Reef. Maybe I was just really lucky when I was there, but I saw countless turtles, manta rays, sharks, giant groupers, tiny clownfish, and everything in between. The island is a wonderful nature reserve with a research station on it, far from the coast and host to countless birds and an amazing array of nature's spectacles. To add that special luxury uptick, you can arrive and leave by seaplane, a great way to travel — and I even saw whales from the plane.
Pro Tip: During the southern hemisphere's summer months, Heron Island becomes home to more than 200,000 birds including noddy terns and mutton birds. Considering the island is only about 2,600 feet long and 980 feet at its widest, giving an area of approximately 40 acres, it can get noisy. But if you love birds as well as marine life, this is the place to come to.
Unusual and luxurious accommodations are every traveler's dream: